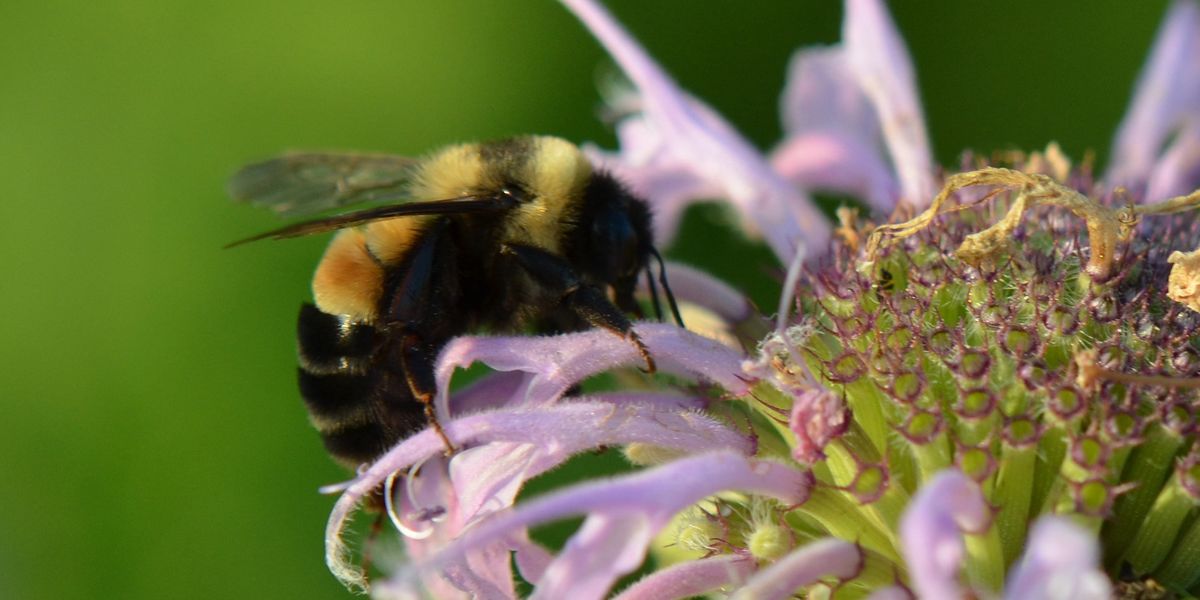 A rusty patched bumble bee. (Credit: USFWS)
"Climate chaos" and bumble bee extinctions
As temperatures warm, bumble bees can't take the heat.
Bumble bee populations are declining at a rate "consistent with a mass extinction" and warming temperatures in Europe and North America are at least partly to blame, according to a study published today in Science.
---
Bumble bees—one of the planet's most important pollinators for both wild plants and farmed crops—have been declining for decades. One estimate of North American bees found four species have declined by up to 96 percent and their range has been reduced by up to 87 percent. In Europe, an estimated 46 percent of bumble bee species are declining. Researchers have pointed to many factors—habitat loss, declines in plant diversity, pesticides, and parasites—however, researchers from the University of Ottawa today report that populations are declining rapidly in areas where temperatures have gotten hotter, suggesting climate change may further drive down numbers of these important pollinators.
The researchers looked at data for 66 bumble bee species in North America and Europe from 1900 to 2015. They used the numbers from 1901 to 1974 as baseline data. They found, over the past few decades, the probability of bees being at sites they historically inhabit declined by about 46 percent in North America and roughly 17 percent in Europe when compared to the baseline time period.
They also looked at climate change in the regions. Those places where temperatures have risen to or near the bees' upper tolerable limits have the most drastic declines.
Links to precipitation patterns were not as strong, though areas that became drier were more likely to have declines.
Lead author Peter Soroye, a PhD student in the Department of Biology at the University of Ottawa, said the study shows "climate chaos" is linked to bee extinctions.
"We've known for a while that climate change is related to the growing extinction risk that animals are facing around the world," Soroye said in a statement. "In this paper, we offer an answer to the critical questions of how and why that is. We find that species extinctions across two continents are caused by hotter and more frequent extremes in temperatures."
Some insects thrive in a warmer climate, however, it seems warmer temperatures are shrinking bumble bee habitat and they're not adjusting well. This study builds on a 2015 paper that found, among 67 bumble bee species in North America and Europe, many species had stopped living at the southern limit of their habitat range and hadn't moved north (where warming temperatures had increased suitable habitat).
The authors of the 2015 study suggested that this poor adaptation to climate change may be due to bumble bees' cool climate origins. Species that evolved in warm climates such as the tropics have generally adapted better to climate change.
The authors of the new study point out the "effects of climate change on bumble bees appear distinct from effects of land use" and that other impacts— intensive farming, pesticide use, and pathogens—will only "accelerate biodiversity loss for bumble bees."
"Understanding how interactions between climate and land-use changes alter extinction risk is vital to conservation of pollinator species," they wrote.
The researchers hope their study is a model to study how climate change may impact other at-risk species.
"This work also holds out hope by implying ways that we might take the sting out of climate change for these and other organisms by maintaining habitats that offer shelter, like trees, shrubs, or slopes, that could let bumble bees get out of the heat," said senior author and University of Ottawa researcher and professor Jeremy Kerr in a statement.
See the entire study at
Science.
www.ehn.org