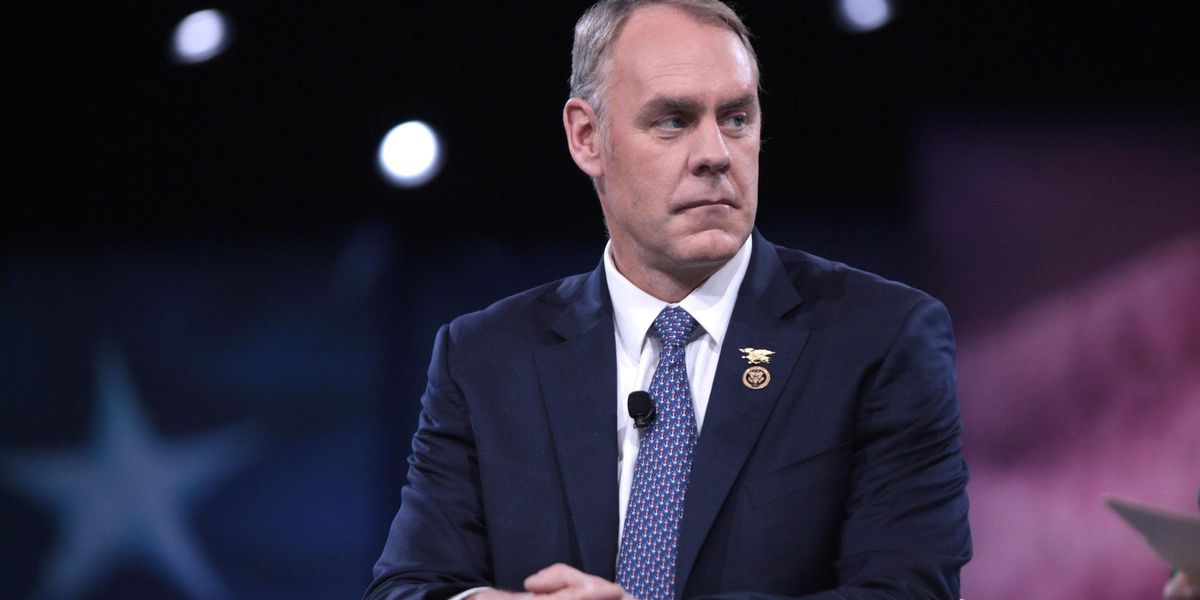 Peter Dykstra: Low crimes and misdemeanors
Multiple ethical violations used to mean bipartisan disdain. Now you get sent to Congress.
When Ronald Reagan swept into office in a 1980 landslide, he appointed two contentious figures to run his primary environment agencies.
---
James Gaius Watt was a Wyoming attorney for the Western States Legal Foundation, a freemarket group known for hauling into court federal agencies like the Fish & Wildlife Service and the Bureau of Land Management. Now, as Interior Secretary, he would be in charge of them.
Anne Gorsuch was a Colorado state legislator with a penchant for railing against government regulation. She became a central member of a group chided as the "House Crazies" for their strident pro-business, anti-government stance. In May 1981, she became the perfect counterpart to Watt as Administrator of the Environmental Protection Agency.
Fast forward: In January 2017, President Trump appointed Ryan Zinke as Interior Secretary. The Montanan brought a John Wayne-type resume: Eagle Scout, college footballer, Navy Seal, and one-term Congressman.
Scott Pruitt, whom Trump appointed as EPA Administrator, had a career path that included college baseball, a law practice, the state legislature, ownership of a minor league baseball franchise, and Oklahoma's State Attorney General. Not quite as star-spangled as Zinke's, but Pruitt's State A.G. tenure was marked by bellicose language and a streak of more than two dozen failed legal actions that he was then chosen to lead under Trump.
So 40 years apart, two presidents, bent on kneecapping federal environmental enforcement, get their wishes.
Bipartisan disdain
Back in 1981, Watt went to work, announcing intentions to narrow the Endangered Species Act. He also set out to open up more federal land to logging and ranching. In 1983, he announced a plan to open up every square inch of the U.S. coastline to oil and gas drilling—even areas known to contain no oil or gas.
Watt drew furious opposition for his deeds and ambitions, but his ultimate undoing was his tendency for classic Washington gaffes. He canceled a July 4 Washington Mall concert by the Beach Boys because their fans were "the wrong element." First Lady Nancy Reagan turned out to be a big fan, so he relented. An ill-timed joke that was both racist and sexist (and entirely unfunny) finally did him in.
His peer at the EPA, Gorsuch, mused openly about leading her agency toward its own extinction. EPA enforcement actions plummeted, as did agency morale. When a top Gorsuch aide, Rita Lavelle, went to jail in a case involving mishandled Superfund money, Gorsuch was toast.
The parallels with Zinke and Pruitt are profound but far from complete. In the Reagan Era, Watt and Gorsuch earned bipartisan disdain. Neither ever sought or held a significant office again.
When Zinke and Pruitt flamed out, there were no such restraints. As we approach midterm elections, there's a good chance that Zinke will once again be a Congressman, and Pruitt a Senator.
Montana went from a single House seat to two after the 2020 Census. Zinke won the Republican primary for the seat last week.
When Sen. James Inhofe announced his retirement early this year, Pruitt filed for the election to fill in the four-year remainder of Inhofe's term. He'll face a crowded Republican primary field on May 28.
Remarkably it's only been a few years since Zinke was under fire for accusing 30% of Interior Department employees of being "disloyal to the flag," and that "radical environmental terrorists" were setting California's record wildfires. Oh yeah, he was also accused of steering department finds to personal use. In a 2022 report, Interior's Inspector General ruled Zinke had violated the department's ethics rules multiple times.
Scott Pruitt's excesses at the EPA included some exotic ones. An apparent obsession with security led to the purchase of a "cone of silence" phone chamber for sensitive calls.
So here's the moral of this story: When 40 years ago, an EPA boss and an Interior Secretary worked to actively undermine their own agencies' missions, at least we got the consolation prize of seeing Anne Gorsuch and James Watt bum-rushed off the political stage. (Well, not quite: Watt paid a fine and served five years' probation for charges related to lobbying activities in 1996; Gorsuch left her son on the national doorstep: Supreme Court Associate Justice Neil Gorsuch.)

Contrast that with today: In their party's era of delusion and denial, it's act-like-nothing's-wrong time for Ryan Zinke and Scott Pruitt.
Peter Dykstra is our weekend editor and columnist and can be reached at pdykstra@ehn.org or @pdykstra.
His views do not necessarily represent those of Environmental Health News, The Daily Climate, or publisher Environmental Health Sciences.
Banner photo credit: U.S. Congressman Ryan Zinke of Montana speaking at the 2016 Conservative Political Action Conference (CPAC) in National Harbor, Maryland. (Credit: Gage Skidmore)
www.ehn.org