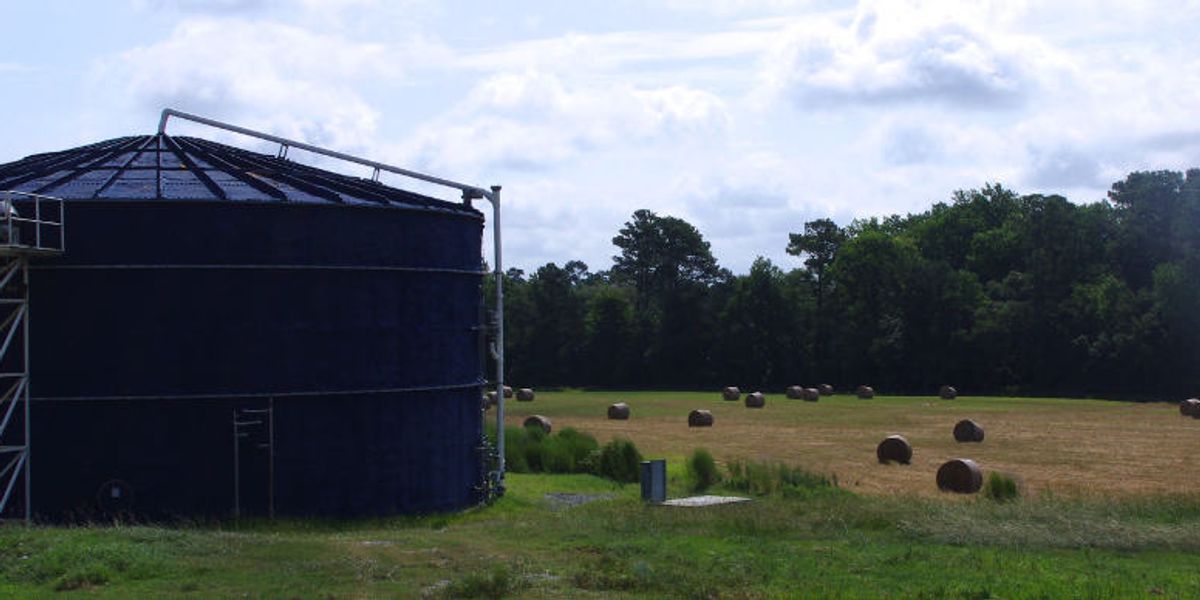 Hog waste-to-gas: Renewable energy or more hot air?
Biogas could clean up manure and mitigate methane; but economics and inconsistent regulations remain hurdles
DURHAM, NC—On a school night in early spring, a rowdy collection of environmental activists, local residents, and Duke University faculty and students packed a public forum, railing against the school's plan to build a new $55-million gas plant on campus.
---
For nearly three hours, speaker after speaker denounced fossil fuels, decried fracking, and inveighed against the state's investor-owned utility. They begged the university to invest in a "sustainable future," one filled with wind and solar power, not natural gas.
But Tim Profeta, the chair of Duke's sustainability committee and the host of the meeting, had another idea. "We have an opportunity to become a demander of biogas, and not the fracked gas we've been hearing about all night," he said.
Since 2007, Profeta said, the university had been researching the capture of methane from hog manure to create electricity. The technology, called anaerobic digestion, could reduce pollution from the state's 10 billion gallons of swine waste – now stored primarily in open-air pits – and help meet a campus-wide goal of zero net greenhouse gas emissions.
Many in the crowd that night were skeptical. Was it really feasible?
A select group of faculty, staff and students thought it was. Two weeks after the forum, the panel made its recommendation to their university's top brass: only build the new plant if, within five years, Duke could purchase enough swine biogas to fuel it.
Campus leaders – who had been working toward a vote to approve the plant during a May board of trustees meeting – temporarily shelved their proposal.
The subcommittee's proposition was, in some ways, an elegant one. Long concerned about the pollution created by the state's 9.2 million hogs, the university helped pioneer a first-of-its-kind swine-waste-to-energy project in Yadkin County, North Carolina, in 2011.
By committing to make a major purchase of swine biogas, Duke believes it could spur the creation of nearly 300 similar-sized projects – more than doubling the number of anaerobic digesters on livestock farms nationwide, and creating useful lessons for a fledgling U.S. biogas industry.
The influx of projects would curb emissions of methane – the potent greenhouse gas many times more powerful than carbon – and cut odor and pathogens emanating from some of the state's 2,100 large-scale hog operations. It would create hundreds of short-term construction jobs and some long-term ones in rural areas of the state that sorely need them.
But critics see a messy side. They worry the benefits of methane capture are too limited, and could preclude more comprehensive cleanup of an industry that has anguished some neighbors and polluted waterways for decades. And though many climate analysts believe biogas can play a small but important role in displacing fossil fuels and reducing greenhouse gases, they say that doesn't justify the university's investment in expensive new gas infrastructure.
"Biogas is a perfectly laudable goal, and as a leading university in the country in a state that produces this much pork, it would be a very fine thing to incentivize and get going," says John Steelman of the Natural Resources Defense Council, who also happens to be a Duke graduate. "But don't link that to building a new gas plant."
For the moment, the university staff is trying to figure out how to make the swine gas recommendation a reality. Their success or failure could reverberate throughout the nation's biogas market and across other North Carolina campuses with commitments to reduce their climate footprint.
www.ehn.org