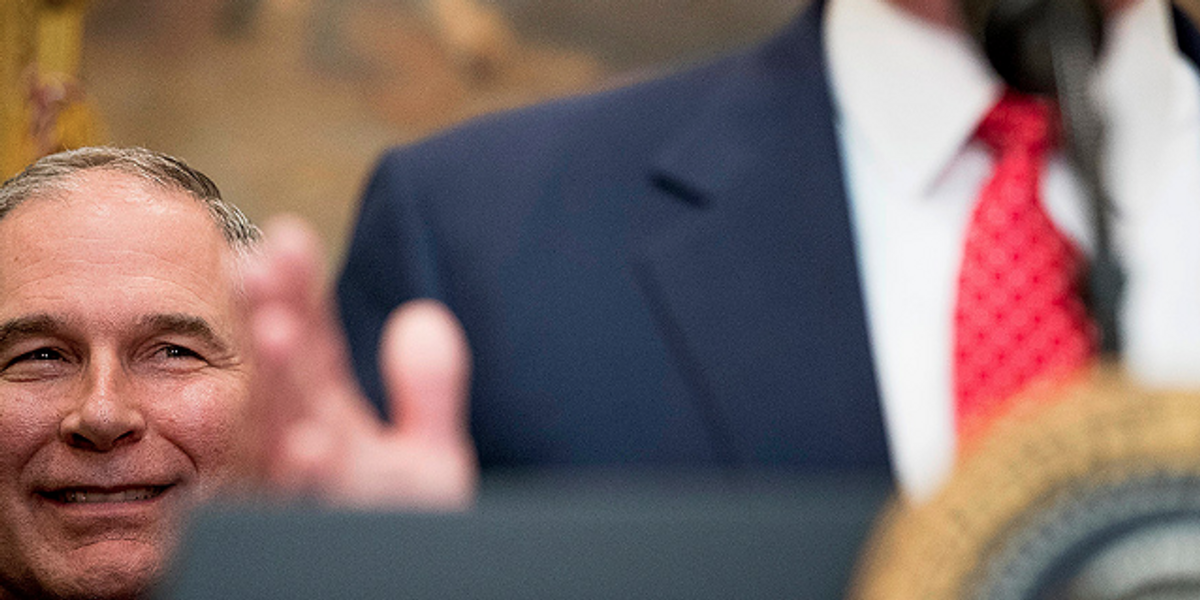 Weekend Reader:  EPA's Undercard
The supporting cast for Scott Pruitt's EPA fits the bill nicely.
In boxing, the "Undercard" consists of the pretenders, palookas and schmoes that battle it out before the main event takes the ring. The Environmental Protection Agency's undercard consists largely of deputies and regional administrators whose résumés are a good match for Pruitt's.
---
The EPA divides the country into 10 regions, and the Regional Administrators traditionally represent the best and brightest public servants from their part of the country. But not always.
During the Obama years, the Atlanta-based Region Four post went vacant for more than a year, not due to Congressional gridlock, but because not a single human being applied for the job. On the opposite end of the scale, Valdas Adamkus ran Region 5 in Chicago for 17 years, stepping down in 1997 to become the Grover Cleveland of his native Lithuania, serving two non-consecutive terms as President. Quite a career arc.
In Donald Trump's EPA, a few of the regional bosses are cast in the image of Scott Pruitt rather than our 22nd and 24th President. In Chicago, Cathy Stepp came in after a career of climate denial and regulatory rollbacks at the helm of Wisconsin's state agency. Dallas-based Region Six is now run by Anne Idsal, another climate denier whose past includes a stint as general counsel for the Texas Commission on Environmental Quality, arguably the most regressive state agency in the nation.
In Atlanta, Trey Glenn now runs Region Four after resigning in a cloud of scandal from Alabama's top environmental post. Glenn was accused of accepting gifts from lobbyists in a foreshadowing of his future boss's troubles. One Alabama columnist said appointing Glenn to a vital EPA job was "like Roy Moore leading the ACLU."
The Region Nine boss is a minor legend in the election of Donald Trump. Mike Stoker was a lobbyist and spokesman for oil and Big Ag interests in California, where he was also credited with coining the "Lock Her Up" chant during the campaign.
There is, inevitably, an exception that proves the rule. Region One is run by Alexandra Dapolito Dunn, who received a hearty endorsement from New England's venerable Conservation Law Foundation.
But that's about it for exceptions: Millan Hupp, who followed Pruitt from his Oklahoma Attorney General post to Washington, resigned after it was revealed she had spent time running personal errands for her boss, including searching to purchase a used mattress from the Trump International Hotel. Hupp, who oversaw Pruitt's calendar and arranged his public appearances, was also one of two aides who received conspicuously hefty salary increases from Pruitt. The other, senior counsel Sarah Greenwalt, also resigned. Still employed as of this writing is Millan's sister, Sydney. This week the Washington Post reported she made calls to Chick-fil-A headquarters in an attempt to score a fast food franchise for Pruitt's wife Marlyn.
When Atlantic staff writer Elaina Plott called EPA's Press Office for info on Millan Hupp's resignation, Pruitt spokesman Jahan Wilcox dodged the question by calling Plott "a piece of trash." Before joining the EPA last March, Wilcox toiled for Marco Rubio's presidential campaign, where he attacked "the #RealDonaldTrump clown show."
With me so far? Wilcox's boss, Liz Bowman, resigned in May to become Communications Director for Sen. Joni Ernst (R-Iowa). Ernst promptly attacked Pruitt, calling him "as swampy as you can get."
Albert Kelly, Pruitt's former Oklahoma banker, needed a job last year after being banned for life from the banking industry. So Pruitt tapped him to oversee the chronically troubled Superfund program despite a complete absence of experience in toxic waste-related fields. Kelly withdrew after a public and Congressional outcry.
Michael Dourson's nomination to oversee chemical safety for the agency was withdrawn when his ties to chemical, tobacco and processed food manufacturers were questioned.
But wait.... there's more. Many more, but we'll leave you with Andrew Wheeler, confirmed as Pruitt's Number Two and his likely successor should the Administrator's myriad scandals finally bring him down. Wheeler is a one-time coal lobbyist and aide to uber-denying Senator Jim Inhofe.
EPA's undercard is strong. The environment may be poised to take a dive.
www.ehn.org