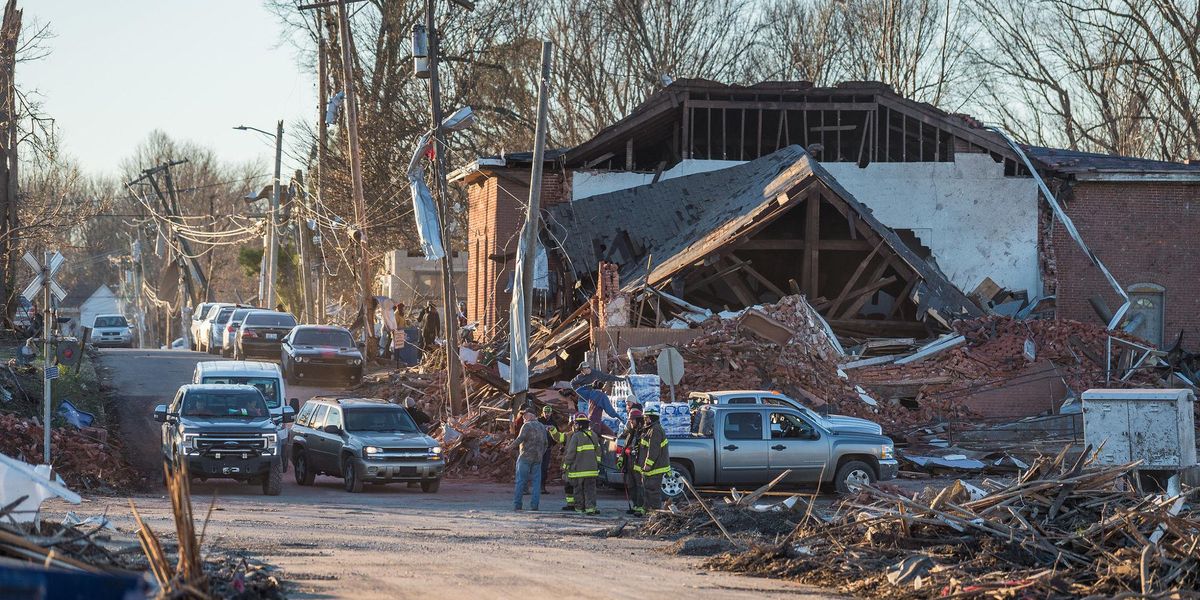 Peter Dykstra: 2021's unnatural disasters
With the fingerprints of climate change on so many "natural disasters," it's time to retire "natural."
Unlike downpours, droughts, hurricanes, typhoons and more calamities, there isn't a clear, undebatable link between climate change and tornadoes.
---
But last week's horrific twisters—and hurricane-force winds in a mid-week system—added on to an unprecedented weather year. Let's rewind to February.
Polar vortex and extreme heat 
The polar vortex brought the Jet Stream and its Arctic air far down south, freezing pipes and knocking out power for millions. The deep freeze was blamed for at least 275 deaths in Texas, Oklahoma, and surrounding states
Hundreds more died in June, when an unheard-of heat wave gripped the Pacific Northwest. Portland, Oregon, reached 116° F (46.7° C). Lytton, British Columbia, set the all-time Canadian record of 121° F (49.4° C).
As roads buckled in a region completely unfamiliar with such heat, scientists said it would be "virtually impossible" for such a heat wave without climate change.
The heat, and record drought, helped spawn a summer of record wildfires. Oregon's Bootleg Fire burned nearly half a million acres; California's Dixie Fire doubled it later in the summer.
Hurricanes and water levels 
In late August, Hurricane Henri turned into a tropical storm rainmaker, drenching an area from New Jersey to Nova Scotia. New York's Central Park received two inches of rain in an hour—then five inches more the next day for good measure. Both were records.

Days later, Hurricane Ida hit Louisiana as a Category 4, causing $64 billion in damage, according to NOAA. The storm stayed alive long enough to become a lethal rainmaker from Maryland into New England.
There were record-low water levels in Lakes Powell and Mead, the Colorado River mega-reservoirs. They provide hydropower and water for the cities of the Southwest and irrigation for much of America's produce. There is at best faint hope that the Colorado will bounce back, even as L.A., San Diego, Phoenix, and Las Vegas continue to grow.
California's Lake Oroville saw record low levels this summer, only four years after record high levels raised fears of a catastrophic dam failure.
Last month, torrential rains returned to British Columbia. Once all the damage is tallied, it may turn out to be the costliest "natural" disaster in Canadian history.
Overseas, record flooding in Germany, unprecedented sandstorms in Beijing, stunningly accelerating ice-melt in Greenland, and a continental record 119° F (48.3° C) in Sicily were just a few of the reasons that this isn't a North American anomaly.
Taking the natural out of natural disasters 
So let's take the "natural" out of most kinds of natural disasters. Volcanoes? Still natural. Earthquakes? Sure, unless they're the little ones associated with fracking operations. Plagues of locusts? Natural, I think, but I've never had the pleasure of experiencing one.
Most of the others? Is it asking too much of us that we don't assault Mother Nature, them hang the blame on her?
Peter Dykstra is our weekend editor and columnist and can be reached at pdykstra@ehn.org or @pdykstra.
His views do not necessarily represent those of Environmental Health News, The Daily Climate, or publisher Environmental Health Sciences.
Banner photo: Aftermath of the Mayfield, Kentucky, tornados, December 2021. (Credit: State Farm/flickr)
www.ehn.org