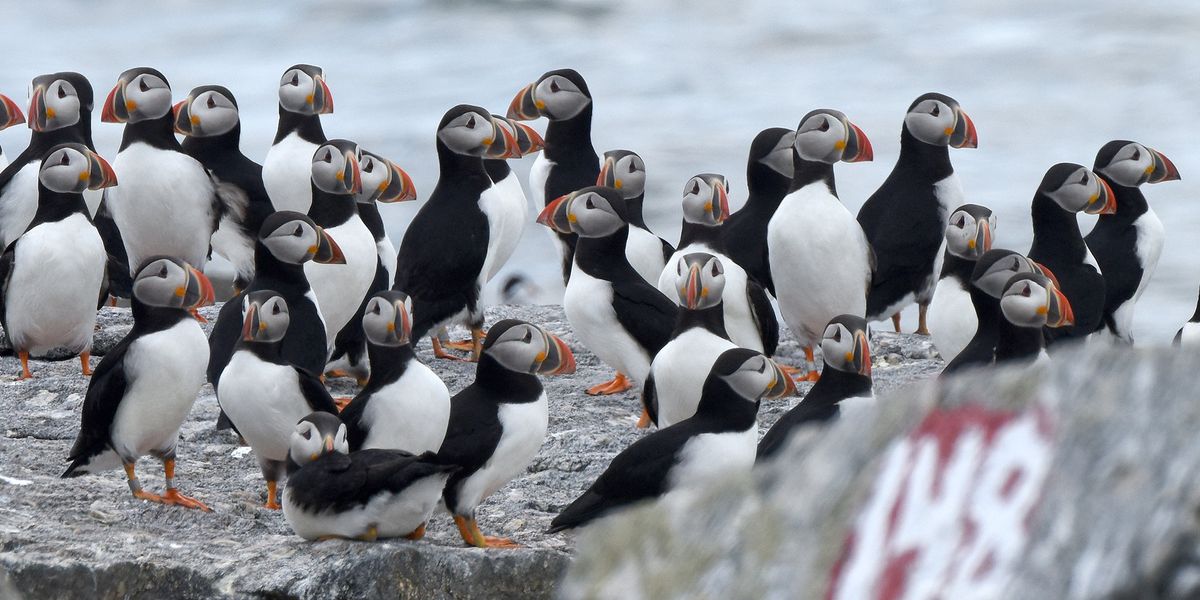 Credit: Derrick Z. Jackson
Facing uncertain future, puffins adapt to survive climate change
The fate of the seabirds remains heavily in the hands of humans.
EASTERN EGG ROCK, Maine — In the midst of a second-straight record year for breeding Atlantic puffins, the research crew on this tiny, treeless jumble of boulders six miles out to sea pondered how long this good fortune would last amid climate change.
---
"I wonder if the puffins can feel the change," said crew supervisor Sarah Guitart, 29, a marine science Boston University graduate of Boston University. "How long will they adapt? Will they adapt or die?"
These puffins got more than enough fish in the 46th year of Project Puffin, the world's first successful restoration of a seabird to an island where human activities eliminated it. Puffins had not bred on Egg Rock for nearly 100 years after being killed for their meat and eggs by people living and fishing along the coast. Puffins were down to their last pair or two in the entire state of Maine in the early 1900s.
This summer ended with 188 breeding pairs of puffins on Egg Rock, surpassing last year's record of 178. One day, the count of breeding and nonbreeding birds hit a record 407.
"The first puffins I saw this summer, I almost cried," Nadia Swanson, 22, a wildlife ecology graduate of the University of Wisconsin said. "Then to have the chance to be out here all summer with them flying all around me, especially after having just graduated from college, I just wish everyone could feel that joy."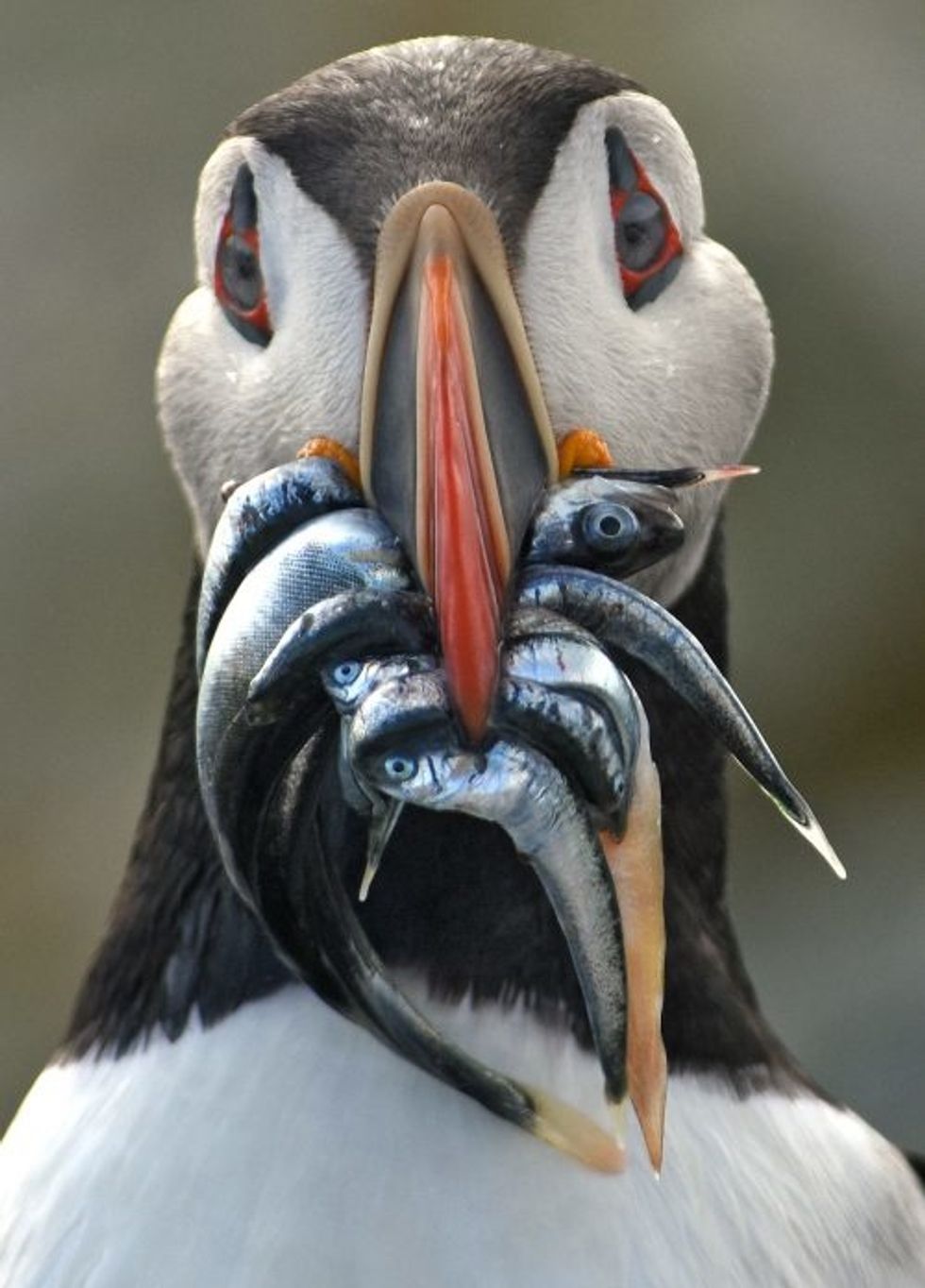 Puffin gathering food for chicks on Eastern Egg Rock, Maine – July 2019. (Credit: Derrick Z. Jackson)
There are now 1,300 breeding pairs of puffins on several islands in Maine. They are a significant source of revenue in the state's $6.2 billion tourist economy, with 9,200 wildlife watchers circling Egg Rock on Audubon-narrarated cruises last summer.

Some politicians now understand the value of the bird. In the first visit ever to Egg Rock by a member of Congress, Maine Democrat Chellie Pingree told the Bangor Daily News in July, "There's there's an awful lot we can learn from what [seabirds] are eating and what these [researchers] are observing."
Researchers have learned a lot since 1981, when Steve Kress, the founder of National Audubon's Project Puffin, saw the first breeding puffins return to Eastern Egg Rock with fish in their mouths for chicks.
That was the culmination of eight years of bringing chicks to the island from Newfoundland, which is hundreds of miles away. Kress and colleagues banded them and raised them in makeshift burrows until they fledged into the Atlantic Ocean.
Skeptics thought the chicks would go back to Newfoundland when their breeding instincts kicked in two or three years later. But they chose Maine. To fool birds reared on Egg Rock that the island was their home, Kress planted puffin decoys and mirrors around the island. Such techniques have since been used to preserve 65 species of seabirds in 17 nations.
As co-author and photographer with Kress on our 2015 book "Project Puffin," I spent four days on the island in July, seeing puffins bring plump young haddock and hake fish out of the deep for their chicks. These species of fish have rebounded into abundance in New England with strict fishing limits. There were even occasional herring, which are currently under strict federal limits because of overfishing.
When the puffins took breaks from fishing, they sometimes loafed on boulders in clumps scores thick, waddling around each other in a kaleidoscope of orange, yellow, black and white.
For me, this symbolized their resilience, for it belied the fact that the last decade has been the most volatile in the project's history. These particular puffins reside in the Gulf of Maine, where its waters are warming faster than 99 percent of the global ocean.
In cooler periods, such as from 1997 to 2011, the number of breeding puffins on Egg Rock grew steadily upward from 20 pairs to a then-record 123 pairs.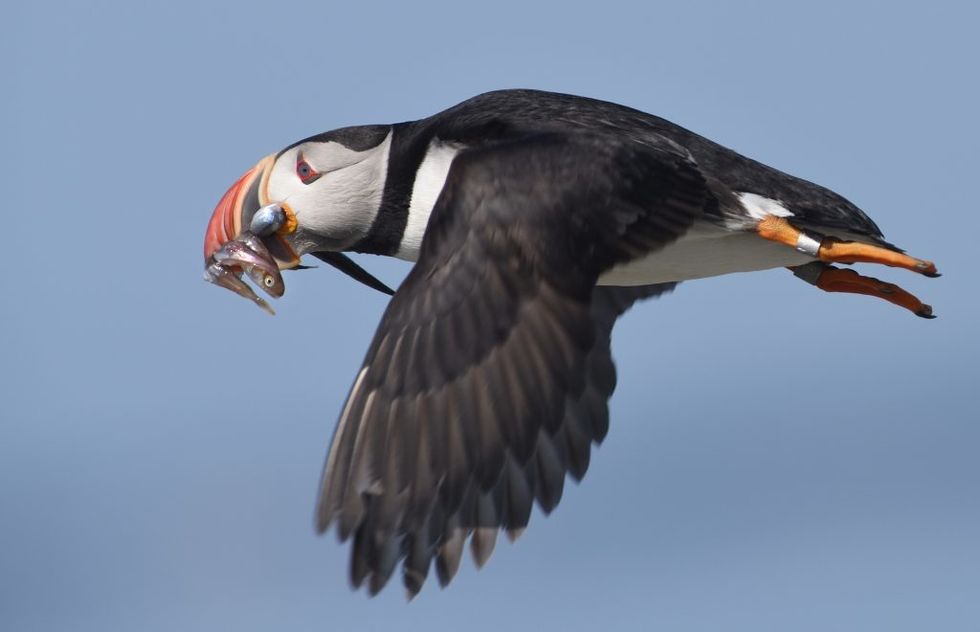 Puffin carrying fish to chicks. Eastern Egg Rock, Maine; July 2019. (Credit: Derrick Z. Jackson)
Then in 2012, the ugly face of climate change reared its head as summer sea-surface temperatures set an all-time record by approaching 70º degrees Fahrenheit, nearly 4 degrees higher than normal.

To most humans, water in the high 60s is still bone-chilling. But in an analogy I came up with last year for The American Prospect magazine after consulting with ocean scientists, 4 degrees warmer for a cold-water fish is like wearing a parka on Miami Beach.
The result was a scary window into a future of unbridled warming.
Unable to shed their "parkas," the hake, haddock and herring either fled to far out to sea or too deep for puffins to catch.
A lot of what the fish puffins did catch was the wrong shape. Chicks need elongated fish to slurp down. Warm years increases the presence of butterfish, a species more predominant along the mid-Atlantic coast. Butterfish are too oval and wide for young chicks to swallow.
For the first time in a quarter century, the number of breeding pairs on Egg Rock dropped, from 123 pairs down to 104. Other puffin islands in the gulf were dramatically impacted. The number of breeding puffin pairs was more than halved on the national wildlife refuge of Petit Manan Island, from 104 pairs in 2009 to 47 pairs in 2013.
On Project Puffin's sister projects on Seal Island and Matinicus Rock, puffin parents fledged only 1 of every 10 chicks, compared to 4 out of every 5 in good years. The birds rebounded with cooler waters from 2014 to 2017. Then last year, Kress and his crews went through a summer they've never seen.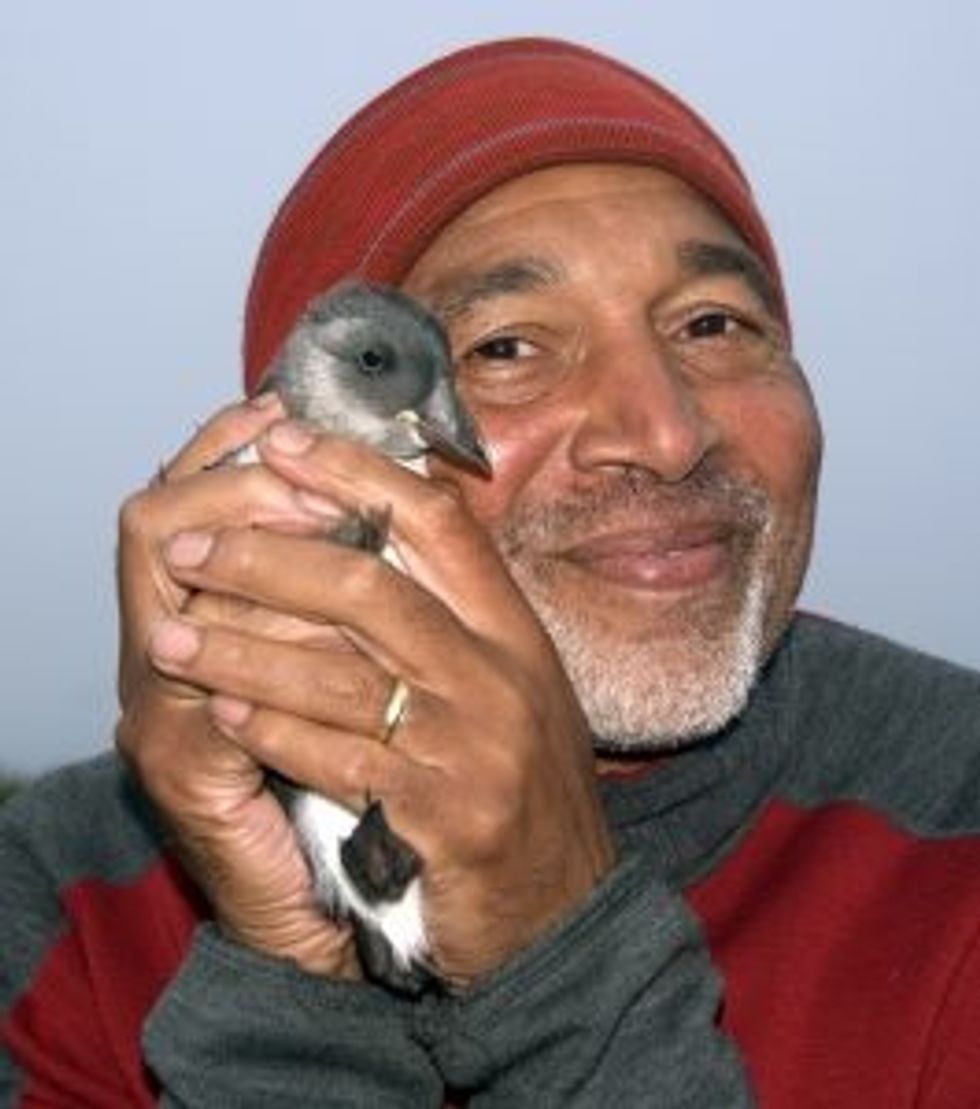 Author Derrick Jackson holding puffin chick.
The summer began with great promise with cool water and abundant puffin breeding. Then, temperatures spiked close to the 2012 boiling point in mid-July. Puffins stopped finding proper fish to feed chicks. Or they found plenty of the dreaded butterfish. Starvation set in, with researchers finding many dead puffin chicks.

The chicks that clung to life were in such poor condition that 2018 Egg Rock intern Kay Garlick-Ott told me for the American Prospect, "You can actually feel the lack of food in the bird. You expect your fingers to hit something like bones, but it was just a puffball. When I pulled it out of its burrow, I knew it wasn't right. It was so sad."
Given what happened in 2012, Project Puffin's crews steeled themselves for grim end-of-summer reports. When past years went bad, they stayed bad. But the waters cooled dramatically in mid-August. As suddenly as fish had disappeared, they reappeared. Puffins resumed feeding chicks that were still alive.
Mid-August is normally the time that chicks have fledged and adults have abandoned the islands for 8 months of migration. But in a frantic effort to make up for lost time, parents fed chicks three weeks longer than usual, some well into September.
Kress said the peaks and chasms of early-summer feast, mid-summer famine and late summer banquet symbolize the unpredictability humans keep throwing at birds like puffins. "The good news is that we saw remarkable adaptations and strategies under adversity," said Kress, 73. But how much more unpredictability can we subject puffins to?
In the 1980s, the diet of Egg Rock puffins was almost exclusively herring. No more with overfishing. Now come these wild temperature fluctuations as climate change drives many species of marine life northward and deeper. It is uncertain what suitable fish will come to Maine's puffins, which live at the absolute southernmost edge of their known range in North America.
Then add politics. Only five years ago, it was discovered that Maine's puffins spend the late winter feeding in waters 130 miles southeast of Cape Cod. Those waters happened to harbor pristine canyons and seamounts where whales, turtles, deep sea corals and other seabirds thrive.
President Obama designated the area a national monument in 2016. The wonders underneath are still being understood as scientists announced the discovery of two new corals this spring, even as warming water threatens their long-term survival.
But in an appeal scheduled to be heard in federal circuit court in October, fishermen are suing to have the designation reversed. They have a key ally in President Trump, who is threatening to gut the key protection undersea monuments offers, a ban on commercial fishing.
On top of that, the Trump administration this month unveiled its long-anticipated plans to weaken the Endangered Species Act (ESA). A key provision would allow the government to disregard the effects of climate change in species protection and factor in the economic losses of protection to industry.
It is perhaps the worst possible time to take climate change out of the equation and allow industry a seat at the table when in so many cases, industrial activities pushed species to the brink of extinction. You hardly need a critically endangered creature to tell you why weakening the ESA is foolish.
Puffins will suffer on a national and international level. As Maine's Atlantic puffins deal with unprecedented fluctuations of temperature, the species is being battered in Europe by the multiple whammies of climate change, overfishing, pollution and invasive plants, and ground predators such as rats, mink and cats.
Listed in 2012 as a bird of Least Concern on the International Union for the Conservation of Nature's Red List (IUCN), the Atlantic puffin today is listed as Vulnerable. In the Pacific, the Tufted Puffin is undergoing a parallel struggle.
In 2014, the Natural Resources Defense Council petitioned the US Fish and Wildlife Service to have that puffin species listed as endangered in California, Oregon, and Washington as its numbers had crashed from 30,000 to 4,000 over the last 30 years. That petition is under review as the agency found "substantial" evidence warranting action.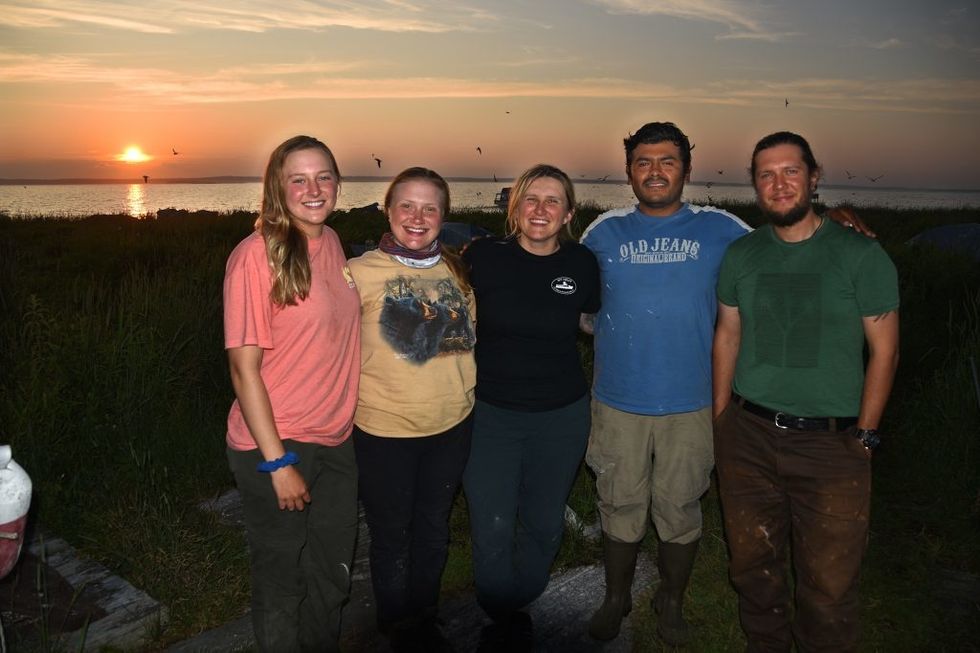 Eastern Egg Rock Research Crew L to R: Kathryn Devers, Nadia Swanson, Sarah Guitart, Angel Mendez, Michael Rickershauser. (Credit: Derrick Z. Jackson)
Similar action may ultimately be warranted necessary far to the north, as a team of scientists, including several from the very federal agencies Trump repeatedly attempts to cut science funding from − including Fish and Wildlife and the National Oceanographic and Atmospheric Administration − reported this spring that a mass Tufted Puffin starvation and die-off two years ago in Alaska likely was triggered by warming waters forcing fish out of range.

The study said the die-off, one of many from 2014 to 2018, suggests "broad-scale ecosystem change," with total puffin mortality in the thousands and representing "a significant portion of Bering Sea colonies."
For most people taking a stroll on a beach, seabirds appear to be abundant. Science says this becoming a tragic illusion. Bird Life International says 28 percent of species are globally threatened, more than any other group of birds. A major study this past winter by researchers from France, the United Kingdom, South Africa, and Canada found that competition with commercial fishing has slashed the world's seabird population by 70 percent since 1950.
And a new study published this month by researchers from the UK, US, and Argentina found that nearly half of the world's seabirds are threatened by either invasive species, fishing by catch, and climate change, and 20 percent are being hit by all three.
A top example is the endangered African Penguin. A bird that once numbering numbered 3 million to 4 million in the 1800s, is down to its last 25,000 pairs in South Africa and Namibia with overfishing, climate change dispersing the remaining fish, pollution, and habitat destruction.
As part of an effort to stave off extinction, researchers and the South African government are seeing some initial benefits of strict fishing bans near penguin habitat of their preferred prey, anchovies and sardines. Conservationists are also borrowing from Project Puffin by trying to lure penguins to new habitats with decoys.
The success of decoy efforts remains to be seen, but researcher Christina Hagen said, "We definitely fooled some of the tourists." What is for certain is that the fate of seabirds are heavily in the hands of humans.
Back on Egg Rock, Guitart said, "I don't know if we're doing much to fight climate change out here, but if the fish data is useful, we can say we played a small part."
Swanson added, "I really wish people could understand that we're already at the point that even if we take action now, our baseline, like the fish the puffins eat, is not going to return to what it was 30 and 40 years ago."
Derrick Z. Jackson is on the advisory board of Environmental Health Sciences, publisher of Environmental Health News and The Daily Climate. He's also a Union of Concerned Scientist Fellow in climate and energy. This post originally ran on the UCS Blog and is republished here with permission.