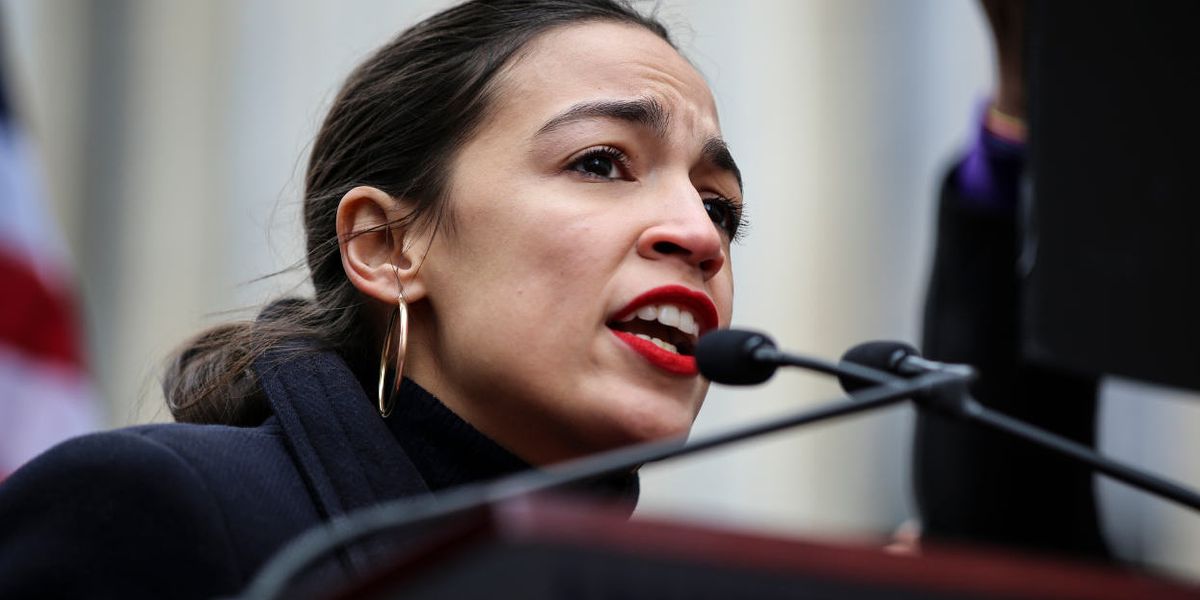 Rep. Alexandria Ocasio-Cortez (D-N.Y.) (Credit: Dimitri Rodriguez)
Peter Dykstra: Green New Deal, meet Old Red Scare
Before you write off the Green New Deal as unrealistic or a Commie plot, think about whether or not it's what we need.
This is American politics 2019, in a nutshell: Republicans circle the wagons around Donald Trump and a renewed fondness for red-baiting, while Democrats equivocate over Alexandria Ocasio-Cortez (D-NY) and the Green New Deal.
---
Presented last week by AOC and Senator Ed Markey, the 11-page manifesto was simultaneously hailed as visionary, pegged as short on detail, and condemned as a Marxist blow against the American Empire.
That's a lot for 11 pages.
In those pages, Ocasio-Cortez and Markey introduce vital concepts like soil health to Congressional attention. But even doing that will threaten Big Ag and the farm chemical industry. Indirect references to meat-eating, car-driving, plane-flying and other things with self-evident climate consequences will draw other big money constituencies into opposing the GND.
The original New Deal worked because every American community felt the pain of the Great Depression's economic ruin. With climate change, its rampant impacts may be there to be seen, but with polling data consistently showing high levels of oblivion, apathy, or outright hostility toward climate action, the GND has a much tougher fight on its hands. Add to that the GND'S laudable-but-cumbersome embrace of fair wages, universal health care and more, and the Deal's sponsors have further stacked the deck against themselves.
Republicans and their house media organs showed their hand early, tying the GND to the rise of a few self-described Democratic Socialists like Bernie Sanders and Ocasio-Cortez. John Barrasso, the Wyoming Senator who chairs the Environment and Public Works Committee, called the GND a "socialist manifesto." Lindsey Graham (R-SC), who has supported climate legislation in the past, dissed the GND as the work of "far left Democrats."
The President's amen chorus at Fox News left its footprint on GND's face. One Fox contributor suggested that the GND would be "getting rid of planes. " Sean Hannity and other Fox personalities regularly railed that the GND would simply destroy America and its "way of life." (This montage, compiled by the liberal watchdog group Media Matters for America, shows the breadth of the attack.)
House Speaker Nancy Pelosi and other notable Dems, like Florida's Kathy Castor, declined to endorse the GND. Pelosi chose Castor to run the new Select Committee on Climate Change. Ocasio-Cortez didn't make the committee roster at all.
But in spite of R's rejection and D's disinterest, climate issues can finally take hold as a central campaign talking point, albeit as the Republicans' "policy piñata." And the GOP will try their worst to elevate a brash, forward-thinking rookie like Alexandria Ocasio-Cortez as a lefty gargoyle poised to convert America into a godless egalitarian Caliphate.
Even if you reject everything AOC stands for, at least she stands for something. And clean energy gets a seat at the Congressional grown-up table.
The Green New Deal won't be fully embraced any time soon, but let's hope there are enough grown-ups in Congress to have an honest discussion about the ideas behind it.
Editor's Note: EHN and The Daily Climate neither support nor oppose any federal legislation.
www.ehn.org