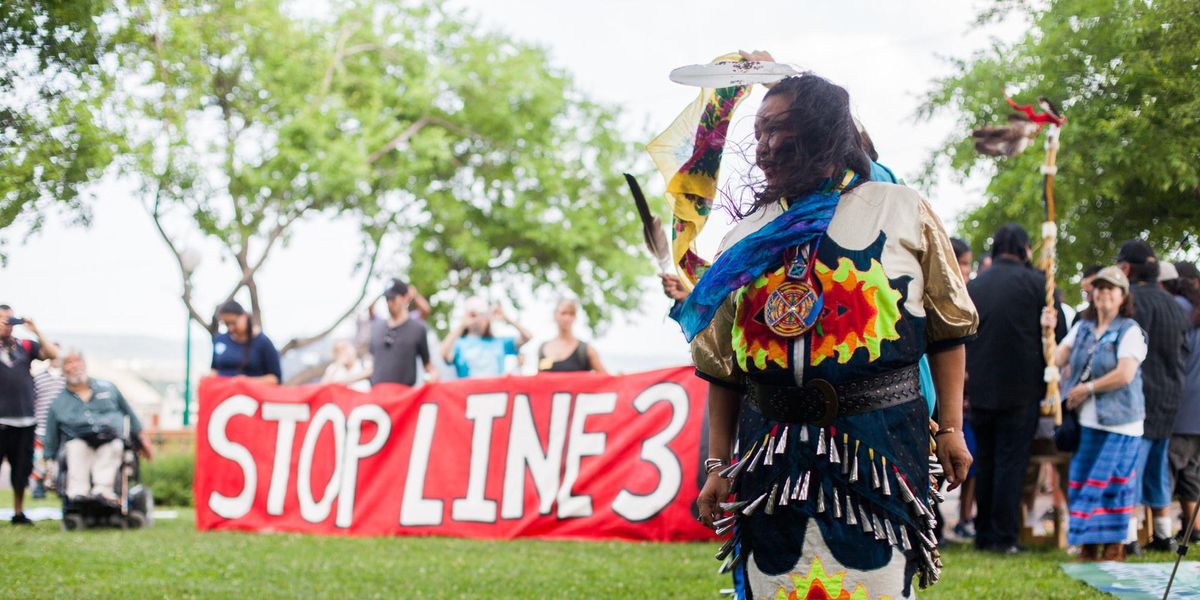 Why Indigenous women are risking arrest to fight Enbridge's Line 3 pipeline through Minnesota
Enbridge's Line 3 pipeline construction is running into tribal resistance over fears of water pollution, wild rice impacts, climate change, and exploitation of Native women.
On Dec. 14, Simone Senogles of the Red Lake Nation in Minnesota watched as machines chewed up the forest to clear a path to the Mississippi River where Enbridge plans to bury the Line 3 pipeline.
---
Weeks earlier, the state and federal government granted its final permits. Her friend's nephew sat 30 feet above in a tree. A cherry picker rolled forward to extract him.
Senogles, a leadership team member for the Indigenous Environmental Network who fought the Dakota Access Pipeline at Standing Rock, knew the Line 3 opposition had other strategies in place — court challenges, divestment campaigns — but in that moment she felt "a tremendous sense of responsibility." She said she locked arms with about 20 other water protectors, hoping to slow the cherry picker, but dozens of police wrestled them to the frozen ground and arrested them.
Senogles was charged with unlawful assembly and trespassing. She said it felt insulting. "It's Anishinaabe land," she told EHN, referring to a group of Indigenous people whose traditional homeland stretches from the East Coast through the Great Lakes to the Midwest. "Enbridge is the trespasser, they are the criminal, and they were aided by law enforcement who are supposed to be protecting us, but instead they were protecting a corporation."
After a six-year-long permitting process, Enbridge contractors in Minnesota are building Line 3, the largest project in the company's history. If completed, it will carry 760,000 barrels of oil per day from Edmonton, Alberta, to Superior, Wisconsin, at the tip of Lake Superior, the planet's largest freshwater lake by surface area. Police from the Northern Lights Task Force, Minnesota police officers funded by Enbridge as a condition of state permits, have arrested 72 Indigenous people and allies since construction began Dec. 1, according to task force press releases. Water protectors have put their bodies on the line, building six resistance camps along the pipeline route, chaining themselves to equipment and camping in trees.
Opponents say the threats from the pipeline are many: thousands of construction workers, many from out-of-state, are building the pipeline, posing potential violence to Indigenous women. The pipeline will also contribute to climate change, emitting the equivalent greenhouse gases of 50 coal power plants or 38 million vehicles, according to a report by climate action group MN350. In Minnesota, the pipeline would cross under 200 bodies of water, passing through wetlands where wild rice, a traditional Ojibwe food, grows. The pipeline will carry diluted bitumen, a heavy oil that sinks in water, making it harder to clean up.
At a pivotal moment for global climate action, Line 3 opponents are privately meeting with President Joe Biden administration officials via video calls and publicly demanding they cancel the project. In his first week as president, Biden canceled the Keystone XL pipeline and signed an executive order vowing to address the climate crisis as part of domestic and foreign policy. Biden also promised to respect tribal rights. However, his administration has remained silent on Line 3.
Line 3 construction is paused due to muddy spring conditions, but Enbridge told EHN work will resume in June. At an April energy symposium, Enbridge CEO Al Monaco
said
Line 3 is on schedule to be completed by the end of the year.