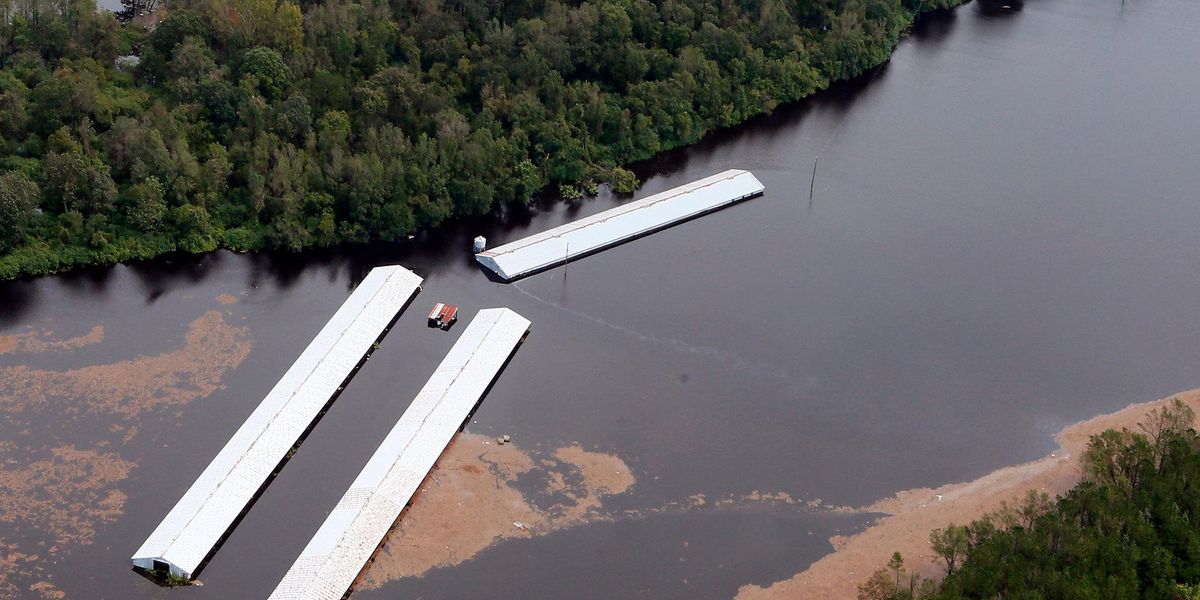 Hurricane season spurs hog waste worries in North Carolina
As experts predict an active storm season, critics say the hog industry has done little to change after recent hurricanes overwhelmed waste lagoons.
As North Carolina heads into another hurricane season, some residents and organizations fear the stormy season will again flood communities with hog waste.
---
The state's hog waste management works by funneling feces, urine, and blood from hog farms into massive open waste lagoons, which let off foul odors and methane gas. When the lagoons become full, the waste water is often sprayed onto fields as nutrients for crops. The waste, which contains harmful bacteria like E. coli or salmonella, can wash off into local waterways and cause groundwater contamination and fish kills.
Hurricanes hasten this pollution. In 1999, Hurricane Floyd swept through the region, causing significant damage to swine operations and flooding waste lagoons.
In 2018, Hurricane Florence hit, leading to damage or flooding in at least 110 lagoons and putting the problem of hog waste on full display once again.
"There is nothing outdated about the lagoon and sprayfield system," said CEO of the North Carolina Pork Producers Council, Roy Lee Lindsey in a statement to EHN. "It remains the most sustainable manner for us to manage our farms."
But the state, environmental advocates, and community members disagree. And Will Hendrick, environmental justice advocate for the North Carolina Conservation Network and staff attorney with the Waterkeeper Alliance's Pure Farms program, told EHN the industry has not made "meaningful changes" in response to increasingly frequent and severe storms.
Meanwhile, the National Oceanic and Atmospheric Administration is predicting a higher than average hurricane season for North Carolina in 2021. On the Atlantic coast the agency estimates 16 to 20 major named storms, seven to 10 hurricanes, and three to five major hurricanes.
As climate change threatens to create more intense storms in the years to come, and with concerns over the location of hog farms in flood prone parts of the state coupled with lax regulatory oversight, how is the hog industry preparing for these increasingly devastating events?