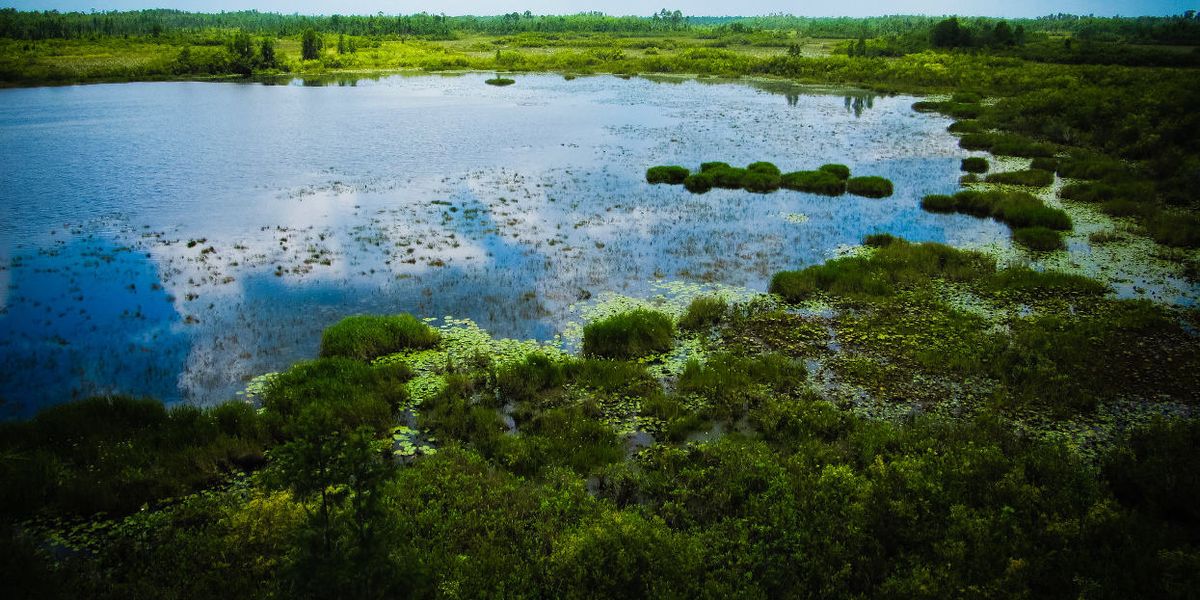 Swamp threats rising from the grave
An environmental threat thought to be dead for 20 years prepares for a revival.
As natural wonders go, swamps are not high on my list.
---
I've spent less than 48 hours each in the Everglades and the Okefenokee. Between the bugs, the nearly-liquid atmosphere, and the overall gloom, I'd prefer to admire their ecological grandeur from afar.
So, feel free to call me a dilettante. Give me Yosemite, Yellowstone, a dozen national seashores or lakeshores, wild and scenic rivers, Thomas Edison's historic labs, and scads of other federally protected, publicly venerated places that rank higher on my bucket list.
But I'm still stunned that a long-dormant threat to the Okefenokee—a vast, mostly protected wetland straddling the Georgia–Florida border—has roared back to life.
In the mid-1990's, DuPont floated a proposal to mine titanium ore within a few miles of the swamp's southeast corner. The Trail Ridge, a mile-wide, 100-mile-long minerals-rich mound, beckoned.
The ridge also held down the day job it's had for the past hundred thousand years or so: blocking in the water that makes the Okefenokee Swamp a swamp.
Titanium oxide is probably within a few feet of wherever you're reading this. It's the white in white paper, or the white paint on your walls.
The Trail Ridge of Georgia and North Florida is loaded with the stuff, as well as zirconium, a rare element with a dozen exotic uses, including the making of fuel rods for nuclear power plants. The ridge is a geologic freak—a forested sandbar that's 40 miles away from the ocean.
Critics said that the planned strip-mining of the sandy soil could permanently alter a section of the ridge, imperiling the swamp and the slow-flowing rivers it feeds. Endangered species like the gopher tortoise and red-cockaded woodpecker could also be at risk.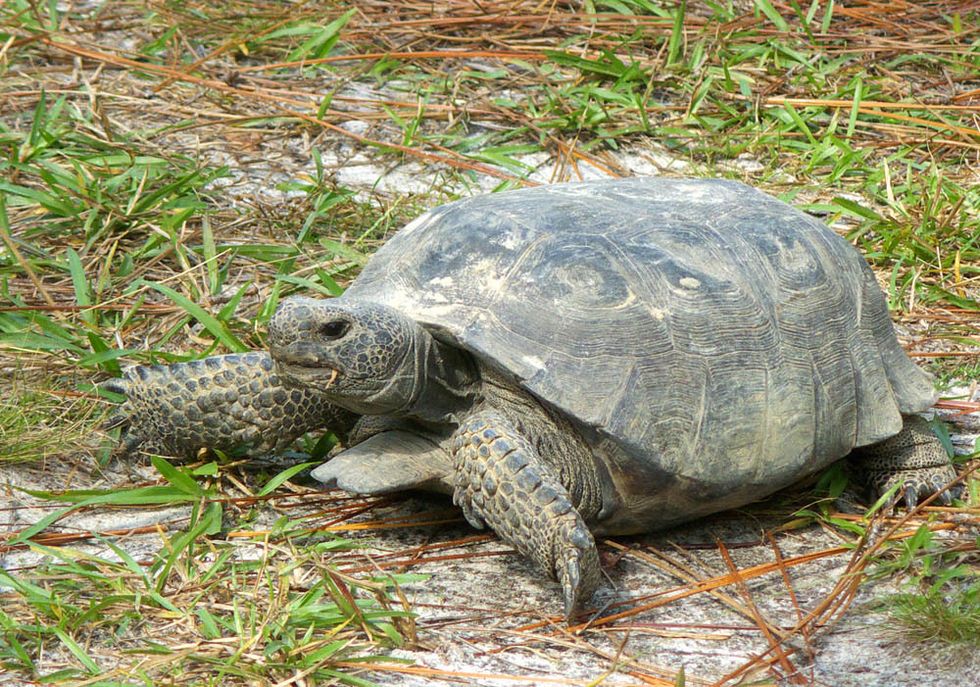 Gopher Tortoise, one of the vulnerable species in the Okefenokee. (Credit: tom spinker/flickr)
DuPont's proposal ran into a buzzsaw of grassroots blowback. Bruce Babbitt, Interior Secretary in the Clinton era, led bipartisan political opposition. DuPont placed its plan on hold in 1997, declared it dead two years later, and even donated thousands of acres to conservation groups.

At least 600,000 people disagree with me on the lure of swamps. That's how many people visit the Okefenokee each year, and their swamp-o-philia is being called upon anew. Last year, an Alabama-based company called Twin Pines Minerals applied for the same type of operation.
Three federal agencies—the Environmental Protection Agency, the Fish & Wildlife Service, and the Army Corps of Engineers—raised questions about Twin Pines' plan.
Conservationists, local governments and residents again barraged the feds. Twin Pines withdrew its permit request and re-filed a less ambitious one, which now awaits federal approval. That's federal approval from Trump Administration-led agencies.
Stay tuned.
There are two lessons here. First, many environmental victories have to be won more than once. The Endangered Species Act, the Clean Water and Air Act and the agencies charged with enforcement of these and countless others are under assault.
Second, let's say Twin Pines gets its less ambitious plan approved. Tom Horton is a legendary writer and reporter on issues around Baltimore and the Chesapeake Bay.
Years ago, he mentioned something to me that brought clarity to just how hard it can be to deal with environmental issues. He had covered a local controversy where developers sought to level hundreds of acres of forest, replacing them with upscale homes and businesses.
Local conservationists forced the developers to roughly halve the project, saving hundreds of trees. They claimed victory. A downsized upscale community went in, at the sacrifice of hundreds of un-saved trees causing Horton to wonder: Just how many more "victories" can a healthy environment sustain?
Should it be approved, the Okefenokee mining plan would indeed be smaller than DuPont's 1990's version.
Let's hope no conservationists celebrate the "victory" of a smaller threat.
A new, smaller threat to a treasured spot is no victory.
Peter Dykstra is our weekend editor and columnist. His views do not necessarily represent those of Environmental Health News, The Daily Climate or publisher, Environmental Health Sciences.
Contact him at pdykstra@ehn.orgor on Twitter at @Pdykstra.
Banner photo: Okefenokee National Wildlife Refuge. (Credit: Jo Jakeman/flickr)

www.ehn.org