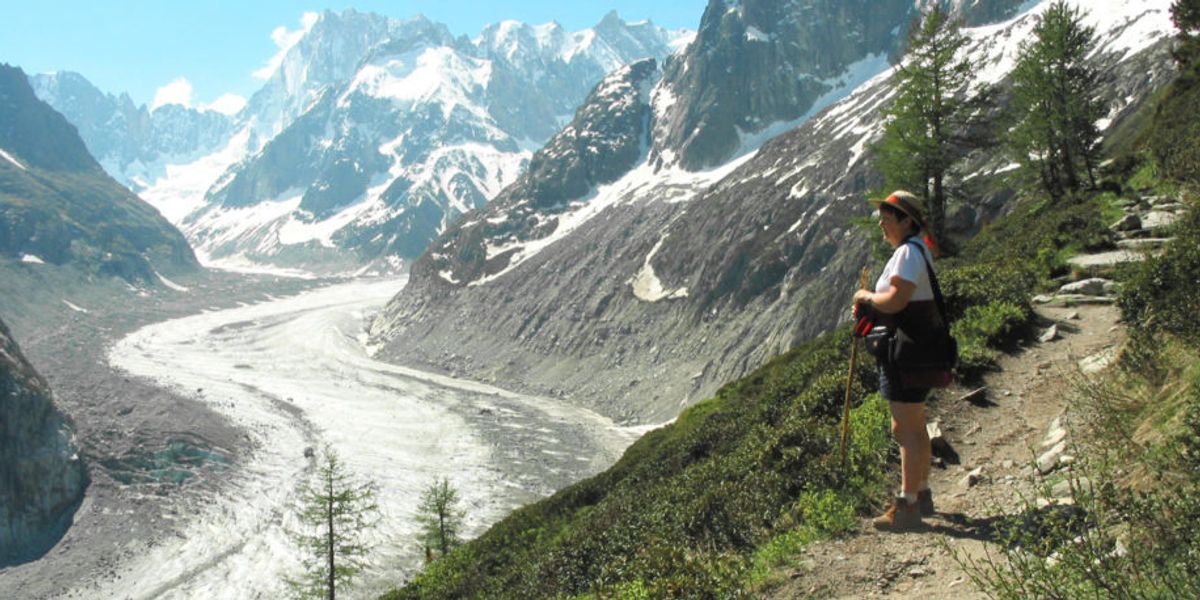 Credit: Jean-Pol Grandmont/Wikimedia
People are flocking to see melting glaciers before they're gone—bringing both benefit and harm
More tourists mean more business and more climate change awareness, but visiting thawing destinations can be a double-edged sword
Editor's note: This story originally appeared in Ensia and is printed here as part of a republishing partnership. Read the original here.
---
A generation ago, descending three steps was all visitors had to do to take a close-up look at the Mer de Glace, a massive, crevasse-riddled glacier winding down the Mont Blanc massif in the heart of the French Alps.
Today it takes 480 steps to reach the ice. And from there, the gaping, debris-covered mouth of the glacier is still hundreds of steps farther.
The Mer de Glace is but one example of the retreat of Alpine glaciers, casualties of a warming climate that has quickened their melting in the past several decades. The glacier, the second largest in the Alps, has receded some 700 meters (2,300 feet) since 1990. Portions also have thinned by some 100 meters (300 feet) around the same time.
Scientists predict that it may not be much longer before this frozen marvel can hardly be seen. As a result, this receding natural wonder increasingly lands on the bucket lists of tourists from all over the world.
"I felt that I had to go before the glacier may kick the bucket before I do," Abigail Redal, a visitor from Colorado, told me on a recent trip to the glacier. "I'm grateful that my 19-year-old daughter and I had the chance to see what's left of the Mer de Glace. The next generations will likely not."
Traveling to destinations at risk of disappearing is a relatively new phenomenon known as last chance tourism. The underlying principle is pretty straightforward: to see species, cultures and natural habitats before they are irrevocably altered or vanish. This may be good for the tourism business, for connecting people with nature and for driving home the need to do something about climate change. But concerns are growing about adverse outcomes as well.
www.ehn.org