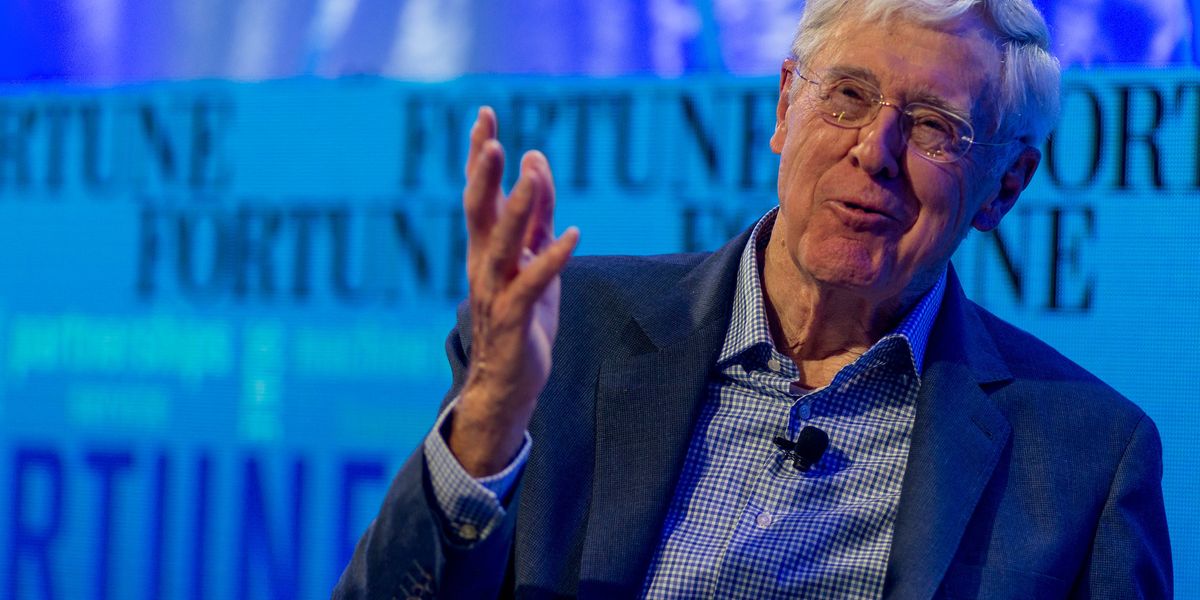 Charles Koch in 2016. (Credit: Fortune Brainstorm Tech/flickr)
Peter Dykstra: Clearing up some myths about the seven—yes, seven—Koch Brothers
Only one is currently active in disemboweling American democracy.
Among liberals and environmentalists, the name "Koch Brothers" has become a synonym for the bankrolling of the purge of sound climate science and environmental policy in our government.
---
Nothing could be farther from the truth. Only two Koch Brothers, Charles and David, have been the philanthropic drum majors for destruction. In August, David joined the Choir Invisible at age 79, leaving only his Big Brother Charles as a full-time pillager.
As for the other five, there's Bill. He's the late David's twin, estranged from the family business, but still dabbling in chaos. An avid sailor and former winning America's Cup skipper, Bill is credited with bankrolling the decade-long resistance to Cape Wind, which would have been the first-ever offshore wind energy project in U.S. waters. Cape Wind's backers pulled out in 2017, killing the pioneering project. The Koch twins starred on the MIT basketball team in the early Sixties.
Frederick R. Koch, oldest of the four Koch Brothers issued by Frederick C. and Mary Koch of Wichita, Kansas, is even more distant from the family's notoriety. He and Bill were driven out of Koch Industries after a bitter court battle in 1983. One of their prospective partners in a failed takeover attempt was oil baron E. Howard Marshall. You may remember Marshall as the 89-year-old invalid who married Playmate of the Year Anna Nicole Smith, 60 years his junior.
Now 86, Fred spends his time and money collecting artwork and supporting museums.
But seven Koch Brothers? The other three are Koch Brothers from another Koch Mother, in another century. In 1889, George, William and Frank Koch founded Koch Brothers Office Supplies in Des Moines, Iowa. Little did the original Koch Brothers know that their name would take center stage in America 130 years later.

The Iowa business is still run by a direct descendant, Dutch Koch. When the Wichita Kochs first became the focus of political fame and controversy around 2011, Dutch told the Des Moines Register that the Iowa Kochs received a few death threats and hate messages. It probably doesn't help that the Iowa Kochs still own the domain www.kochbrothers.com, though they've re-branded as the "Koch Office Group" in recent years.

As a service to readers, here's how to tell your Kochs apart.
The Iowa Kochs are represented in Congress by Cindy Axne, who won her first term in the 2018 Democratic wave. She is the first Democrat to hold the seat since 1987, when Fred Grandy took office. Grandy was better known as the character "Gopher" on the dreadful TV series "The Love Boat."
The Wichita Kochs have been represented in Congress by Republicans since 1994, most notably Mike Pompeo, the current Secretary of State, from 2011 to 2017.
The Wichita Kochs are estimated to be the world's third richest family, with Charles and the late David worth $50.5 billion each. Ahead of them are the Waltons (Wal-Mart) and the Mars family, whose consumer products (Milky Way, Skittles, Three Musketeers) are leaders in diabetes production.
The Iowa Kochs have never made the wealthiest families list.
The Wichita Kochs claim nearly 130,000 employees in nearly every U.S. state and 60 nations. In addition to their original interests in fossil fuels, Koch Industries includes well-known consumer brands like Stainmaster Carpets and Georgia-Pacific forest products, as well as cattle, textiles, chemicals, financial services and more.
The Iowa Kochs have four stores – two in Des Moines, one in Cedar Rapids, and one in Charles City.
The Wichita Kochs are major contributors to the arts, museums and the PBS science program "Nova." But their best-known philanthropy focuses on libertarian and conservative causes. Through their foundations, Koch-sponsored nonprofits like Americans for Prosperity and a battery of like-minded candidates, the Wichita Kochs have become a major mover in American politics. Perhaps their biggest impact has been in re-shaping state laws and tipping state legislatures to Republican control. The American Legislative Exchange Council (ALEC) drafts bills for state legislators nationwide on environment, healthcare, labor, and other issues. As controversy swirls around ALEC and some of its corporate sponsors like Honeywell, Dow, AT&T and Verizon pull out, Charles Koch has increased his ALEC support.
Did I mention that the Iowa Kochs have four stores – two in Des Moines, one in Cedar Rapids, and one in Charles City? Also, Dutch Koch says the Iowans strictly avoid partisan politics.
The Wichita Kochs have launched a nationwide image-building campaign for Koch Industries, including warm-n-fuzzy TV commercials and huge ads on sports arena walls.
After an initial flurry in 2011, the Iowa Kochs have declined interview requests, including one from EHN/Daily Climate.
No fewer than three recent investigative books trace the emergence of the Wichita Koch empire: Jane Mayer's Dark Money, Christopher Leonard's Kochland, and Sons of Wichita by Daniel Schulman.
The Iowa Kochs are your full-service office supply and furniture warehouse.
With Dave Koch passed on, Fred and Bill Koch sacked from the family business by their Koch-sacking siblings and the three Iowa Koch Brothers from a different mom in a different line of work in a different century, the 84 year-old Charles Koch remains the one fair object of environmentalists' outrage and conservatives' solicitude.
That concludes your guide to activism, paper clips, and Aeron chairs for today.
www.ehn.org