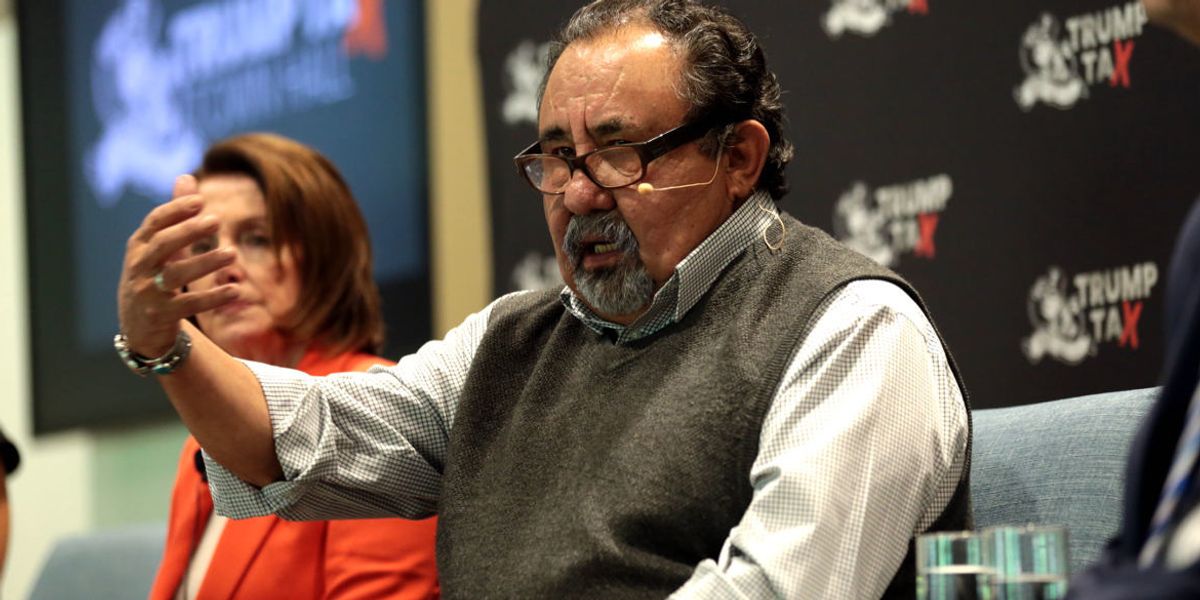 Rep. Raúl Grijalva (D—Arizona), Chair of the House Natural Resources Committee. (Credit: Gage Skidmore)
Peter Dykstra: Coming attractions
Between the shutdowns, showdowns, and an already-cluttered 2020 challenge to Trump, a few environmental observations
This week, President Trump directed his Thumbs of Fury at Director of National Intelligence Dan Coats.
---
A former Senator and conservative loyalist, Coats led a team of intelligence chiefs in presenting their annual Worldwide Threat Assessment to Congress. In addition to contradicting Trump's rosy views on Russia, North Korea, ISIS and more, Coats said climate change posed a dire threat to global security.
Trump had already tweeted his obligatory tweet that the blast of Arctic air momentarily over his head disproved "global waming (sic)." But then he added that his hand-picked security bosses needed to go "back to school."
Two years into the Trump Era, it was no shocker that Trump's dogma overruled data or expertise. I guess it wasn't even a shocker that the Presidential spellcheck didn't even bother challenging "waming."
In the beautiful Midwest, windchill temperatures are reaching minus 60 degrees, the coldest ever recorded. In coming days, expected to get even colder. People can't last outside even for minutes. What the hell is going on with Global Waming? Please come back fast, we need you!
— Donald J. Trump (@realDonaldTrump) January 29, 2019
But back in the real world, voters have returned control of the House of Representatives to the Democrats, and control of the chamber and key House committees have changed hands.

Democrat Raul Grijalva replaced Republican Rob Bishop as Chair of the House Natural Resources Committee. Together, the two combine for a lifetime League of Conservation Voters (LCV) score of 98% -- Grijalva at 96%, and Bishop at 2%. The scores represent an annual performance rating put out by the LCV on House and Senate members for "good" and "bad" environmental votes.
Bishop called for the revocation of the Endangered Species Act, transferring its powers to state agencies ill-prepared and largely unwilling to enforce it.
Bishop also pushed to gut the Antiquities Act, the 1906 law used by Presidents Clinton and Obama to sidestep Congress in protecting Western lands.
Grijalva and his fellow Democrats are now in a position to block regressive legislation and probe potentially shady dealings within federal agencies.
Grijalva also promises to look backward. House Democrats now have the subpoena power they lacked during the brief and contentious reigns of Scott Pruitt at the EPA and Ryan Zinke at the Interior.
While most of the dozen-plus misconduct complaints against Zinke were closed with no action taken, Grijalva may still move on an alleged conflict of interest involving a land deal in Whitefish, Montana, Zinke's hometown.
The House Science, Space and Technology Committee became an inquisition chamber for climate science under Chair Lamar Smith of Texas, who retired this month. His understudy, Californian Dana Rohrabacher, lost his re-election bid. Eddie Bernice Johnson, the Dallas-area Congressional veteran who led Democratic resistance to Smith, takes over the gavel.
Little should change on the Senate side, with Republicans retaining control. Two new Senators bring climate-denying credentials to the job: Tennessee's Marsha Blackburn led a crusade against energy-efficient lighting in the House in 2011; as Florida Governor, Rick Scott reportedly banned the mention of climate change from government meetings or reports. Scott denied the charge made by whistleblowers in 2015.
Finally, in lining up replacements for the departed Pruitt and Zinke, the Trump Administration took dramatically different approaches: EPA's Andrew Wheeler is a former coal lobbyist. By contrast, Acting Interior Secretary David Bernhardt is a former oillobbyist.
And on Thursday, the EPA announced the appointment of John Christy to its Science Advisory Board. Christy is a go-to authority for climate deniers. His published salary for the last complete fiscal year in the University of Alabama system is $277,658, which would make him one of the best case studies that climate scientists are only in it for the money.
www.ehn.org