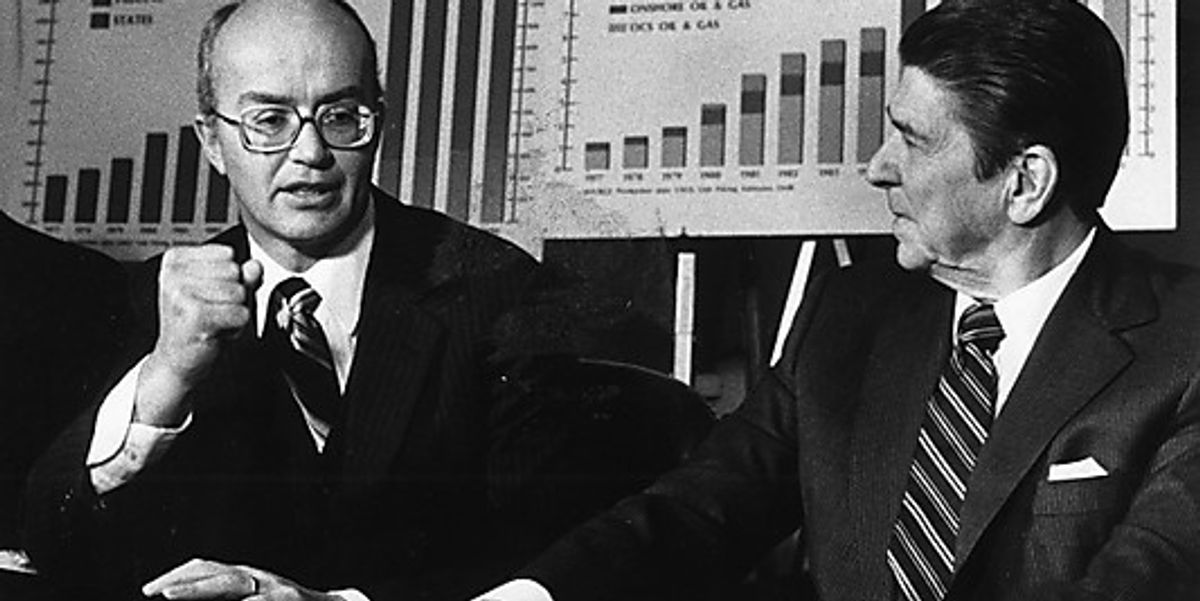 Profiles in Scourges: James Watt. Weekend Reader for Sun. Feb. 4
Long before Ryan Zinke sought to dismantle the Interior Department, Ronald Reagan's Interior Boss set a high bar.

There is striking parallel between Ronald Reagan's environmental wrecking crew of years past and the current administration. Here is the first in a series looking back at Reagan rollbacks and characters.
---
James Gaius Watt was by all accounts a direct and plainspoken man. He said what he meant, and often found out how much trouble that could cause for him in Washington.

Born, raised, and schooled in Wyoming, Watt was a rising star among Western ranchers, farmers and miners who bristled against what they saw as intrusive federal control over their livelihoods. He worked for the U.S. Chamber of Commerce and founded the Mountain States Legal Foundation, the first of several nonprofit law offices focused on challenging public lands and environmental regulations.
President Reagan made Watt Interior Secretary in 1981 to the delight of the "Sagebrush Rebellion," the western groundswell that helped sweep Jimmy Carter out of office. Presaging Trump officials decades later, Watt's legal foundation had several pending lawsuits against the department he now ran.
What Watt did not have was the full backing of both houses of Congress. Republicans took control of the Senate in the Reagan landslide, but the House remained firmly in Democratic hands. But Watt was not completely hamstrung. He fired dozens of attorneys involved in environmental enforcement and announced his intention to lease the entire U.S. coastline for oil drilling, whether Big Oil wanted it or not. (They didn't).
Watt set up the Minerals Management Service, whose howlingly inept stewardship of energy resources blew up in a scandal involving drugs, porn, prostitutes and a rapidly revolving door between Big Oil and the government in 2008-2010.
He pushed for dramatic increases in coal leasing on public lands in the West, and for a moratorium on new National Park land. In other words, but for the plain-spokenness, he was a prototype for Trump-era governance.
Watt's deep religious values and apparent obliviousness to Washington culture made him a regular form of political comic relief. His edict that female Interior employees could not wear pantsuits to work was widely ignored. Washington Mall concerts by the Grass Roots and the Beach Boys drew his ire.
Watt, who later admitted he'd never heard of the Beach Boys, disinvited the band from the 1983 Fourth of July concert on the Mall out of concern that the clean-scrubbed, aging band would bring drugs, alcoholism, and "the wrong element" to America's front lawn. He relented when Vice President George H.W. Bush and First Lady Nancy Reagan came to the band's defense.
That plainspoken streak continued. One of his ugliest quips came in 1981, foreshadowing the Bundy takeovers years later: "If the troubles from environmentalists cannot be solved in the jury box or at the ballot box, perhaps the cartridge box should be used."
Watt suggested that the Interior Department's logo, featuring a bison facing to the left, should be flipped so the bison faced right. A herald of the partisan environmental divide we now face, Watt said where most saw Washington divided into Democrats and Republicans, he saw "Liberals and Americans."
Finally, a particularly unfunny joke told during a speech to the U.S Chamber of Commerce did him in. Bragging about the diversity among a coal leasing panel, Watt quipped, "We have every mixture you can have. I have a black, a woman, two Jews and a cripple. And we have talent."
President Reagan received his resignation soon after.
He remained in Washington after leaving the Interior Department, working as a lobbyist. In 1996, he pleaded guilty to withholding documents from a grand jury investigating corruption in the Department of Housing and Urban Development.
In exchange for the guilty plea, the government dropped 18 perjury charges against Watt. He paid a $5,000 fine, served five years' probation and performed 500 hours of community service.
Watt faded from public life and retired to Jackson Hole, Wyoming, where he turned 80 last week. While he's had little to say about current rollback efforts, he praised the anti-regulatory push by former Vice President Dick Cheney, his Jackson Hole neighbor. "Everything Cheney's saying, everything the president's saying — they're saying exactly what we were saying 20 years ago, precisely … Twenty years later, it sounds like they've just dusted off the old work."
The same could be said for Ryan Zinke's leadership at Interior, but with a few crucial differences. Today, facepalming insults have been upgraded to Chief Executive status. Zinke and his cabinet colleagues have a volley of daily distractions and a compliant Congress to give cover as public lands, national monuments, endangered species and more lose their protection.
Not even an apparent scandal involving Zinke's Montana crony getting a supersized contract to re-wire hurricane-ravaged Puerto Rico made a wave.
But James Watt was a prototype over 35 years ago.
www.ehn.org