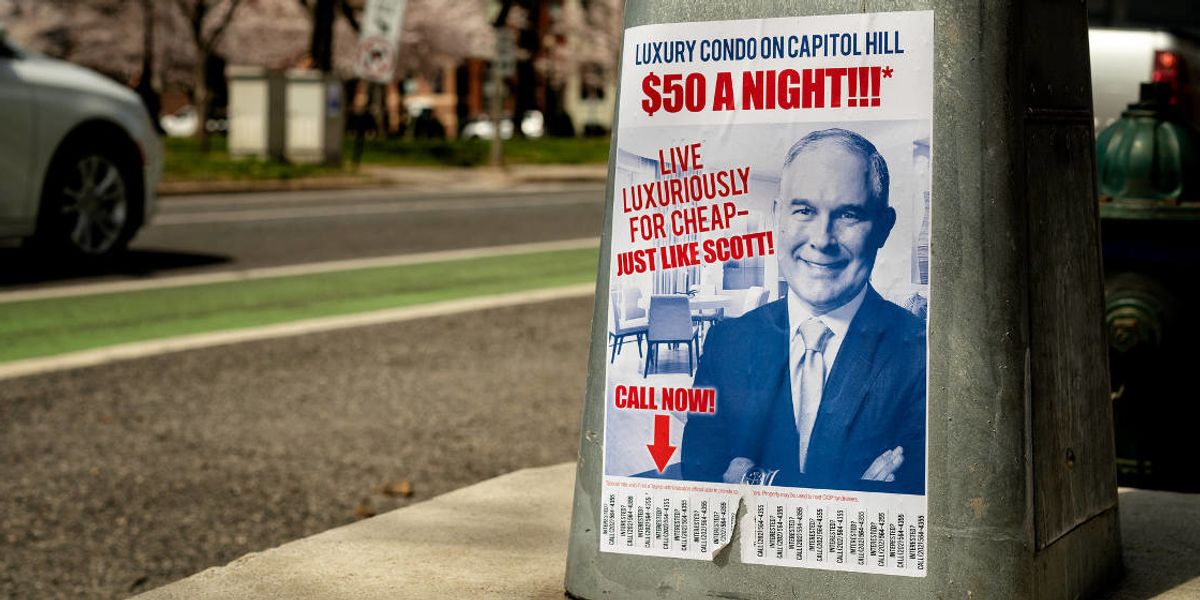 Pruitt Punditry/Weekend Reader for Sunday, April 15
What's the conventional wisdom from DC on Scott Pruitt's survival?
The wisdom is all over the map.
---
The embattled EPA Administrator is averaging a new scandal every couple of days. He's also gotten a strong vote of confidence from President Trump—just like a dozen other former Trump appointees who soon vanished into the Bermuda Triangle of the administrative branch.
So is Pruitt a short-timer, or is he in for the long run -- a boon for both polluting industries and late-night TV comics? Is he staying put, or headed for private life? Or will he be bumped up to the Attorney General's slot? Or dispatched to a Federal penitentiary?
The prospects are intriguing. The allegations against Pruitt for lavish spending and other ethical transgressions are serious -- certainly far more so than Health and Human Services Secretary Tom Price or Veterans Affairs Secretary David Shulkin, both of whom were forced out by Trump.
But Pruitt enjoys something of a Golden Boy status with President Trump for his zealous pursuit of the dismantling of his own agency. He came to Washington after seven years as Oklahoma Attorney General. His tenure was marked by repeated lawsuits against the agency he now runs. Shortly after arriving, Pruitt began to dismantle environmental regulations even as he ran roughshod over the rules for his own conduct.
This week, five Democratic members of Congress sent a six-page letter to Pruitt, demanding answers for his travel, his overpriced office decor, and his alleged persecution of employees who asked questions. Much of their curiosity was based on information from whistleblower Kevin Chmielewski, a registered Republican and Trump supporter who served as Pruitt's Deputy Chief of Staff until finding himself on unpaid administrative leave.
In March, Pruitt received a similar letter from Republican Trey Gowdy, who chairs the House Committee on Oversight and Government Reform. Gowdy, who is leaving office after this Congressional term, is best known for his multi-year pursuit of Hillary Clinton's handling of the deaths of four U.S. personnel at the Consulate in Benghazi, Libya. Gowdy sent a followup letter this week saying Pruitt's office has not supplied all the info he requested. The EPA's in-house Inspector General and the Government Accountability Office are also auditing Pruitt's questionable expenses. A summary of all can be found in this Vox.com story.
At The Intercept, Sharon Lerner tracked Pruitt's similarly extravagant spending while he was Oklahoma AG.
President Trump's options with Pruitt are the object of much speculation and punditry, and it's all over the map.
Option One: Kick him upstairs. Pruitt's ambition for the Attorney General's job is nearly as well-known as is Trump's disdain for the incumbent, Jeff Sessions. Value-added for Trump is that as A.G., Pruitt would be unencumbered by recusal. Sessions triggered Trump's wrath and public disdain by recusing himself from the investigation of possible collusion by the Trump Administration in Russia's attempts to influence the 2016 election.
Why this is increasingly unlikely: Simply stated, Pruitt is damaged goods. At least three Republican Senators -- Susan Collins of Maine, Lindsey Graham of South Carolina and John Kennedy of Louisiana—have criticized Pruitt, complicating his prospects for Senate confirmation as A.G.

Option Two: Keep him on. Pruitt's EPA conduct has received more attention from the Washington press corps than, say, protecting the environment ever would. Political commentators who don't know a PCB from a PPM from a PM2.5 are tongue wagging on this one for now. But it's a storm that could blow over -- not a Stormy. And Trump really, really likes Pruitt's clear-cut style.
Option Three: Security will take you to your vehicle now, Mr. Pruitt. That would be Mr. Pruitt's greatly-expanded security detail. He's diverted investigative staff to guard him, insisted on first-class air travel for the dubious notion that it keeps him protected from murderous enviros, and installed a bizarre "cone of silence" in his office for secure phonecalls.
With both parties and potentially both houses of Congress following the lead of journalists in investigating the EPA boss, this is increasingly likely. But here, no pun intended, is a Trump card. On Thursday, the Senate approved the nomination of Andrew Wheeler to serve as Pruitt's top deputy. Wheeler is a former coal lobbyist and, like his boss, a staunch climate denier who could slide into the top job should Pruitt depart, willingly or otherwise.

Then there's this: In an apparent bureaucratic hallucination, Pruitt reportedly told a staffer that he thought the EPA logo, which features a 1970's-vintage stylized flower, reminded him of a marijuana leaf. Sources familar with marijuana leaves told me that smoking all the weed in the world could not possibly make the EPA logo look like a marijuana leaf.
www.ehn.org