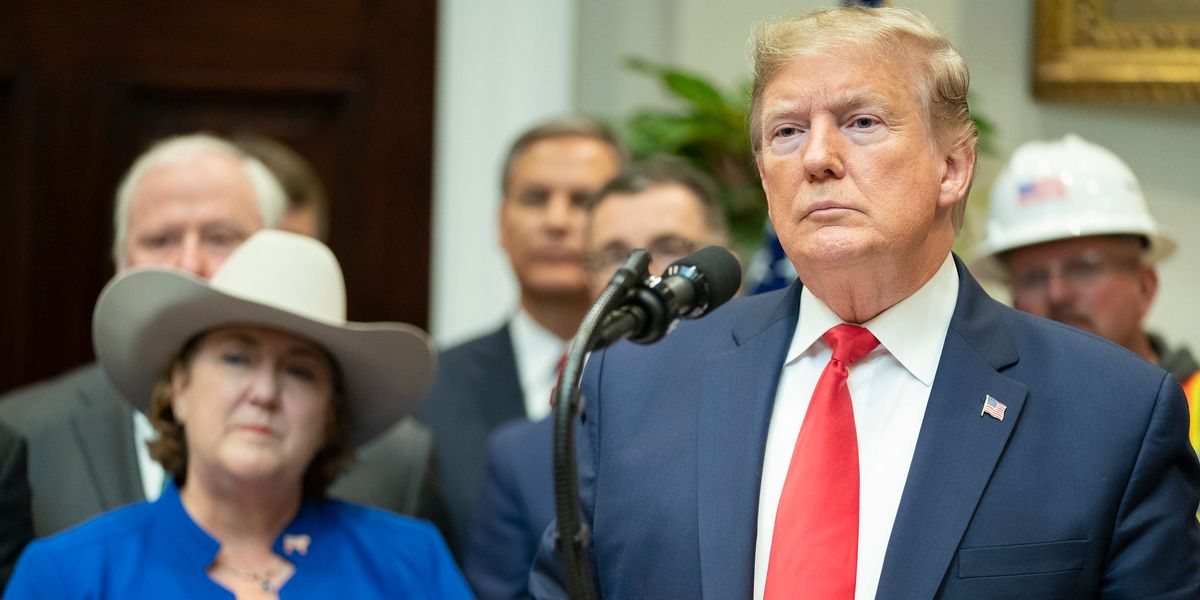 President Trump at the announcement of proposed changes to National Environmental Policy Act (NEPA) regulations Thursday, Jan. 9, 2020, in the Roosevelt Room of the White House. (Credit: The White House)
Trump's other war is going well
No, not the war against the press. Or impeachment. Or immigrants. Or reality. But the swamp-draining, regulation-stomping, soul-crushing assault on the environment.
While the "Three I's"—impeachment, Iran, and ineptitude—steal headlines, key battles in another war with lasting consequences go largely unnoticed.
A key confrontation, the Battle of NEPA, is underway.
---
NEPA is the crucial National Environmental Policy Act, introduced in 1969 and signed into law 50 years ago this month. It's the law that requires the preparation of an environmental impact statement (EIS) for major development projects: highways, pipelines, subdivisions, fracking sites and much, much more.
The law is a more obscure sibling to the family of monumental environmental statutes passed under the aegis of that Green Gargoyle, Richard Nixon.
The early 1970s saw Nixon enact the Clean Air Act, Endangered Species Act, Marine Mammal Protection Act and more. As mentioned here last week, Nixon often wrongly gets credit for signing the Clean Water Act, which he vetoed as too costly, only to be overridden by Congress.
On Thursday, President Trump's Council on Environmental Quality rolled out its proposed revisions to NEPA. To no one's surprise, the changes are a veritable industry wish list.
They tighten the timelines for an EIS and narrow the criteria for when an EIS is needed; the revisions would eliminate climate change as a consideration for signing off on pipelines like Keystone XL.
Then, there's the whimsical acronym "FONSI." The new NEPA would dramatically lower the goalposts for a Finding of No Significant Impact—a determination that environmental impact was so insignificant that no EIS is needed.
Ironically, it's possible that the "streamlined" NEPA could also un-stick a few wind and solar projects facing lengthy NEPA reviews.
The president has been on record as resenting NEPA's impact on his real estate ambitions: He bought a wooded 216-acre parcel in Westchester County, New York, with a plan to convert it to another Trump golf resort, angering nearby residents and town governments.
After 20 years of litigating, Trump decided to leave the Seven Springs property as a conservation easement and tax write-off. The tax dodge is now part of a New York State Attorney General investigation.
In Thursday's NEPA press briefing, Trump confounded his own tweeti-garchy by acknowledging he is a "big believer" in climate change and that it's "not a hoax."
"Nothing's a hoax. Nothing's a hoax about that. It's a very serious subject," he said. "I want clean air. I want clean water. The environment is very important to me."
Then, the president made a prompt return to the business of war. The rollbacks and purges continue, and the closest thing to an environmental accomplishment after three years of Trump is a fully-protected Swamp in the nation's capital.
Peter Dykstra is our weekend editor and columnist. His views do not represent those of Environmental Health News, The Daily Climate or publisher, Environmental Health Sciences. He can be reached at pdykstra@ehn.org.
www.ehn.org