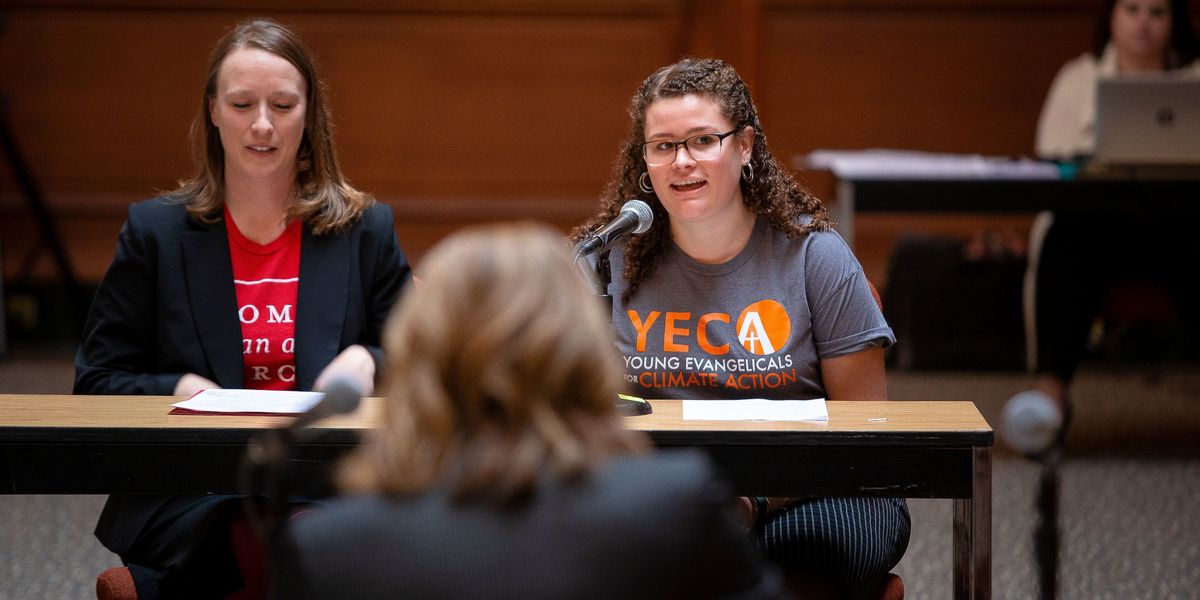 Politics
Christian groups fiercely defend the rights of the unborn but have long neglected to advocate for pollution-free births and childhoods. Some evangelicals are trying to change that.
Reverend Mitchell Hescox was on Capitol Hill in February, urging members of the House Oversight and Reform Committee not to gut an air pollution rule that protects children from the brain-damaging chemical mercury.
As president and CEO of the Evangelical Environmental Network (EEN), his message was unique among advocates of the highly-effective 2012 Mercury and Air Toxics Standard (MATS), which has slashed mercury emissions 85 percent from coal-fired power plants.
"Our commitment to Jesus Christ compels us to do all we can to protect unborn children from mercury poisoning. It is a pro-life concern, plain and simple," stated Hescox in his testimony, a seven-paged impassioned plea interweaving scripture with scientific research.
"President Trump's record of destroying environmental health rules threatens every child's right to fulfill their God-given potential," he said.
Coal-fired power plants are a major source of mercury, which gets converted in waterways to methylmercury, a highly toxic form that magnifies up food chains. When ingested by pregnant women, usually in fish, methylmercury crosses the placenta where it can affect the IQ and motor skills of children in utero, among other impacts.
Hescox calls the Environmental Protection Agency's effort to roll back MATS "the most egregious act yet by this EPA to undermine the health and lives of our unborn children."
He spent much of 2011 and 2012 advocating for the rule, which limits the amount of mercury and other air pollutants that may be emitted from power plants, and more recently mobilized 145,000 Christian evangelicals to submit comments against the EPA's proposed rule change. The new rule would eliminate the Obama Administration's justification for the standard, by providing new cost and benefit data that many question. It would not kill the rule outright, but is widely expected to open the door to industry lawsuits that would have that effect.
"I never expected to be fighting this mercury battle again," he told EHN wearily.
The Evangelical Environmental Network is not a member organization, but it has mobilized five million pro-life Christians to submit comments, testify on behalf of, or otherwise support environmental policies since its founding in 1993, according to Hescox. It offers a rare but growing voice that views the biblical call to protect life as a mandate that means caring for the environment, or "all god's creation," as well as protecting life from conception to natural death. It's a "whole life" perspective especially attractive to young evangelicals who view the pro-life stance as weaponized and no longer useful. These conservative Christians want to protect vulnerable populations from environmental pollution, and are drawing the connections between fossil fuels, human health and climate change.
Their movement, however, is butting up against a deeply ingrained pro-life Christian culture that narrowly focuses on ending abortion, and is now intertwined with partisan politics and free-market economics, right up to the highest levels of our federal government.
Can Hescox and others who take the "whole life" perspective convince pro-life politicians and conservative organizations that a consistent ethic of life must protect women and children from environmental pollution?
"We're literally destroying our lives, from increases in breast cancer, to decreasing sperm count in young boys, increases in asthma and autism, all definitively linked to how we use petrochemicals and fossil fuels," Hescox said. "How we care about God's creation impacts the way we think about human life."
Read the Full Article on
www.ehn.org