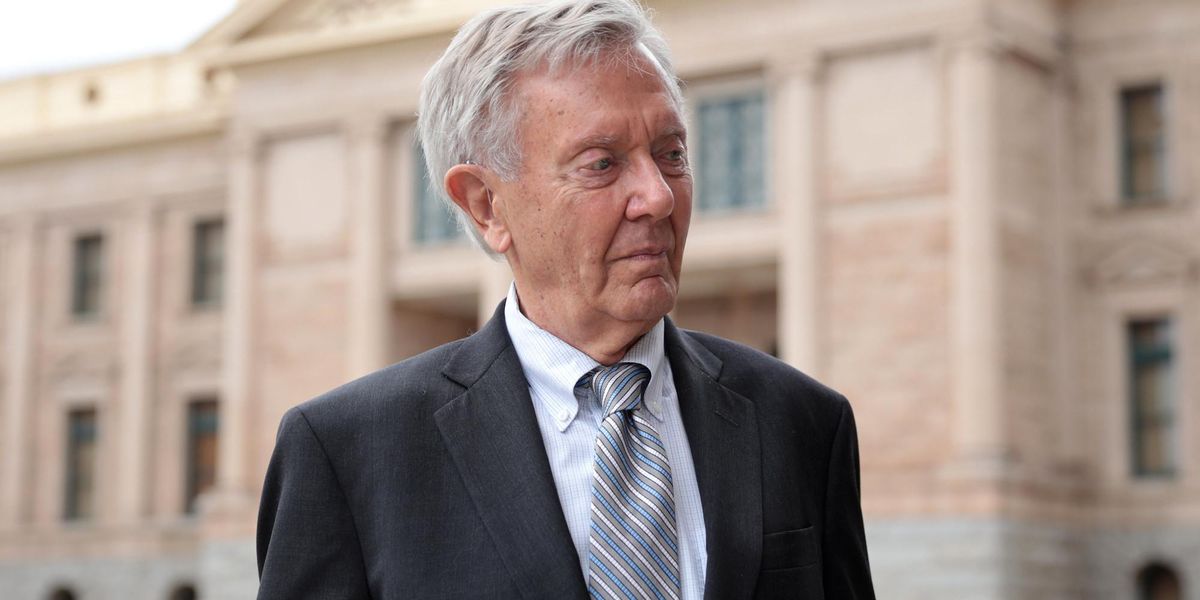 Peter Dykstra: Revisiting ghosts of the Interior's past
Remembering some villains, and a hero to many, at the helm of the U.S. Interior Department.
I'm almost certain that Bruce Babbitt is the only Interior Secretary—past, present or future—to appear on
Saturday Night Live.
---
He appeared in a skit to drop a little self-deprecating humor on his brief 1988 presidential campaign. Prior to his 1993 to 2001 stint as Bill Clinton's Interior boss, he served as Arizona Governor and Chair of the National Governors Association.
After the Department of the Interior work, he joined a private law firm, arguing both for and against environmental activists in various water rights and land development cases. Babbitt also chaired the League of Conservation Voters and served as a Trustee of the World Wildlife Fund's U.S. chapter.
In 1999, Babbitt was investigated for allegedly killing a proposal by three Indian tribes to build a casino near Minnesota's Twin Cities, favoring some better-heeled tribes in the process. A grand jury failed to indict in what a vaguely racist press called "Wampumgate."
The Top Scout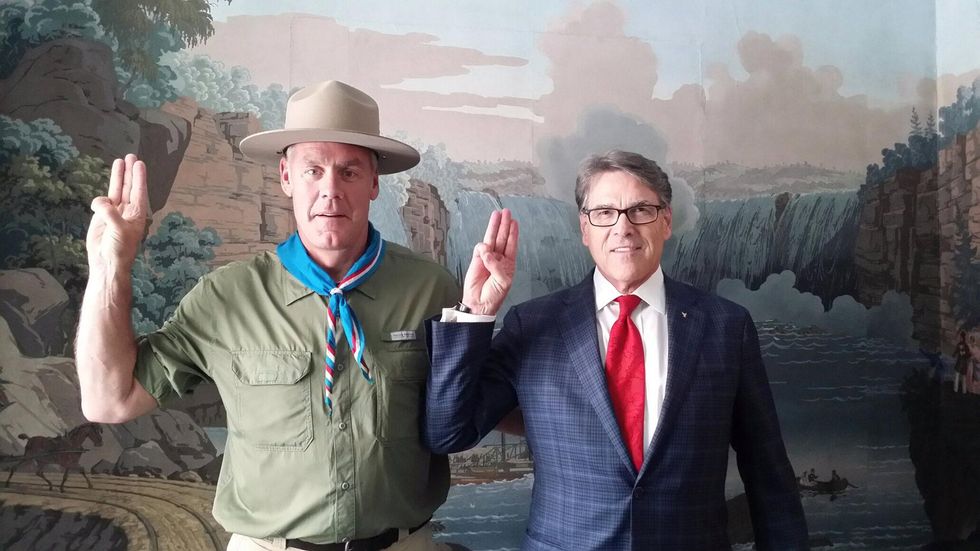 Credit: Ryan Zinke/Twitter
What made Ryan Zinke memorable for me in his less than two years as Donald Trump's scandal-plagued Interior Secretary? This bizarre photoshoot with Zinke in an Eagle Scout costume. Zinke, a real-life Eagle Scout back in the day, was only too happy to don the threads as a backdrop for Trump's visit to the 2017 National Scout Jamboree.
In the meantime, Zinke labored to open up public lands to oil and gas drilling and gin up sweetheart deals for cronies in his native Montana. Trump cut him loose at the start of his third year, elevating his #2, David Bernhardt, to the (interim) top job. Bernhardt, a veteran oil, coal and gas lobbyist, retained Zinke's policies but at least kept his big boy pants on.
As Zinke decamped, the Center for Biological Diversity called him the worst Interior Secretary in American history.
Well…maybe. Or maybe one of the Top Three.
God loves oil 
I'm old enough to remember James Gaius Watt, who served from Ronald Reagan's 1981 inauguration to Watt's 1983 political self-immolation. Watt was a devoutly religious man whose spirituality drove his political ideology. He was offended that the bison symbol of the Department faced to the left, so he turned it around.
Watt felt it was destiny that the U.S. was entitled to every drop of oil it could find. He plotted to sell drilling rights to the entire coastal shelf, oil or no known oil.
But knuckleheaded policy wasn't Watt's downfall. Knuckleheaded statements were. He canceled a July 4 concert on the Washington Mall featuring the squeaky-clean Beach Boys, not knowing that First Lady Nancy Reagan was part of "the wrong element" they'd attract.
The final straw came in September '83, when he let loose an unfunny joke about diversity on a coal leasing advisory panel: "I have a Black, a woman, two Jews and a cripple. And we have talent."
Wah? Watt was quickly swapped out for Judge William Clark, a man given to Watt's rapacious policies but not his cringeworthy "jokes."
Oil bribes and the Fall guy 
I'm not old enough to remember Albert B. Fall, nominated by President Warren G. Harding a century ago. When New Mexico achieved statehood in 1912, Fall was one of its first two elected Senators.
In 1921, DOI's domain grew when Harding gave Fall oversight on the Naval Petroleum Reserve sites in California and at Teapot Dome, Wyoming. Fall awarded leases to oilman Edward Doheny, but was accused of taking $386,000 in bribes. Doheny was never convicted, but Fall spent a year in jail.
Can you say "Fall Guy?"
Peter Dykstra is our weekend editor and columnist and can be reached at pdykstra@ehn.org or @pdykstra.
His views do not necessarily represent those of Environmental Health News, The Daily Climate, or publisher Environmental Health Sciences.
Banner photo: Former Interior Secretary Bruce Babbitt in 2019. (Credit: Gage Skidmore/flickr)
www.ehn.org