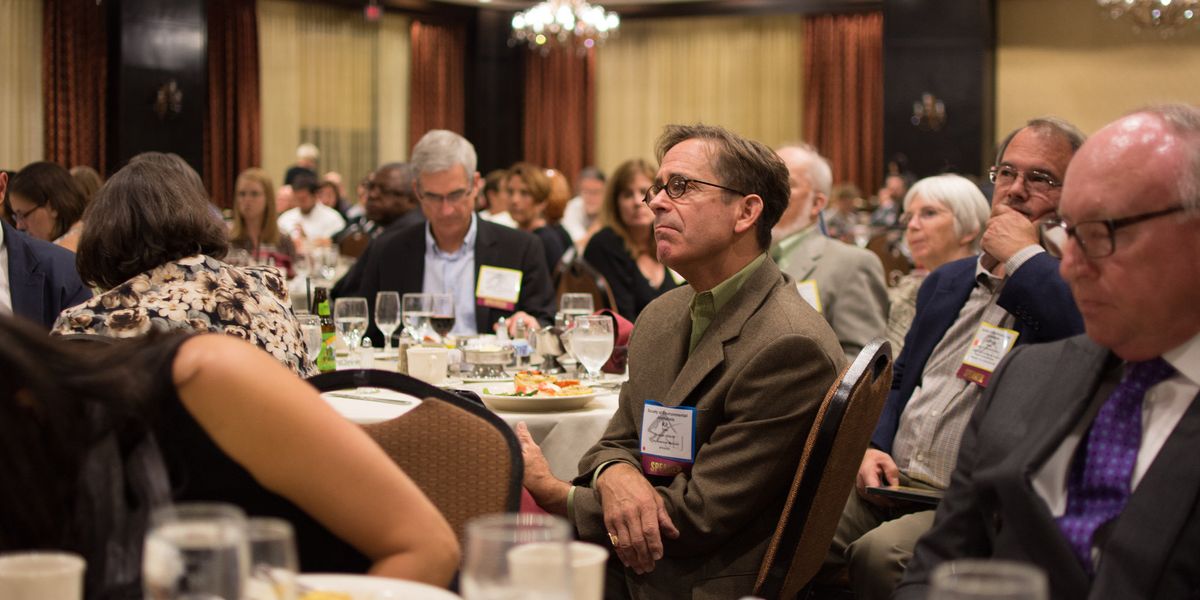 2016 SEJ Conference in Sacramento, California. (Credit: Dale Willman)
Peter Dykstra: Reporters regroup to refresh and recharge
Top environmental reporters will descend on Flint to both learn and bond over the beat
There's a self-deprecating quote, usually attributed to either Sigmund Freud or Groucho Marx, that I like to pull out for special occasions.
---
"I don't care to belong to any club that will have me as a member."
One "club" that's had me as a proud member for more than a quarter century is the Society of Environmental Journalists (SEJ). Their annual special occasion is a conference that brings together hundreds of journalists and experts from government, academia, trade associations and advocacy groups.
Host cities for SEJ affairs are usually either big cities: Miami, L.A., St. Louis, Pittsburgh; or high-powered college towns like Cambridge, Palo Alto, Boulder and Ann Arbor.
But the venue for this year's affair, which opens on Wednesday and runs through the weekend, is neither a big metropolis nor an academic Mecca. The reporters will descend upon Flint, Michigan — the reluctant poster child for environmental injustice.
Flint's drinking water crisis and the nearby wonders of the Great Lakes have given this year's SEJ its prom-like theme: "Fresh Water, Fresh Ideas."
Here are the conference highlights:
Journalism skills-builders on videography, storytelling, pitching story or book ideas, and more.
Extensive guided tours will take conference-goers to Detroit, wilderness in northern Michigan, boat tours on the Great Lakes, and more;
Discussions and field trips on environmental racism, blight or hope, with both Detroit and Flint as convenient living examples;
The Trump Administration's real impact on environmental policy and regulation.
Despite multiple invites, noticeably absent from the list of speakers and panelists are Trump Administration officials, possibly because they don't wish to be seen in the company of a seething band of Fake Newspeople.
Perhaps the main draw for many—including me—is the schmoozing in between sessions. Environment reporters in larger news organizations have been known to get lonely in their newsrooms, occasionally with an extra dose of grief from readers/viewers thrown in. The conference can serve as a sort of professional Lonely Hearts Club, when all of a sudden you're among a few hundred like-minded reporters.
Regrettably, for health reasons, I'll miss this year's conference, and I'll miss renewing acquaintances with colleagues, story sources, and others. And now, the most ironic full-disclosure note ever: Brian Bienkowski, lifelong Michigander and senior editor of EHN and Daily Climate, is both co-chair of this year's conference and the editor of this piece.
Reporters — both veteran and cub — recharge
The environment beat is now at least 50 years old. Some of its earliest practitioners are still SEJ members. Others who joined a young SEJ are now in their (our) fifties, sixties, and seventies.
This offers younger SEJ members a wealth of experience and institutional memory on a beat where institutional memory is key. The history of environmental journalism also offers a depressingly admirable look at strong reporting: A half-century of warnings on habitat and species loss, pollution and climate change have often been criticized as alarmist, but just as often have been vindicated as prophetic and accurate.
Many of the established beats at daily newspapers were among the first to be jettisoned as papers contracted or disappeared. Many of the early SEJ stalwarts are now in academic or PR jobs. But many others have joined the younger generation of colleagues working at online nonprofit news outlets like ProPublica, the Center for Public Integrity, the Food and Environment Reporting Network, The Conversation, The Intercept and many more.
It's a tribute to SEJ's members and leadership that it's survived – thrived – for long enough to stage the 28th annual conference. Like many/most nonprofits, SEJ often worries about finances. But the organization is at the very least healthier than many of the news institutions it serves. Meaghan Parker, an SEJ stalwart, will attend her first conference as Executive Director.
The chatting, schmoozing, meeting, learning, and, at a few social events, imbibing, will leave attendees with recharged batteries for another year on the beat.
Thanks, SEJ, we need that.
www.ehn.org