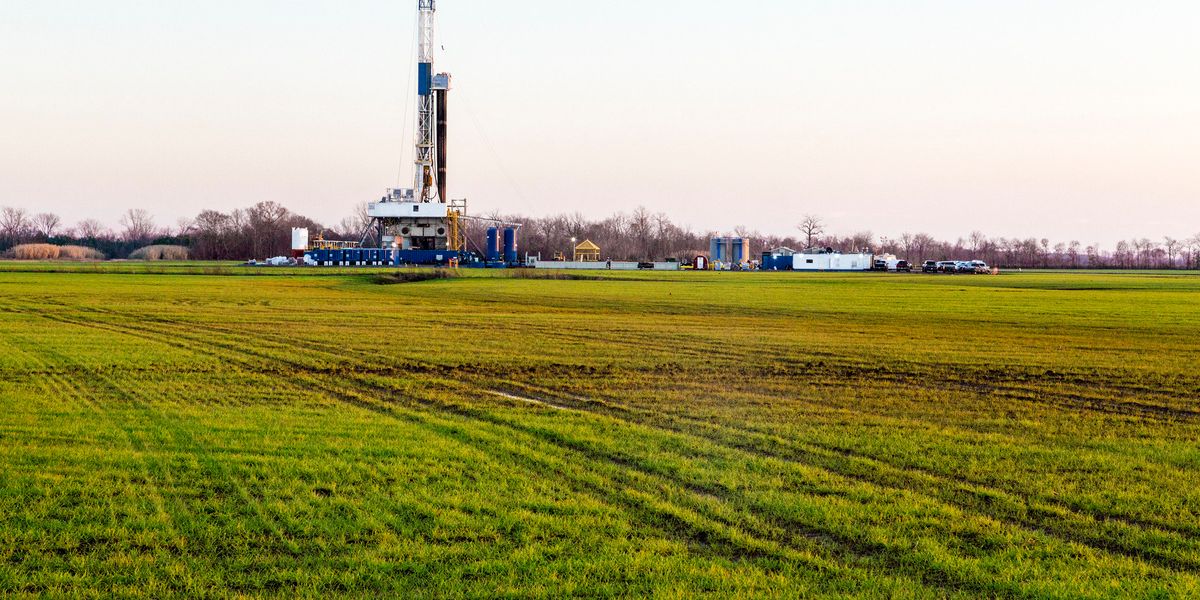 A fracking giant's fall
Chesapeake Energy was a fracking pioneer on a meteoric rise. Last week, it fell to Earth.
Historians generally place the invention of fracking in a gas field in southwestern Kansas in 1947.
---
It remained largely a novelty until the late 1980's, when a petroleum geologist named George Mitchell found a cost-efficient way to shatter shale rock with a high-pressure mix of water, sand, and chemicals, collecting the oil or gas released in the "fracturing."
Aubrey McClendon co-founded Chesapeake Energy in 1989, just in time to see natural gas prices begin a steady growth pattern.
They fracked shale patches from Texas to Pennsylvania. By the early 2010's, McClendon was a billionaire, and Chesapeake had cracked the Fortune 500.
Big Oil titans and small operators alike loved fracking. It changed the face of the oil and gas industry. Power plants run on fracked natural gas ran cheaper than coal or nuclear plants. This dealt what may turn out to be mortal blows to both coal and nuke energy in the U.S.
But who else loved fracking? Many environmentalists embraced fracked natural gas as a "bridge fuel" to cleaner energy—far from ideal, but better than dirty coal or petroleum. The Sierra Club's "Beyond Coal" campaign took $25 million from fracking companies and executives, much of it from McClendon and Chesapeake, who were happy to have the venerable environmental group as an unwitting wing man in kneecapping a competing industry.

When the donations were exposed, Sierra cut ties with McLendon et al., but they kept the $25 million.
The "bridge fuel" increasingly was infested with trolls: Shady land deals, the environmental harm, an alarming increase in earthquakes in faultless Oklahoma, and more.
But oh, how the money rolled in. Fracking, in a word, flourished. The U.S. arguably achieved its coveted status as a net energy exporter. The industry was worth trillions.
Already a high-roller, Aubrey McClendon was made for the part of tycoon. He led a team of investors who bought the Seattle SuperSonics and moved the team to Oklahoma City in 2008, where the newly-named Thunder play in Chesapeake Energy Arena.
But McClendon's penchant for extravagant spending on personal luxuries—often on the company's dime—and allegations of multiple conflicts of interests, put him at odds with the board of a company he viewed as his own.
Chesapeake's stock price peaked in 2014, at more than $1,300 per share. But oil prices began a sharp decline, and a federal antitrust indictment loomed for Aubrey McClendon. He was fired at year's end.
On March 1, 2015, Aubrey McClendon was indicted on federal antitrust charges. The next day, McClendon drove his car at high speed directly into a concrete wall. He died instantly. Oklahoma's Medical Examiner ruled the death an accident.
Last year, another boisterous fracking kingpin called the industry a "disaster."
More evidence of fracking's environmental disasters continue to pile in.
An oil and gas glut deepened. Layoffs cut deeply into Chesapeake's 13,000-person workforce. At the time of its Chapter Eleven bankruptcy filing on June 28, its stock price stood at $2.99 a share.
The stories of Aubrey McClendon and Chesapeake Energy—the man and the company who fell to Earth—are a Hollywood script that can write itself.
They changed the world's energy industry.
The question remains: Eventually, we'll find out how much, and in what direction.
Peter Dykstra is our weekend editor and columnist. His views do not necessarily represent those of Environmental Health News, The Daily Climate or publisher, Environmental Health Sciences.
Contact him at pdykstra@ehn.orgor on Twitter at @Pdykstra.
Banner photo: A natural gas fracking well near Shreveport, Louisiana. (Credit: Daniel Foster/flickr)
www.ehn.org