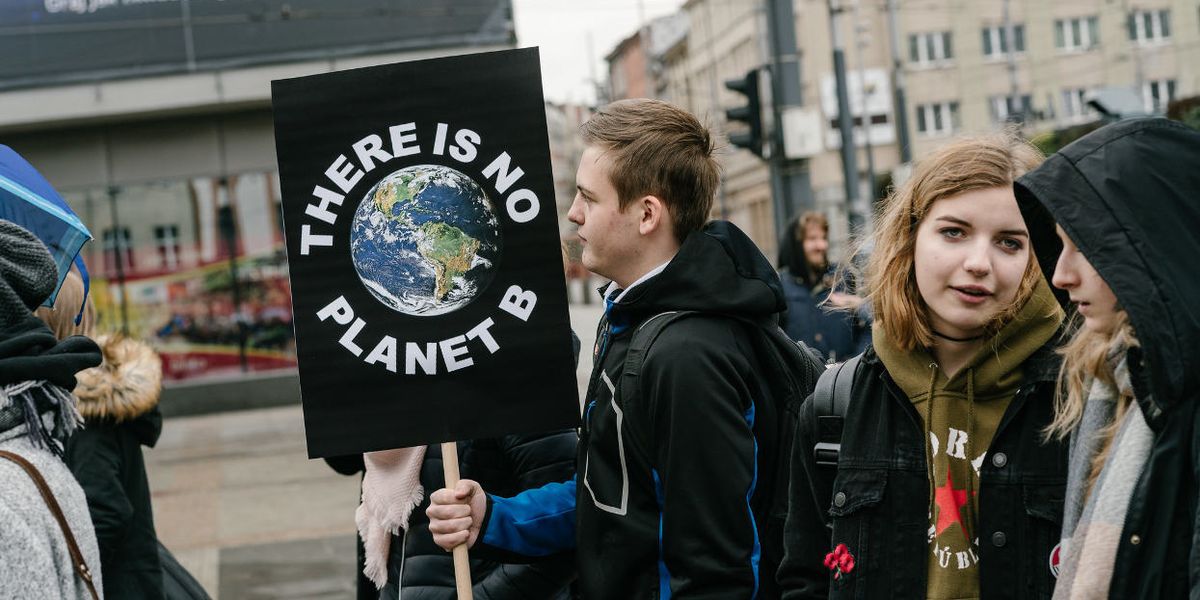 (Credit: Greenpeace Polska)
Peter Dykstra: Running in place
At a time when we should be forging ahead, we're stuck in place on climate.
We've seen a run of hopeful signs that the world – even the United States – may be waking up to the desperate need to act on climate change. But we've also seen an apparent surge in discouraging words and deeds – particularly from U.S. leadership.
---
This one step forward, two steps back cycle is keeping the world from its best shot at preventing climate change from becoming the Black Plague of the 21st Century.
I wrote a few weeks ago about a particularly dim observance from Secretary of State Mike Pompeo, who told the Arctic Council that a melting Arctic was really an opportunity to open up new shipping lanes. He might as well have added that sea level rise means a shorter drive to the beach from Kansas City.
Since then, Secretary Pompeo has delivered an encore, suggesting that populations impacted by climate-driven floods, drought or pestilence "move to different places."
This is not original thought. Even in the 1980's, the late Sam Kinison preached this, urging starving people to "move to where the food is." Kinison was a screaming standup comic whose whole act was pretending he was nuts, not America's leading diplomat and fourth in line of succession to the presidency.
Theoretically, Secretary Pompeo was inspired by Jefferson, Madison, and Kissinger, while Kinison was inspired by Henny Youngman and Don Rickles. Here's hoping our president can tell the difference, even with Kissinger.
It's not just our Secretary of State: While coal's fortunes are generally on the decline, the EPA is now run by a former coal lobbyist, and the Interior Department is now run by a former oil lobbyist.
And not to be outdone, Assistant Energy Secretary Mark Menezes recently suggested re-branding fossil fuels to highlight growing natural gas exports as "freedom gas." Asked about this, his boss, Secretary Rick Perry agreed.
Would you like some Freedom Fries® with that?
The steps forward
But let's not dwell on Cabinet-level idiocy. For all the foolishness, there have been major steps forward—mostly abroad. Spain, Sweden, the UK, and a host of other nations have committed to carbon-neutral deadlines that they might actually keep.
Climate change, long an orphan in presidential politics, may finally be forced onto the agenda in 2020. The differences between the incumbent president and any one of the Dems' schoolbus full of candidates is stark.
But the Democratic National Committee is rejecting calls for one of its 12 planned primary-season debates to focus on climate.
Across the aisle, climate denial's stranglehold on the Republican Party may be indestructible in deep red states, but it's increasingly fragile elsewhere. When GOP messaging guru Frank Luntz sounds the alarm, writing with all-caps alacrity that "Climate Change is a GOP VULNERABILITY and a GOP OPPORTUNITY," much of the party tends to listen.
Wall Street's interest in clean energy and its interest in coal are in the process of passing each other in opposite directions.
The bottom line? There are glimmers of hope. Silver linings in a toxic cloud.
But climate activists and policymakers face a huge uphill fight.
www.ehn.org