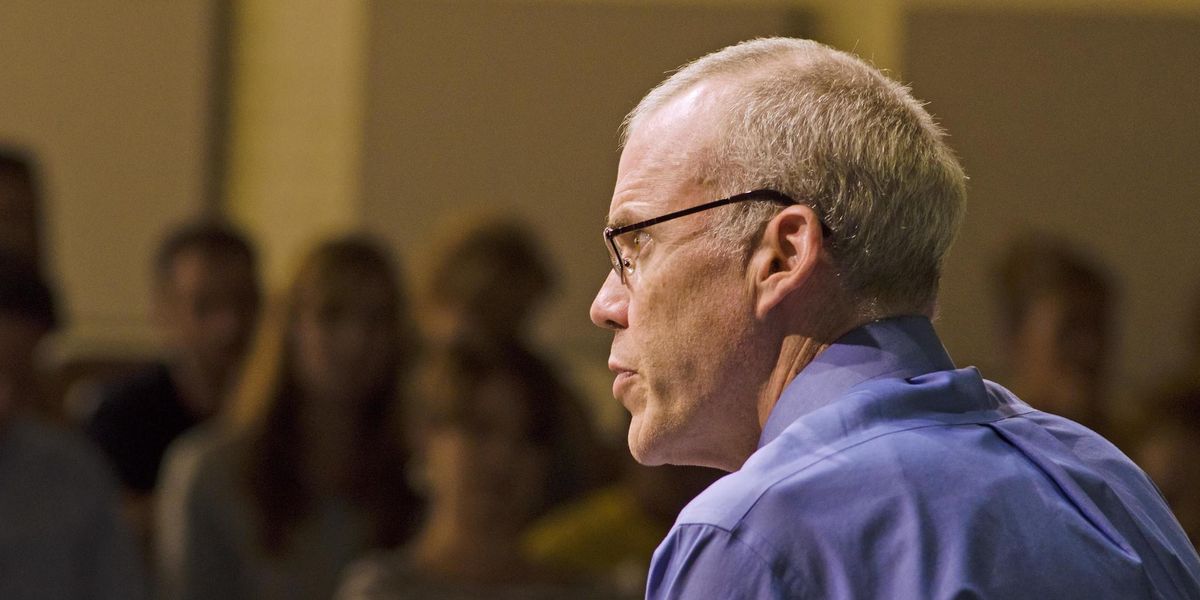 Peter Dykstra: Reporters and writers I'm thankful for
On this Thanksgiving let's remember those who inform us about our world.
Last Thanksgiving, I cited a dozen U.S. environmental journalists that deserve our thanks. Since there are dozens more, let's make this an annual thing.
---
Ken Ward, Jr
One must only watch Joe Manchin's servility to Big Coal in West Virginia's politics to know how very, very difficult it must be to stay independent. Ward has done it for that long, primarily for the Charleston Gazette, covering labor, safety, and environmental news, earning a MacArthur "Genius Grant" in 2018. He left the struggling paper in early 2020, co-founding a statewide non-profit news organization and partnering with ProPublica's expanding local news efforts.
Jeff Goodell
His 2006 "Big Coal" is still the standard-bearer for environmental dirty books. And his regular updates via Rolling Stone are invaluable, if depressing ... which is why his latest, "10 reasons for optimism on climate change" is a such a breath of fresh air.
Jim Bruggers & Chris Bruggers
A few years ago, a friend asked me about all the changes at the Society of Environmental Journalists, and whatever happened to that super-efficient Chris Rigel, who seemed to make everything run so well?
The answer is, of course, a classic environmental journalism love story. Christine Rigel Bruggers continues on as SEJ's administrative backbone. Jim Bruggers has been a star on the beat in the San Francisco Bay area in the 1990's; at the Louisville Courier-Journal from 1999 to 2019; and now as a reporter for the National Reporting Network at Inside Climate News.He served as SEJ's Board President for two years.
Jim and Chris Bruggers continue their reign as the Jay-Z and Beyoncé of environmental journalism.
Emily Atkin
​Hardly a fossil, Atkin started her Heated newsletter way back in 2019, then took the peril-fraught step of leading her gratis audience to paid subscriptions. She's been smart enough to make it work, smart enough to fend off burnout by phasing back to weekly publication, and good enough to draw 68,000 cheapskates as freeloading Twitter followers.
Bob Semple
No one ever won a Pulitzer with come-to-Jesus rhetoric on the environment. But in 1995, Robert B. Semple took on the "Contract With America" in a series of editorials that were as fiery as the New York Times ever gets.
The Contract was Newt Gingrich's stunningly successful effort to seize Republican control of the House, and Semple fought back with pieces on land and water grabs in an increasingly libertine Western U.S. One piece, "The G.O.P.'s War on Nature," reads like it could have been penned this week. Semple kept up the fight until his retirement in 2017.
Bill McKibben
I can't imagine how it must be to write so well and be so relentless. His New Yorker dispatches are a good place to get a feel for his writing, but so is his 1980's epic, The End of Nature.
Bad news alert: His 1980's choice of book title may be a little too optimistic.
Elizabeth Kolbert
Kolbert isn't just a great climate writer or science writer, she's simply a great writer. The Sixth Extinction: an Unnatural History paints a dire picture of our future in a changing world. It won the 2015 Pulitzer for General Nonfiction.
Andy Revkin
Let's say, for the sake of argument, that you're 34-years-old as you read this. Andy Revkin has been covering, writing or teaching about climate change since you were a fetus.
He started with a cover piece for Discover in 1988, then had a healthy stretch as the beat reporter at the New YorkTimes on the environment beat.
Betsy Marston
New Yorkers Ed and Betsy Marston moved west in the 1980's. They settled in Paonia, Colorado, and took over a high-risk weekly paper, theHigh Country News. What HCN lacked in financial stability, it grew in journalistic chops.
Think of HCN as the above-the-treeline version of the New Yorker.
Al Roker
Lest we think of Mr. Roker as another rotund, over-jollied TV weather geek, here he is in a 2019 clip about the scientific certainty of manmade climate change. And yes, he's lost about 100 pounds through diet, exercise, and surgery.
John Amos
Technically not a journalist at all, but a giver of a great gift. He's the founder of SkyTruth, a West Virginia nonprofit and a virtuoso in directing the boom in satellite data in the service of law enforcement, science, advocacy, and journalism.
SkyTruth is the world's leading sleuth of satellite imagery and the leading interpreter of what it all means. Amos and his team were go-to sources on the 2012 Gulf Oil Spill; on flooding; illegal logging, deep sea fishing or mining; and more.
Maybe such a gift belongs at Christmas?
Peter Dykstra is our weekend editor and columnist and can be reached at pdykstra@ehn.org or @pdykstra.
His views do not necessarily represent those of Environmental Health News, The Daily Climate, or publisher Environmental Health Sciences.
Banner photo: Bill McKibben speaks to University of Michigan students in 2012.(Credit: University of Michigan School for Environment and Sustainability)