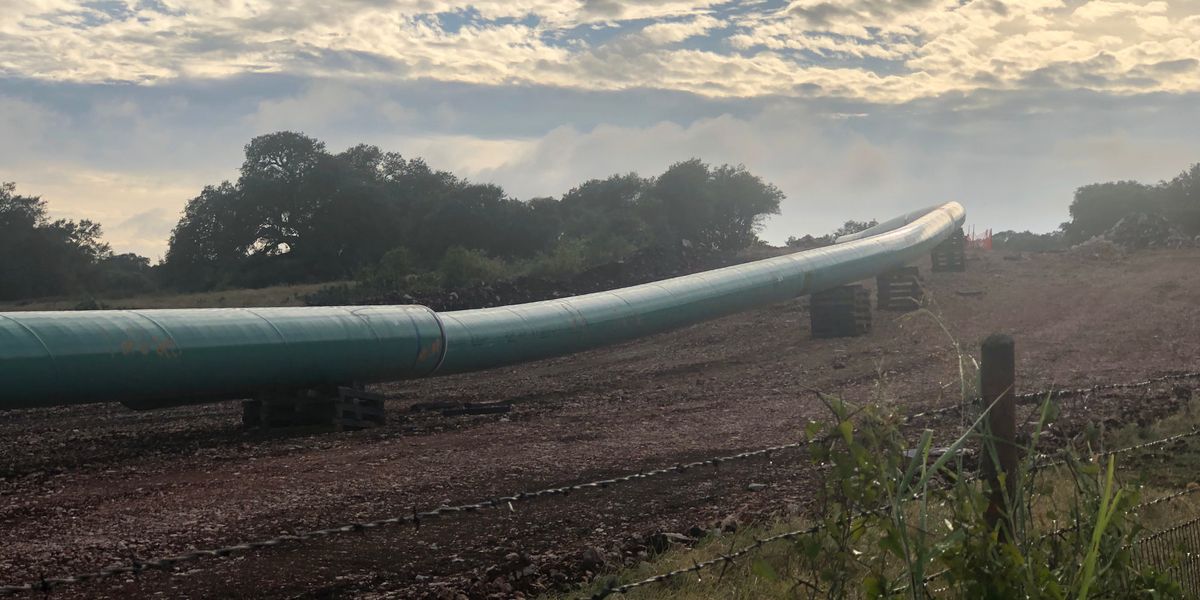 Major pipelines hit legal snags. But it's business as usual in Texas.
As courts stall or stop some major pipelines, the Permian Highway Pipeline in Texas is plowing ahead—and fears over water pollution have already become reality.
BLANCO, TX—Teri Albright and Milton Shaw, a couple living near Blanco, Texas, were bracing themselves as the coronavirus began appearing in the state. Both doctors working in long-term care facilities, the couple was busy learning new procedures to protect patients from the novel virus.
---
On a Sunday afternoon in March, Albright tossed tea bags into a pitcher at home. Expecting the tint of iced tea, she was surprised to see the water turn a darker brown. Something was wrong: every tap in the house produced the same sludgy liquid, which looked like chocolate milk.
It took several days to find the source of the problem. Kinder Morgan, a titan of oil and gas infrastructure in the United States, had set up a construction site for the Permian Highway Pipeline, a 42-inch natural gas line, about a mile away from their property. That Saturday night, workers accidentally released 36,000 gallons of drilling fluid into the ground.
Kinder Morgan announced plans to build the Permian Highway Pipeline in June 2018. Once complete, it would carry natural gas from the Permian Basin in West Texas to the Gulf Coast, spanning more than 400 miles.
Early on, Kinder Morgan faced opposition from individuals, local governments and conservation groups. EHN visited Hill Country—a unique landscape known for its rolling terrain in central Texas—and found that environmentalists and some who are pro-development had gained a common enemy. A barrage of lawsuits in Hill Country challenged the company, as well as the Railroad Commission of Texas and the Army Corps of Engineers, which are both responsible for permitting and oversight. But the project broke ground last year, with the company completing more than half of the first 100-mile stretch by December.
Kinder Morgan is so far unyielding. But nationwide pipelines are facing setbacks. Multiple high-profile pipelines—including Keystone XL and the Atlantic Coast Pipeline—have been stalled or cancelled, after waves of litigation and scrutiny over environmental effects.
In early 2020, a new parallel timeline began. On February 13, the U.S. Centers for Disease Control and Prevention confirmed the first case of COVID-19 in Texas. Governor Greg Abbott declared a statewide emergency exactly one month later, then ordered stricter provisions a week later. Restaurants and schools shuttered; the state banned gatherings of 10 or more people. While the onus to implement stricter shelter-in-place rules fell to local officials—creating a patchwork of rules and guidelines depending on the county—the number of coronavirus cases soared. The state has now had more than 600,000 confirmed cases and more than 11,760 deaths due to the virus.
But as other economic activities ground to a halt, Kinder Morgan pushes forward. The same is true elsewhere—other pipeline companies are seizing the opportunity to build, presumably with less scrutiny during a pandemic. While the future of pipeline development is uncertain, their immediate impact on the environment and clean water is not. Two years after resisting the Permian Highway Pipeline project, the worst fears for many residents have been confirmed.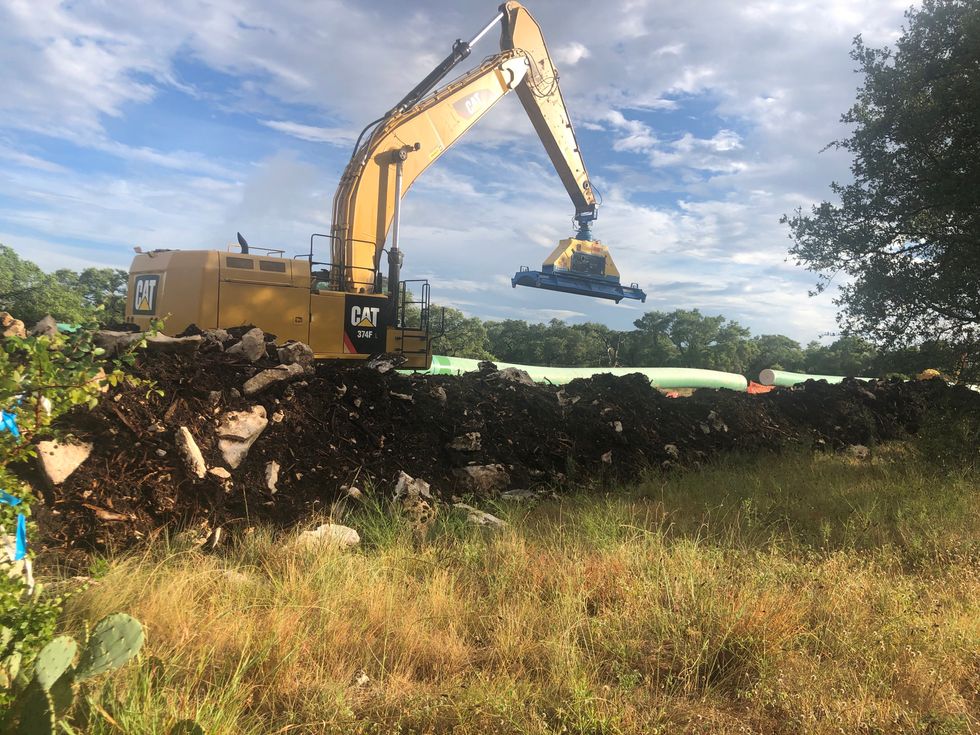 Construction equipment sits idle on a Saturday afternoon several miles outside of Kyle, Texas. (Credit: Madeleine Turner)
Pipelines in limbo
This year brought several wins to pipeline opponents across the country. On June 5, Dominion Energy and Duke Energy unexpectedly cancelled the Atlantic Coast Pipeline, slated to carry fracked gas 600 miles from West Virginia to North Carolina, after estimated costs rose by $3 billion. Before the announcement, the Supreme Court ruled that Dominion and Duke could cross the Appalachian Trail, making the cancellation more surprising.
Meanwhile, a U.S. District judge ruled on July 6 that the Dakota Access Pipeline needed to cease operations until the Trump Administration completed proper reviews required by the National Environmental Policy Act. The outcome, however, is not final. Energy Transfer Partners appealed, asking for a stay on the decision to discontinue the project, which the U.S. Court of Appeals for the District of Columbia Circuit granted later on.
Uncertainty also hangs over Keystone XL. In March, TC Energy was gearing up to construct the transcontinental pipeline. But in April, a Montana federal judge suspended the use of Nationwide Permit 12, which allows pipelines to cross bodies of water. A later Supreme Court decision allowed other pipelines—including the Permian Highway Pipeline—to continue using the same permit. But a future decision could have an impact beyond Keystone XL.
However, in Hill Country, Kinder Morgan's work hasn't slowed.
Part of what makes the company formidable is the regulatory landscape in Texas, where the Texas Railroad Commission has unparalleled power to grant eminent domain to pipeline companies. Opponents have long called for oversight reform, with an eminent domain bill unsuccessfully presented to Texas Legislature last year.
In March, the U.S. Department of Homeland Security published a list of critical infrastructure—operations that must continue during the pandemic—and deemed work on natural gas distribution pipelines as essential. But opponents question that logic, since projects like the Permian Highway Pipeline won't come online for many months or years.
In fact, some question the need for new lines at all. To approve a new natural gas pipeline, companies must demonstrate a need to the Federal Energy Regulatory Commission—to do this, an affiliate company can pledge to buy the gas. On approval, the Commission guarantees a 14 percent return on equity to pipeline builders.
"They don't look into whether there's any consumer need for the gas," Rebekah Sale, executive director at the Property Rights and Pipeline Center based in New York state, told EHN. "They don't look into any environmental aspects."
Water worries become reality
Across the country, water pollution is a central concern for many pipeline opponents. In Nebraska, Keystone XL encroaches the Ogallala Aquifer, a source of drinking water for millions. The Dakota Access Pipeline threatens Standing Rock Sioux's water supply.
Fears of water pollution also overhang the Permian Highway Pipeline. In August 2019, Austin's Water Protection Department concluded it was "highly likely" the project would intersect parts of the Edwards and Trinity Aquifers, making it possible for contaminants to spread to local water supplies.
Gas has yet to flow through the pipeline. Even so, fears of water pollution have already become a reality.
Using a method called horizontal directional drilling, workers began boring under the Blanco River about a mile from Albright and Shaw. To break up the earth, the crew pumped AMC Gel, a drilling fluid, into the ground. Normally, pressure forces the fluid back to the surface. But underneath Hill Country, an elaborate network of fissures allows water to flow—and 36,000 gallons of AMC Gel to escape.
According to the OSHA Safety Data Sheet, AMC Gel contains two human carcinogens: acrylamide and silica. The Lower Colorado River Authority, an independent third party, tested samples at Blanco and revealed other harmful substances, including the toxics lead and arsenic at concentrations too high for drinking water.
For more than a week after the accident, Albright and Shaw had no access to running water. Right when sanitation became paramount to their work in health care, they washed dishes using bottled water and bathed using washcloths.
"Every place where water can come into your house, we had to repair or replace," Albright told EHN.
Patrick Cox, executive director of the Trinity Edwards Spring Protection Association, notes many local well drillers use dry boring, an alternative to horizontal directional drilling that avoids drilling fluid. If they do use fluids, they use plain water or something food-grade.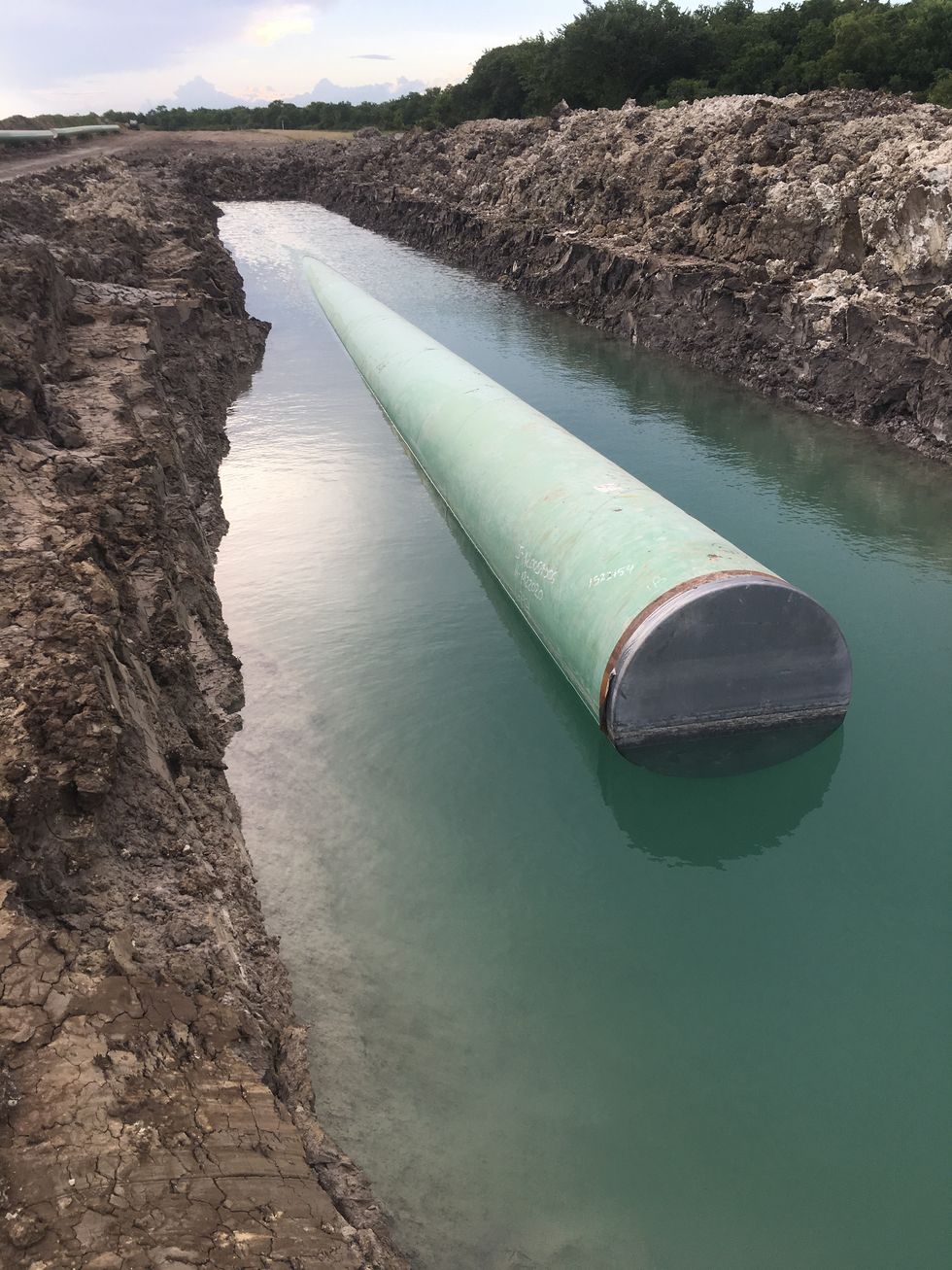 At the construction site on Robert Spitzmiller's property, groundwater permeates a trench. (Credit: Robert Spitzmiller)
The Trinity Edwards Spring Protection Association and Wimberley Valley Watershed Association filed a lawsuit against Kinder Morgan in June, alleging the company violated the Safe Drinking Water Act. The Sierra Club also filed a lawsuit against the Army Corps of Engineers, citing a failure to comply with the National Environmental Policy Act. Both lawsuits are ongoing.
"Their water is still undrinkable," Cox told EHN.
Nobody knows how far the plume of drilling fluid has disseminated in the Trinity Aquifer, a source of drinking water for thousands of residents. While levels of toxic substances have gone down since March, access to safe drinking water remains a concern.
The drilling accident in March isn't a one-off. Nearly 200 miles southeast of Blanco, Kinder Morgan is building a pipeline, which connects to the Permian Highway Pipeline, across an 8,900-acre property owned and managed by Robert Spitzmiller. On the property, the pipeline crosses a stream bed, which is part of the Clarks Branch River. When workers dug a nearby trench, Spitzmiller was skeptical. He knew an aquifer supplied a seemingly bottomless source of water to the creek.
"Within a few days, that trench filled up with the prettiest, bluest spring water you ever wanted to see," Spitzmiller told EHN. He worries about damage done to a shallow clay barrier in the soil, which rice farmers depend on for flood irrigation.
Spitzmiller was amenable to a pipeline running through his property; he had worked with other energy infrastructure companies before. A few years ago, when a different company built a 36-inch pipeline near Kinder Morgan's route, he was able to negotiate route changes and adequate compensation for damaged crops. While that company was receptive, Kinder Morgan was not.
"I made multiple requests for dialogue and some discussion from the engineers about getting this thing moved over to no avail," Spitzmiller said. He declined to accept a final offer, and the company has moved forward with condemnation to proceed with construction.
"The posture that they took in those discussions was that there was a significant degree of urgency on their behalf, that they needed to hurry up and get this done," he said. Kinder Morgan declined an interview with Environmental Health News.
While the other pipeline crossed state borders—meaning the Federal Energy Regulatory Commission was responsible for its oversight—the Permian Highway Pipeline runs only through Texas, and is therefore overseen by the Texas Railroad Commission.
"Texas has all kinds of issues with eminent domain," Sale said. "They do not see people on a panel that decides. They don't have to have hearings. There's not a lot of oversight."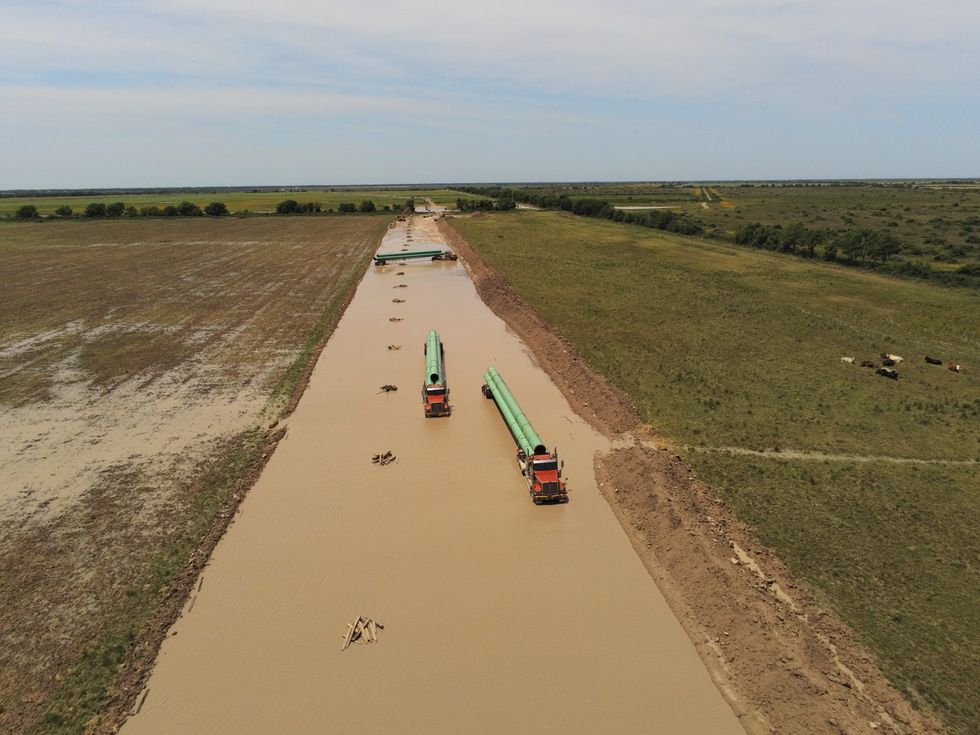 Trucks loaded with pipes traverse an easement on Robert Spitzmiller's property. Rainwater filled the easement, creating a slurry of mud. (Credit: Robert Spitzmiller)
Plowing ahead 
Kinder Morgan isn't the only one forging ahead. The Metropolitan Reliability Infrastructure project, a 30-inch gas pipeline in Brooklyn, remains an active worksite. In Pennsylvania, opponents staged a car rally in April against the Sunoco's Mariner East Pipeline. (Just last week, workers accidentally released 10,000 gallons of drilling fluid into Marsh Creek Lake—similar to Kinder Morgan's accident in March.)
With every active project, one commonality is the movement of people—and the possibility of creating more ways for coronavirus to spread.
In Texas, Kinder Morgan recently announced it would reroute part of the pipeline to avoid crossing the Blanco River. The project is still scheduled to be completed early 2021.
For now, it's unknown if legal battles against other pipelines will end up having a direct impact on the Permian Highway Pipeline. They do, however, center around the same issues of water and permitting.
"The process is broken," Sale said. "What is gratifying to me, is that I feel the scales have fallen from people's eyes."
On the Spitzmiller property, a procession of workers—heavy equipment operators, welders, cleanup crew, surveyors, inspectors, and equipment maintenance people—enter through a single gate to access construction.
Back in Hill Country, Patrick Cox watches Permian Highway Pipeline construction where an easement follows the highway. Observing from the road, Cox rarely sees workers wearing masks.
"They've got the pedal down," Cox said. "They are really pushing this through."
Banner photo: Pipes ready to be installed along the Permian Highway Pipeline easement between Wimberley and Kyle. (Credit: Madeleine Turner)