Nutrient runoff starves corals in the Florida Keys
Too much nitrogen killed off corals in the Keys, and, as reefs suffer around the world, this new research offers lessons learned in Florida that could save other nutrient-loaded corals
Rising ocean temperatures, a consequence of climate change, are known for bleaching and killing corals. But a study, published today in Marine Biology, reveals another overlooked culprit: excess nitrogen.
---
Between 1984 and 2014, researchers from the Florida Atlantic University studied Looe Key, a reef off the Florida Keys. Three decades of data gave them an unprecedented look at the shifting quality of marine waters. Runoff from the Everglades caused increased levels of nitrogen and algae blooms, which were followed by outbreaks of coral disease, bleaching and death. The study suggests that eutrophication, the excess enrichment of nutrients, played a primary role in causing the coral reefs to decline at Looe Key.
These findings come as corals around the world are in dying. So far, more than a quarter of the planet's reefs are gone. The destruction is most often attributed to ocean acidification and rising temperatures, both the result of climate change, however, the new research suggests there could be more at play in certain regions.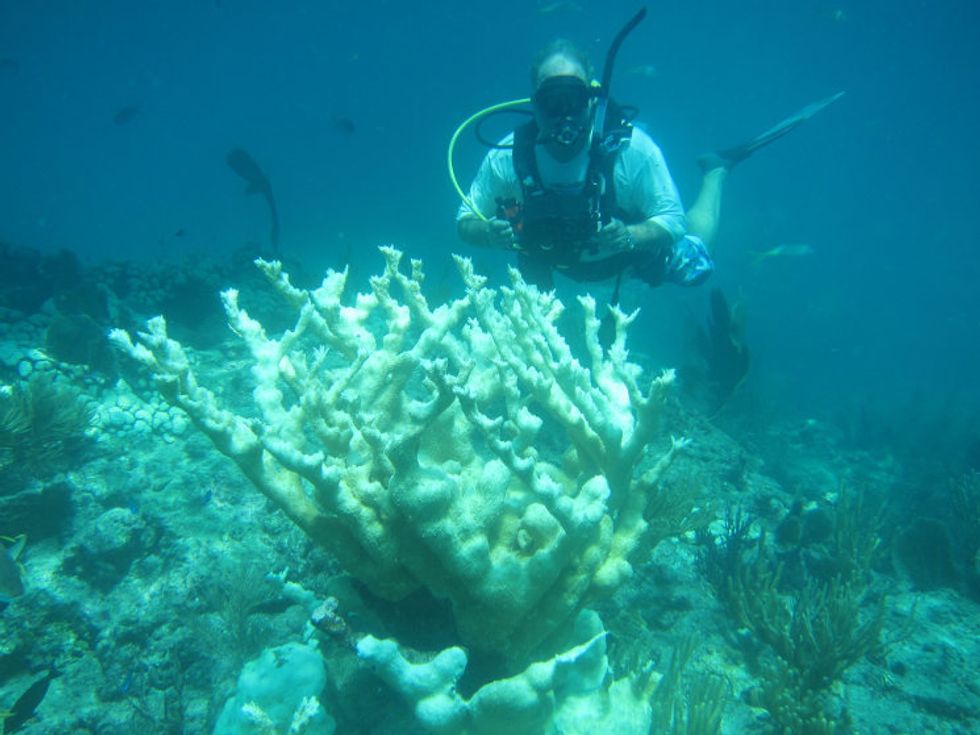 Brian Lapointe, Ph.D., senior author and a research professor at FAU's Harbor Branch, swims above bleached coral reefs in Looe Key in September 2015. (Credit: Marie Tarnowski)
Brian LaPointe, the new study's lead author, wondered about nutrient runoff—which comes from sewage, fertilizers and topsoil— when he moved to Florida in the early '80s. The state population was increasing, and he speculated that more nutrients would be washing into the ocean as a result. Too much runoff causes algae blooms, which choke out sunlight and deplete oxygen for other species.
"We thought we should start a water monitoring program," LaPointe told EHN.
Timing was important. When they began the study in 1984, water quality in the Keys was still "relatively good," LaPointe said.
But starting in 1980, Florida invested in a plan to move freshwater from the north down to the Everglades, which are adjacent to the Florida Keys. Proponents thought Florida Bay needed more freshwater in order to prevent algae blooms.
"In fact, it was just the opposite: it was feeding the blooms," LaPointe said. As freshwater flowed into Florida Bay, thousands of tons of nitrogen came with it. Between 1984 and 2014, LaPointe and other researchers documented three time periods when excess nitrogen triggered coral bleaching, disease and death.
In 1984, corals covered one third of the Looe Key Sanctuary Preservation Area. By 2008, they only covered 6 percent. The researchers saw a pattern: more corals died between 1985 to 1987, then again from 1996 to 1999, after heavy rains and when Florida implemented projects to move freshwater to the Everglades.
"We warned resource managers about the perils of sending water south, knowing it was going to increase nitrogen loading and algae blooms," LaPointe said. "But we didn't have all the information in detail about how the corals would get stressed."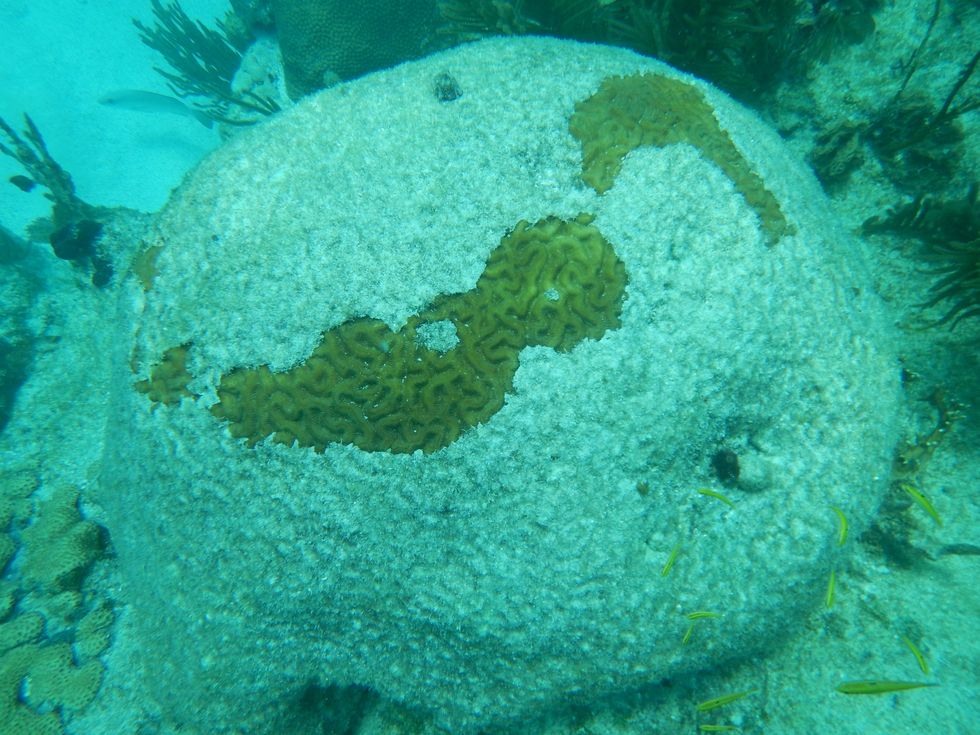 A dying brain coral in Looe Key in the lower Florida Keys pictured in March 2016. (Credit: Brian Lapointe)
Corals normally thrive in low-nutrient waters. Excess nitrogen can throw an ecosystem out of whack. But it isn't the sheer amount of nitrogen that disrupts corals: it's actually the ratio of nitrogen to phosphorus. When that ratio increases, it starves corals of phosphorus.
In a lab setting, researchers have played with the ratio, demonstrating that it can make corals deficient in phosphorus. "But our study put it in an ecological context, showing how this story has played out three times in a row," LaPointe said.
LaPointe also sees nutrient enrichment affecting corals on other reefs. At the Bonaire coral reefs in the Caribbean Netherlands, nearby hotels previously used septic tanks. Those reefs are finally beginning to recover, only after the island switched to a new wastewater treatment plant in 2011.
"It's one of the first examples in the Caribbean where by improving the water quality, they have turned a dying reef into a recovering reef," LaPointe said. "We need more examples of that."
LaPointe sees these results as promising: Unlike the daunting task of curbing carbon emissions, communities can reduce nitrogen runoff at a local scale.
"There's something we can do about this, and we're already doing something about it in the Florida Keys," LaPointe said. Improvements include updating sewer systems with better waste treatment. Using less fertilizer and treating stormwater could also help.
"But it's going to take time. It took decades for this reef to die off. It's not going to come back overnight."
www.ehn.org