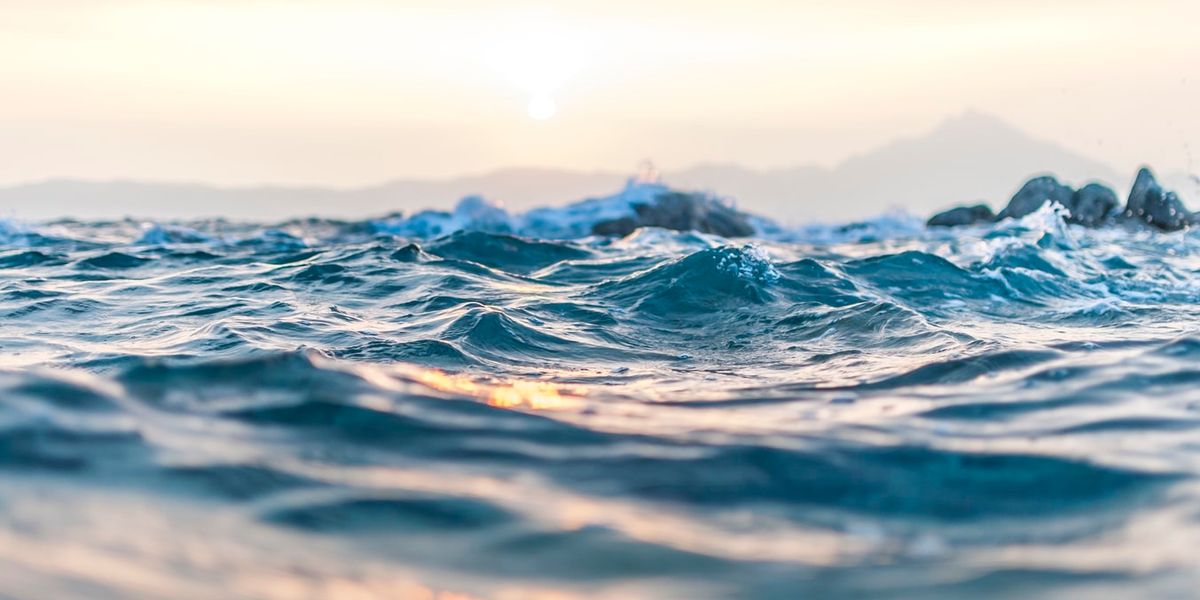 Credit: Anastasia Taioglou/Unsplash
Peter Dykstra: The tallest order
Why saving the oceans may be our most difficult challenge.
Back in the day, we knew oceans were imperiled by pollution and overfishing. Then we learned about climate change. Then acidification. Now, plastic pollution.
---
As my dear, thoroughly Catholic, Mom would be moved to say, "oy vey."
Global environmental problems are daunting and we're losing ground.
But it increasingly seems we're losing ocean far faster than we're losing ground.

The wrong way on right whales
We've known about overfishing and ocean pollution for more than a century, driving animals like North Atlantic right whales to the brink of extinction and legislating salt water pollution since Chester A. Arthur was President.
Right whales were made to be killed, whalers thought. They hugged the coast, moved slowly, yielded impressive amounts of flesh and oil, and their carcasses floated when killed, making them the "right" whales for ancient mariners to hunt. Get it?
By 1750, right whales were hard to find. By 1890, the last whalers pretty much gave up. But it still took nearly a half century more before a global ban offered some protection for them. Today, a few hundred right whales live near the extinction tipping point, subject to lethal strikes by large vessels and entanglement in fishing gear.
Climate problems 
While papers warning of the greenhouse effect date back to the 19th Century, it's only the last three decades that we've started to fully understand oceans' role in mitigating climate change by absorbing heat and heat-trapping gases.
And we've seen climate change attacking ocean ecosystems: Mass dieback of corals, migration of sea life as ocean temperatures change, the threat to coastal wetlands and barrier islands from storms and sea level rise, and more.
And there are more climate-linked problems with which we're just coming to terms.
The first definitive papers determining changes in oceanic pH were published in 2003, and the term "ocean acidification" came into use. All that carbon that the oceans absorb was changing the very chemistry of the oceans. With climate change, it's one of the evil twins of fossil fuel burning. The earliest signs of ocean acidification impact are showing up in places like Puget Sound.
Plastic plague
In 1965, an expedition researching plankton off the Irish coast scooped up a plastic bag instead. As plastic bags, packaging, and just about everything else took over our lives (from 2 million tons of plastic produced worldwide in 1950 to 381 million tons in 2015), landfills became stuffed with the stuff.
But a portion of that waste stream made it to waterways – much of it reaching the oceans. From microscopic bits and beads to miles-long driftnets, plastic filled the bellies of fish and literally grabbed seabirds by the throat. The volume of ocean borne plastic continues to rise, in part because plastic is designed to last virtually forever.
Phew.
Is there any good news in all this?
Marine reserves 
A century after the big push for U.S. National Parks, a global effort for the saltwater equivalent has yielded great results. Massive marine reserves, with limited or no commercial activity permitted, have been set up around the Chagos Archipelago in the Indian Ocean; the Ross Sea in the southern oceans; and around Easter Island, the Kermadec Islands, and Palau in the Pacific, among others. One survey lists 7.78 percent of our oceans under some form of protection.
Satellite monitoring 
With limits on exploitation of vast ocean areas, enforcing those limits has relied on the growing sophistication of satellites to police illegal fishing.
NGO's like the West Virginia-based SkyTruth have led the way toward establishing an eye in the sky.
Now, a network of 36 low-cost satellites promises to let the satellite fish-cops go global. The gaudiest arrests to date have been in Palau's National Marine Sanctuary, where nine Vietnamese boats were captured and burned to the waterline in 2015.
Polar protection 
The Antarctic Treaty has protected the frozen continent from commercial exploitation and military conflict for 60 years. Along with the Montreal Protocol, which halted the worst of our assaults on the ozone later, it's the most effective global conservation pact in history.
Similar efforts are underway in the melting Arctic, where nations have agreed to hold off on new fisheries for 16 years.
Plastic reckoning 
2018 was the year when we at least came to grips with the enormity of the ocean plastics crisis. Solutions?
There are many grassroots efforts on, for example, municipal bans on plastic straws – all well-intentioned, but may be little more than a distraction. And yes, there's a backlash, with some conservative groups seizing on a snide "Make Straws Great Again" countermovement.
I've long been open to the possibility that, despite the morsels of progress, we're screwed. But I'm considerably more convinced that surrendering against such long odds is a moral failure.
So, fight on, shall we?
www.ehn.org