Peter Dykstra: From impeach to impair
Billionaire Tom Steyer could make real progress on climate action. Instead he joined the circus.
In 2010, billionaire hedge-fund investor Tom Steyer took a giant step back from Wall Street, quitting his firm and pledging his fortune to a slate of charitable causes, notably the existential threat posed by climate change. And the money flowed –
---
to energy research projects and NGO'S focused on raising awareness, or raising hell, over inaction on climate change.And he was making progress—until he announced that he was joining the bloated field of Democratic presidential hopefuls.
In November 2016, Donald Trump's stunning victory over Hillary Clinton changed everything for America, and for Steyer. Only months into the Trump presidency, Tom Steyer became more ubiquitous than plaque psoriasis ads on cable news broadcasts, starring in his own 30-second calls to impeach Donald Trump. He poured a reported $10 million into the campaign.
Steyer was calm, almost shy, in firmly describing Trump's "clear and present danger." Response to the www.Needtoimpeach.com petition was impressive. Combined with efforts from Moveon.org and other groups, Steyer delivered 10 million petition signatures to Congresswoman Rashida Tlaib in early 2019.
But since climate denial is not an impeachable offense, it marked a major departure for Steyer.
Rewarding 'Fox & Friends'
He spent millions on broadcast ads, promoting the petition while paradoxically shipping the sales checks to reward cable news outlets – notorious delinquents on climate coverage. Steyer even spent a reported $700,000 on ad placement in Fox & Friends, the morning show said to be a must-watch for Trump.
As late as January, Steyer waved off questions about his own presidential ambitions. Then, earlier this month, he cannonballed into the crowded Democratic pool to join the two dozen already treading water there. In his announcement video, Steyer laid out the challenges in classic Liberal fashion. Climate change rated two lines of the four-minute piece.
Turning a firehose of philanthropy on himself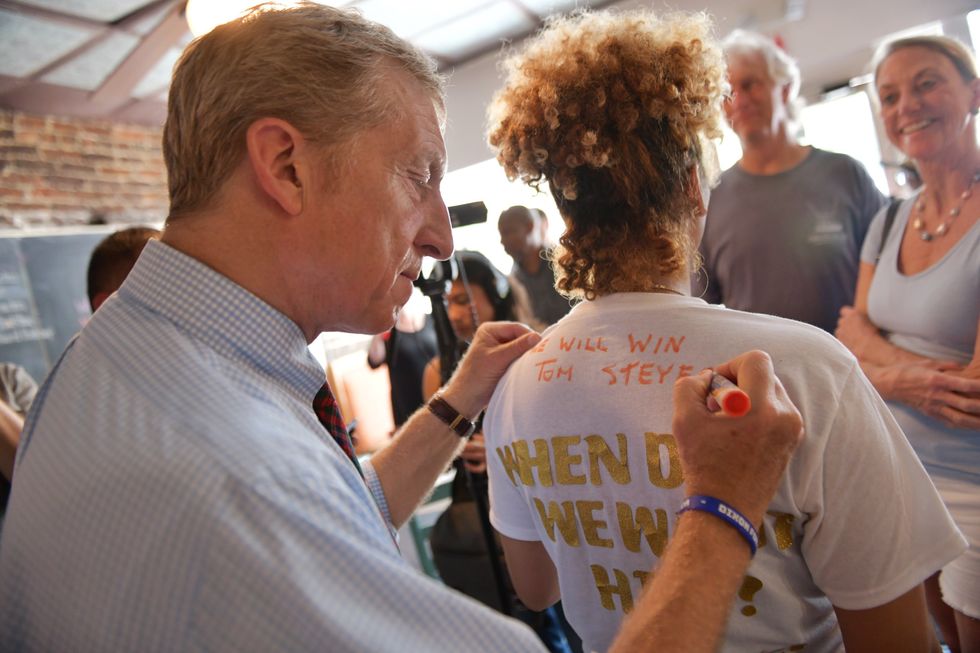 To me, Steyer has swapped out any claim to moral authority for an exercise in both narcissism and futility. In all likelihood, the late-arriving Steyer won't even qualify for the ludicrous spectacle of marching hopefuls out to podiums in groups of ten, with each candidate getting less than ten minutes to make their case to America.
To advocates of action on climate change, this has to be tragic: Steyer has turned his firehose of climate philanthropy on himself. Meanwhile, several presidential hopefuls whose prospects are scarcely better than Steyer's could instead be focused on chasing climate deniers out of the Senate.
The GOP Senate goes unchallenged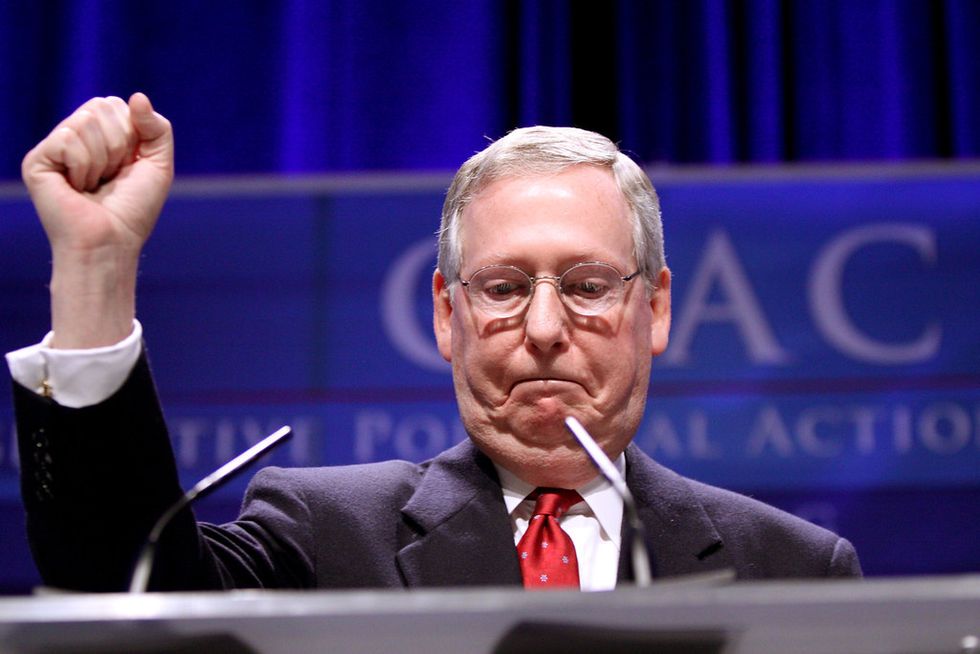 Montana Gov. Steve Bullock could challenge Republican Sen. Steve Daines next year. (You forgot Bullock was running for President, didn't you?) Ex-Colorado Gov. John Hickenlooper could run against incumbent Sen. Cory Gardner – despite the fact that Gardner's 10% lifetime score from the League of Conservation Voters makes him one of the greenest GOP Senators.
Two of the Big Blue Wave could challenge Texas incumbent Sen. John Cornyn—Beto O'Rourke or Julian Castro. And South Bend, Indiana Mayor Pete Buttigeig would have two opportunities to unseat either of Indiana's two Republican Senators, but they wouldn't face reelection until 2022 and 2024, respectively.
If Tom Steyer doesn't burn off his enthusiasm or his cash supply on his D.O.A. vanity presidential run, he could fund them all, help topple Mitch McConnell's Senate stranglehold and guide the U.S. to right its sunken ship of state on climate.
www.ehn.org