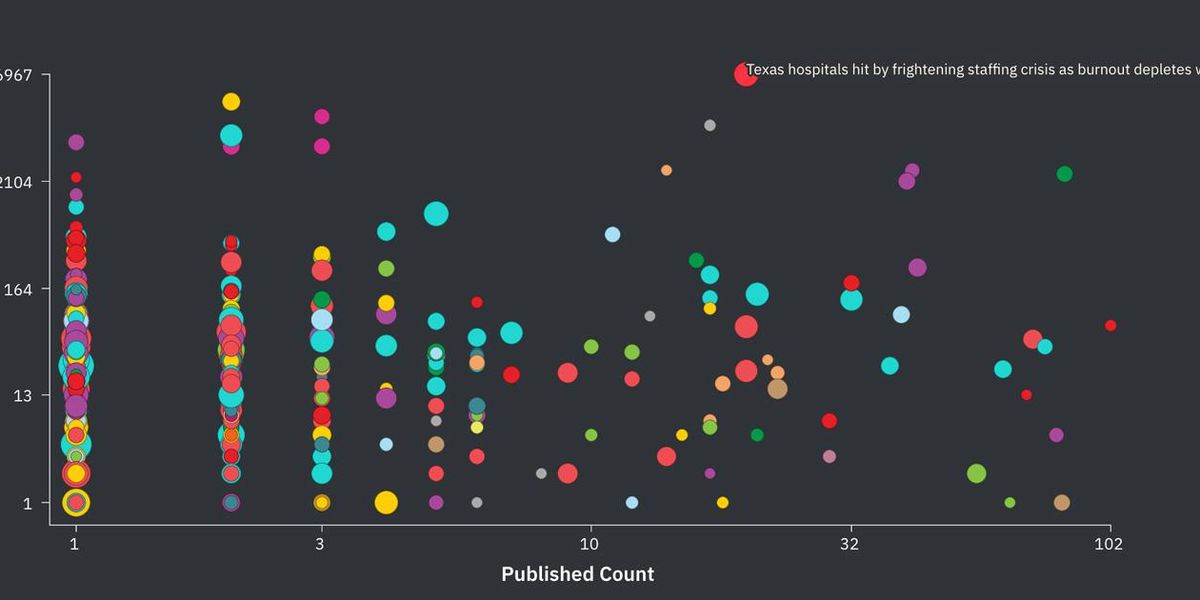 Environmental Health News
Code Green: Burnout, climate change and equity
A look at the year in sustainable healthcare coverage shows public moving beyond PPE and Covid.
Welcome to summer. Let's step back and take in a year's worth of sustainable healthcare coverage in one sweep.
---
The above graph shows the 1,553 stories, each represented by a dot, published since last June that our software picked up.
X-axis: Number of media outlets publishing the story
Y-axis: Count of social media posts sharing that story
Colors represent thematic clusters.
Note that both axes are logarithmic.
Focus this week on the upper right quadrant: Stories that proved popular by media editors and social media users alike.
They got seen and shared, and they drove conversations.
Three main themes dominated the most widely read and shared stories:
Staff burnout & shortages (red dots)
Climate change (purple)
Healthcare inequity (teal)
Stay abreast of sustainable healthcare coverage
Staff burnout & climate change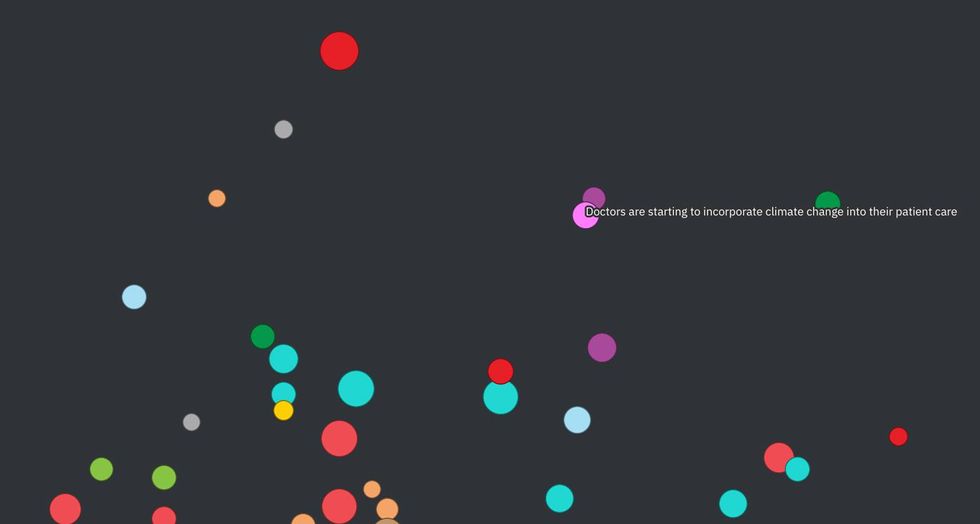 The big red dot, with some 27,000 media shares, is a Texas Tribune article from August about Texas' acute healthcare worker shortage amid staff burnout and a Covid-19 surge. It wasn't just Texas: Quite a few red dots representing stories focused on staffing sit in this most popular quadrant.
What we find encouraging is the number of purple dots in that quadrant, representing stories focused on climate change – such as this piece from ABC News national correspondent Chris Conte on doctors incorporating climate change into their practices.
It's going to become a more frequent topic for healthcare globally, with reports just this week of more than 1,000 people hospitalized in Iraq as dust storms ravaged the Middle East.
Inequity in healthcare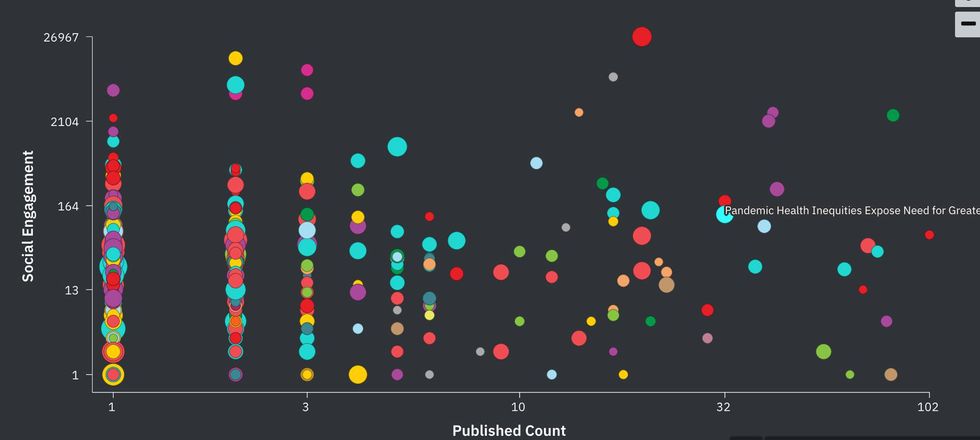 Equally heartening is the plethora of teal in the graph's upper quadrant. Each of those represents a story on inequity in health care, such as this Stateline piece from September on how pandemic health inequities highlight the need for better obesity prevention.
Stay with us on that last point, as Environmental Health Sciences will be hosting a conference this fall on obesogens – hormone hijacking compounds in medical and consumer products that alter our body chemistry and contribute to obesity.
Overall, we'd say the coverage trend suggests the media and public are moving on from the intense focus on PPE and Covid we've seen in the healthcare sustainability space since the pandemic hit.
www.ehn.org