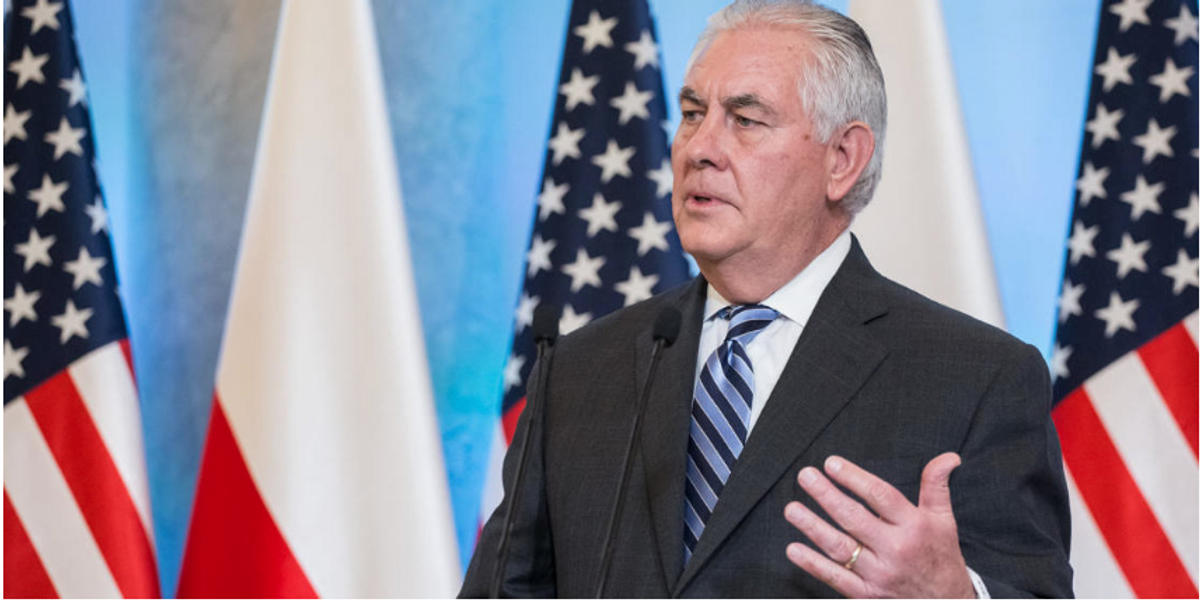 Weekend Reader, Sunday March 18
Rex Tillerson's Greatest Hits, Volume One: The oil boss before, and during, his brief tenure in government.
If you read Steve Coll's 2012 book Private Empire, you might come away with the impression that Rex Tillerson was a more effective diplomat as ExxonMobil CEO than he was as Secretary of State.

---
Coll makes a convincing case that Exxon functions as a sovereign nation, using its economic and political clout to get its way, particularly in oil-bearing developing nations. The book covers most of Tillerson's decade-long reign at Exxon, as well as that of his predecessor, Lee "Iron Ass" Raymond.
Tillerson's corporate grandeur – his last known compensation package was $27 million a year, with access to nearly a quarter billion in Exxon stock – shrank to a $187,000 government salary, with benefits including being humiliated by the Commander-in-Chief.
In early October, President Trump used his favorite diplomatic pouch – Twitter – to tell Tillerson to "not waste his time" with diplomacy toward North Korea. Ouch.

Soon after, Tillerson reportedly called his boss a "f*cking moron." When questioned about the alleged statement, he didn't confirm or deny. Trump responded in an interview with Forbes, challenging his Secretary of State to an IQ test.
In his Exxon career, Tillerson issued lukewarm acknowledgements of the human influence on climate change even while ExxonMobil funded candidates, advocacy groups, and at least one scientist working to deny climate impacts. The Los Angeles Times and Inside Climate News published investigations revealing that Exxon knew of the dangers of climate change for decades. The Climate Investigations Center released documents linking scientist Willie Soon's funding from Southern Company and ExxonMobil to Soon's scientific papers with cooked-to-order conclusions.
Both before and after his rise to CEO, Tillerson traveled the petro-world to cut deals with many of the 200 nations where Exxon does business. He developed particularly strong ties with Russia, and built partnerships between ExxonMobil and Rosneft, a state-owned oil company. In 2013, Russian President Vladimir Putin awarded Tillerson the Russian Order of Friendship.
Tillerson's Exxon maintained its status as a prime environmental villain, even as it embraced a couple of pro-environment positions. Since 2007, the oil giant has also voiced at least tepid support of a carbon tax.
In 2012, Tillerson endorsed the Law of the Sea Treaty, which would offer some protection against a free-for-all in fisheries or seabed mining. In 2014, the CEO of America's largest natural gas producer joined his affluent neighbors in a lawsuit to halt construction of a water tower intended to serve fracking operations near the affluent enclave of Bartonville, Texas. The 180-foot tower would have been within sight of Tillerson's 83-acre horse farm.
The apparent hypocrisy of a fracking baron practicing NIMHBY (Not In My Horses' Back Yard) led to a media uproar. Tillerson withdrew from the suit two months later following the wave of bad press. The remaining plaintiffs, led by neighbor Dick Armey, the former House Majority Leader, won. The tower was ordered dismantled.
In his brief government career, Tillerson pushed back against Trump's disdain for the Paris Climate Accord. Compared to his counterparts at Interior and EPA, Rex-T's footprint on global environmental issues was modest—perhaps because dozens of key State Department posts went unfilled, including the two top environment-related sub-Cabinet positions.
As he left the State Department, Tillerson skipped the pro forma thank you to President Trump. Not that he needs the money, but the publisher's advance for a tell-all book on his year in Washington would be immense. I'd put it on my shelf next to Private Empire.
Top Weekend News
A little promising news via the New York Times: China's four-year struggle against pollution seems to be gaining some ground. And from Reuters, China's environment minister promises a greater crackdown on air pollution.
Sign of the times, or greenwash? Norwegian oil giant Statoil is taking "oil" out of its name. But they're not exiting the oil and gas business. (Reuters)
Make Mexico Pay for It: Untreated sewage is turning up in a Mexican border town, just across from a U.S. border town's treatment plant. (The Revelator)

Something else that's bigger in Texas: More first-rate reporting from the Texas Observer and Naveena Sadasivam on the dismal record of the state of Texas in enforcing water pollution laws.

Opinions and Editorials
On the PBS website, economist Robert Stavins argues that Rex Tillerson's dismissal is bad news for US climate policy.

A survey by George Mason University's Center for Climate Change Communication reveals obstacles for journalists in reporting local climate change impacts. (Media Matters for America)
Beyond the Headlines: A new milestone for electric vehicles in Japan, the country of Belize declaring 10 percent of their ocean a marine protected area, and look back on the infamous oil tanker, the Exxon Valdez, eventually sold for scrap.
From New York State, the Poughkeepsie Journal urges the state legislature to get its act together on environment.
This Week in Trump
Scott Pruitt's ambition is rumored to have him angling for the Attorney General job. This New York Times piece broadens that ambition to a shot at the Presidency.
Scott Pruitt's plans to de-emphasize science in the EPA's policy decisions. From E&E.
Interior Secretary Zinke stepped in it this week, fumbling an inappropriate response in Japanese during a hearing on World War II internment camp history.
RIP to a Congressional Warrior on Antibiotics
Rep Louise Slaughter died Friday at age 88. This 2015 profile by Julia Belluz in Vox details her relentless effort to combat abuse of antibiotics in agriculture, and the huge commercial forces that opposed her.