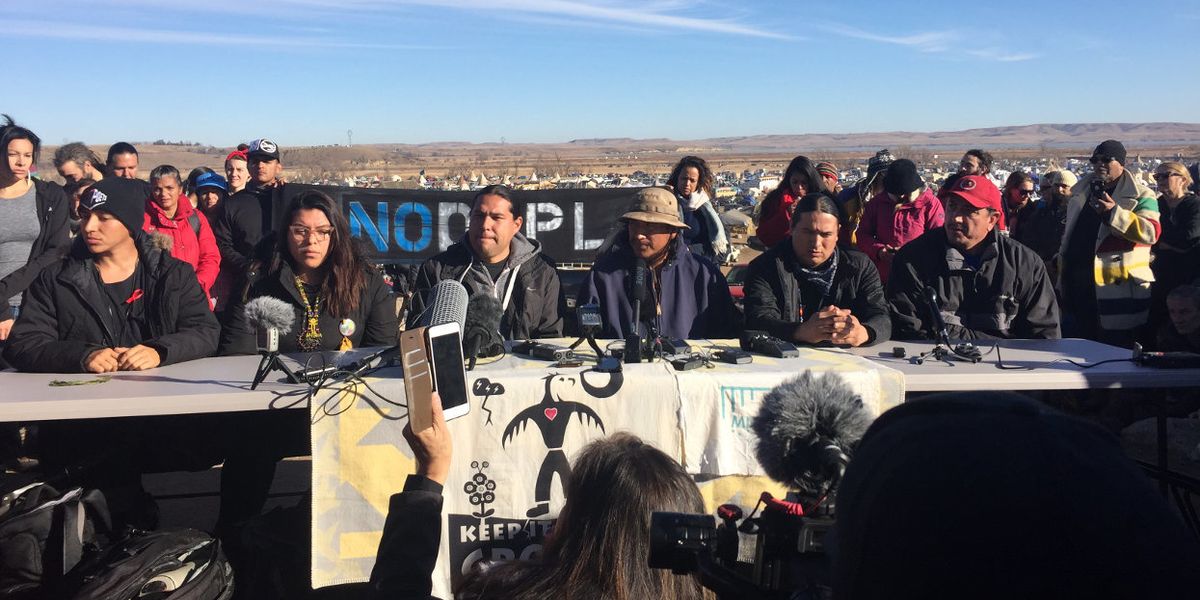 COVID-19 and the climate crisis are intertwined threats to Native Americans and the Earth: Chase Iron Eyes
Just as these problems are linked, so are the solutions.
With the outbreak of COVID-19, our society is reeling. Sadly, the uncertainty, displacement and fear you may now feel has been the common, everyday experience for many Native American people for a long time.
---
But first, we could all use some good news— and fortunately, some exists.
Within the past few weeks, Indigenous communities in the U.S. achieved a pair of substantial victories regarding pipelines. First, legal action by the Standing Rock Sioux Tribe compelled a federal judge in Washington, D.C., to revoke permits for the Dakota Access pipeline. Then another federal judge in Montana ruled that the environmental impact review process for the Keystone XL pipeline was flawed, and he halted its construction through domestic waterways.
These two rulings justify the stand that I and hundreds of thousands of others took in 2016 and 2017, when we formed NoDAPL protest camps at Standing Rock, as well as our current tribal actions against Keystone XL.
I was surveilled and arrested at Standing Rock for allegedly trespassing on my own ancestral lands and "inciting a riot" for standing with my relatives in a prayer circle.
All major charges against me were eventually dropped, but these rulings provide additional vindication. Our rallying cry, "mni wiconi"— Lakota for "water is life"— is as true today as it was then.
We protested because we needed to protect our Grandmother Earth and the generations to come.
I am grateful that these judges have now seen fit to stand up for nature and the future of humankind.
Yet, any sense of victory is tempered — by the COVID-19 pandemic we face together, and by a long history of disappointment.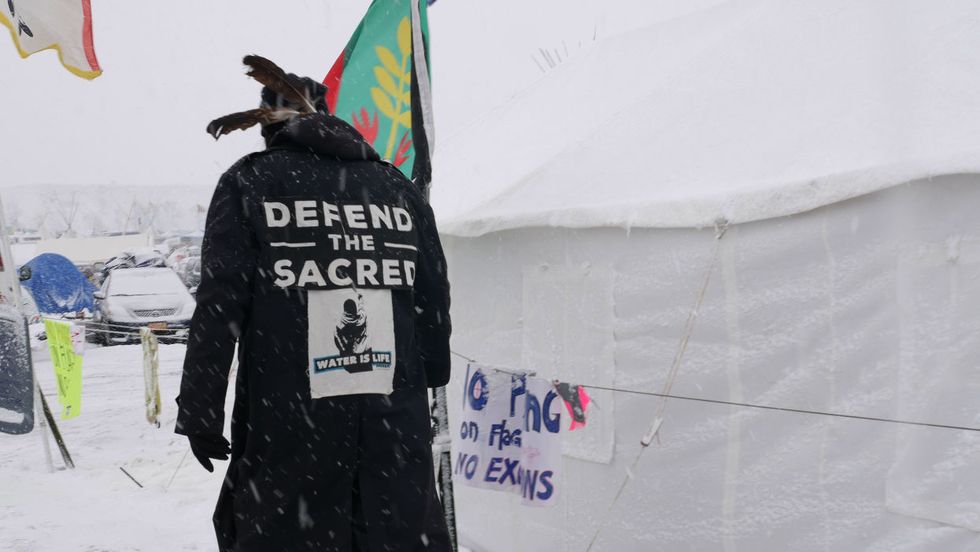 Dakota Access pipeline protest. (Credit: Kelsey Hill of the Lakota People's Law Project.)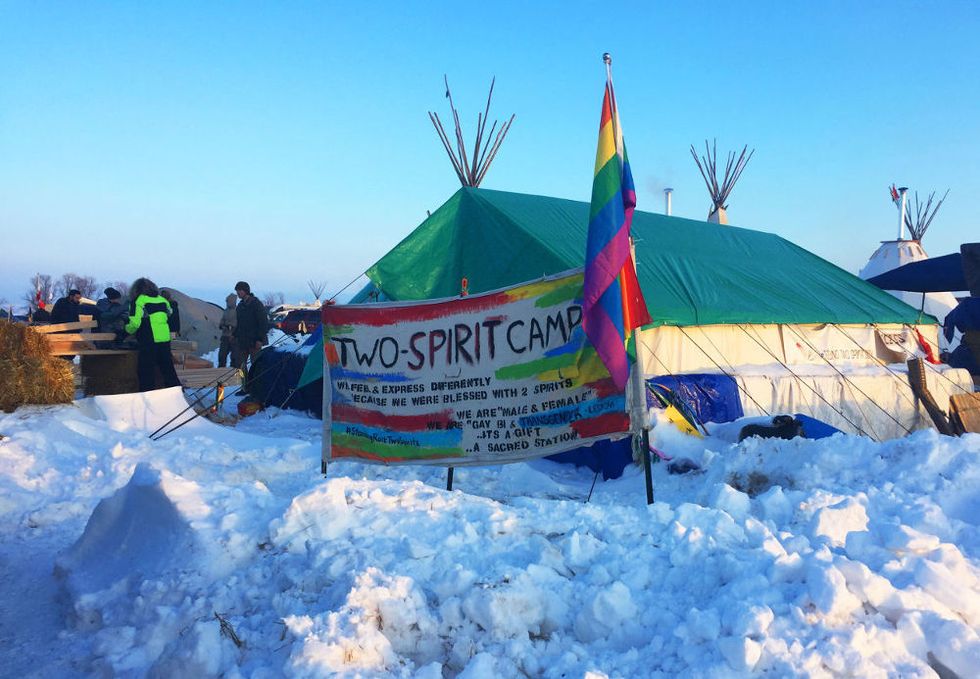 Dakota Access pipeline protest. (Credit: Kelsey Hill of the Lakota People's Law Project.)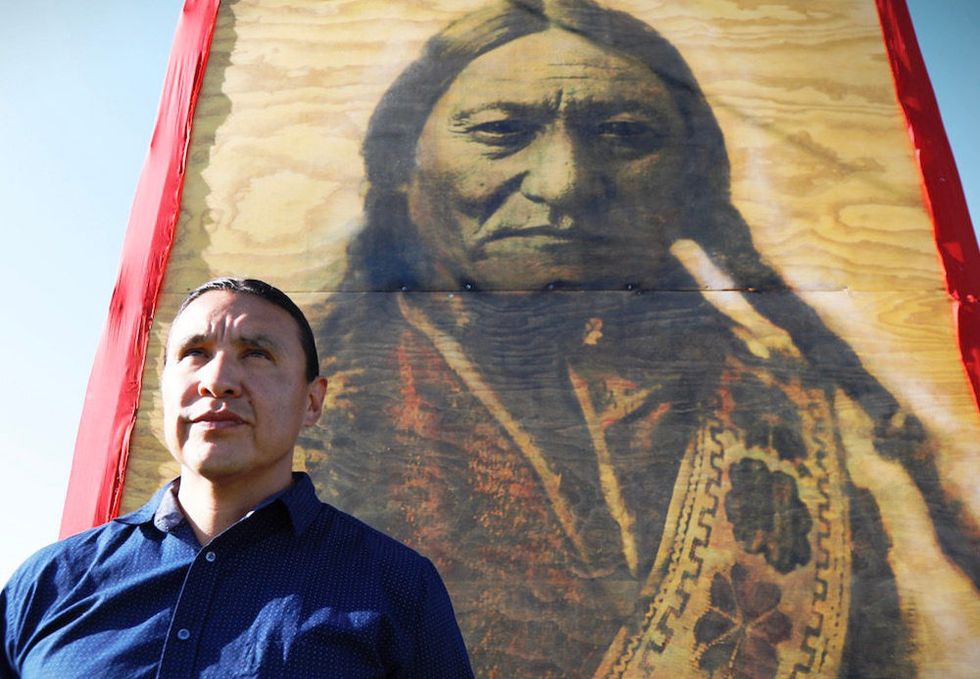 Chase Iron Eyes. (Credit: Credit: Lakota People's Law Project)
Leaders oblivious to science and Indigenous wisdom
We, the first people of this land, have been failed time and again by colonizers. The history of treaties in the U.S. shows clearly that virtually every time a promise is made to us, it's later reneged upon.
When the white man first set foot on these shores, he brought with him a hunger for land and a host of strange diseases, which he weaponized against us in the form of smallpox blankets.
These were early examples of the slow genocide of Native peoples, which still manifests in several forms. The taking of our children by the state of South Dakota and their placement in non-Native foster care is one good example, a continuation of the old boarding school era maxim, "Kill the Indian, save the man."
And now, here we are again. South Dakota governor Kristi Noem has refused to issue stay-at-home orders, shutter nonessential businesses or halt evictions and power shut-offs, even as COVID-19 has been shown to disproportionately affect people of color.
In Bear Soldier District on Standing Rock Nation, a nearly all-white city council recently put a Native family on the street by shutting off the power to their Federal Emergency Management Agency trailer.
Governor Noem has roughly 72,000 Native Americans living in her state. We are at more risk than ever, and she doesn't seem to care. It almost seems like smallpox blankets all over again.
In places like California, where strict social distancing measures were adopted statewide, the disease curve has been successfully flattened. In places where they weren't, like South Dakota, things quickly got out of control.
It's stunning to me that many of our leaders don't see the connection.
They're oblivious to both science and Indigenous wisdom, each of which teaches that we must find better ways to live in harmony with our planet before it's too late.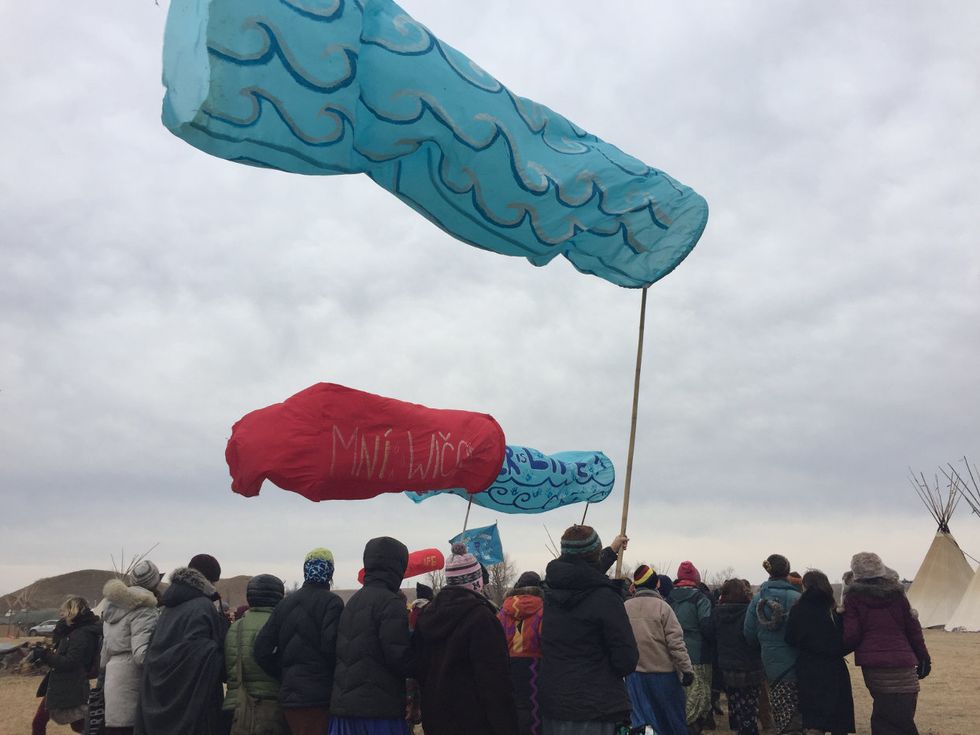 Dakota Access pipeline protest. (Credit: Kelsey Hill of the Lakota People's Law Project.)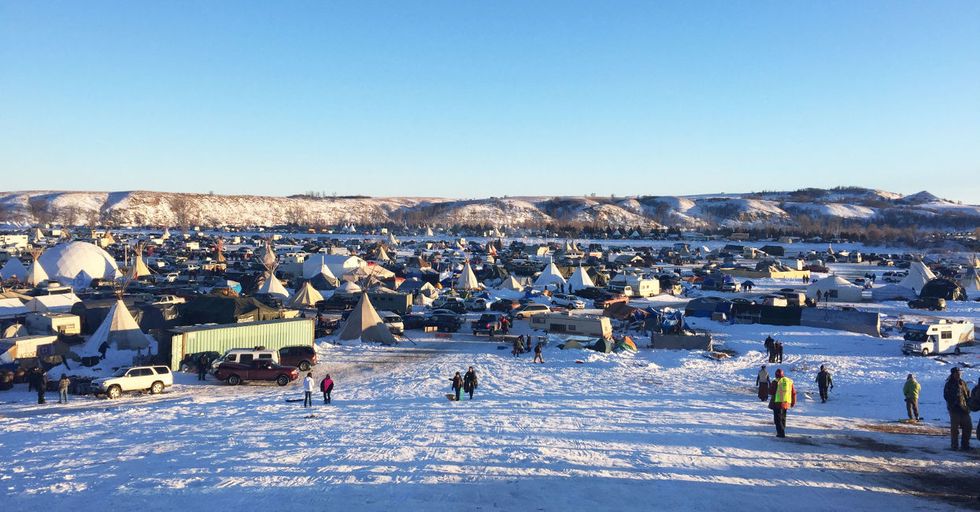 Dakota Access pipeline protest. (Credit: Kelsey Hill of the Lakota People's Law Project.)
"The world is a library"
It's infuriating that Keystone XL construction is allowed to continue in South Dakota amid the pandemic. Even before temporary housing developments for oil industry workers, known as man camps, became potential hubs for COVID-19 transmission, they already endangered our people by exacerbating the epidemic of missing and murdered Indigenous women and girls.
These are some of the reasons why, at the Lakota People's Law Project, we're laser focused on our goal of securing justice for the Lakota people. That means protecting Native rights, sovereignty, and health— not just in this time of crisis, but always— and it means keeping an eye to the future.
The COVID-19 pandemic should remind us of our need to be prepared. Though Mother Earth may be getting a short breather while billions stay home, the climate crisis hasn't gone away. Even in the midst of this awful time and with two key rulings in our favor, the Dakota Access pipeline is about to double the oil it carries through our homelands, and Keystone XL construction is slated to continue.
The climate clock is ticking, we are in crunch time, and everything is on the line.
We must be better, right now and in the days to come, and we must use the lessons of this pandemic in our fight to preserve the planet.
In this moment, we must avoid counterproductive measures like bailing out the dying fossil fuel industry with funds meant to protect ordinary people. Going forward, we should pass a Green New Deal to increase investment in renewable technologies and put people to work in a new, clean energy economy.
Just as these problems are intertwined, so are the solutions.
We Lakota have another saying: "Knowledge is rooted in all things — the world is a library."
Let's read this moment accurately. Let's move forward with increased understanding.
Together, let's do the work it takes to be generous and compassionate toward one another and toward our oldest relative of all, our Grandmother Earth.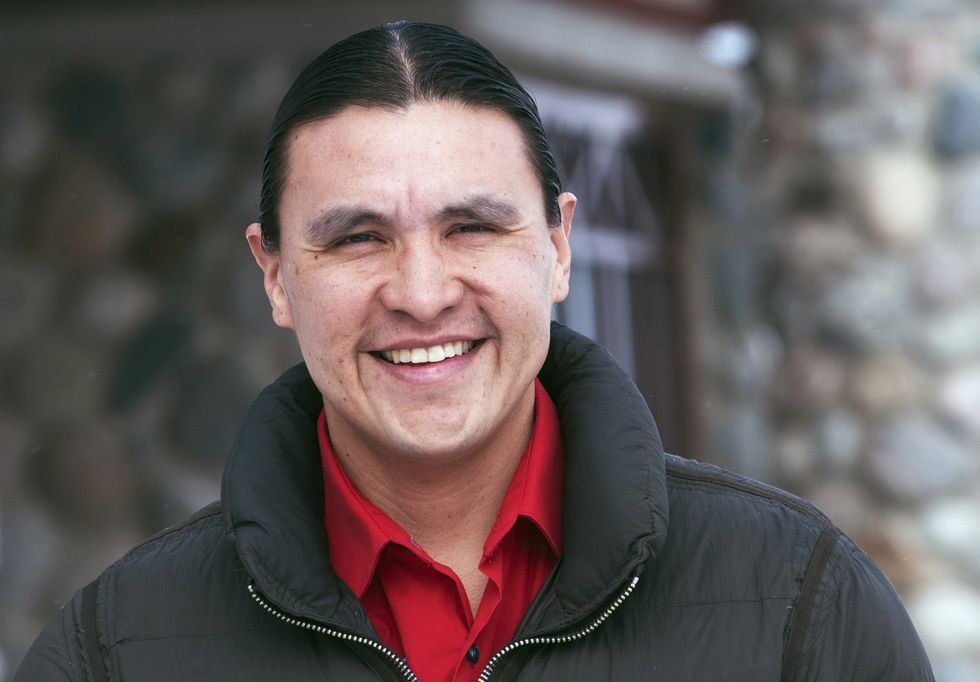 Chase's Iron Eyes' distinguished career fighting for the civil rights of Native Americans includes serving as lead local counsel for the Lakota People's Law Project, co-founding the Native news website LastRealIndians.com, and work in the Native Lives Matter movement. In 2016, he was the Democratic congressional nominee for North Dakota.
From the beginning of the movement, Chase was involved on the front lines of the fight against the Dakota Access pipeline, hosting tribal leadership, providing legal services, and joining the water protectors in their prayerful and peaceful protest. Born on Standing Rock Nation, today Chase lives at Pine Ridge, where he also serves as public relations director for Oglala Sioux Tribe President Julian Bear Runner.
Chase holds bachelor's degrees in political science and American Indian studies from the University of North Dakota, and a Juris Doctor of Law degree with an emphasis in Federal Indian Law.
His views do not necessarily represent those of Environmental Health News, The Daily Climate or publisher, Environmental Health Sciences.
Banner photo: Dakota Access pipeline protest. (Credit: Kelsey Hill of the Lakota People's Law Project.)
www.ehn.org