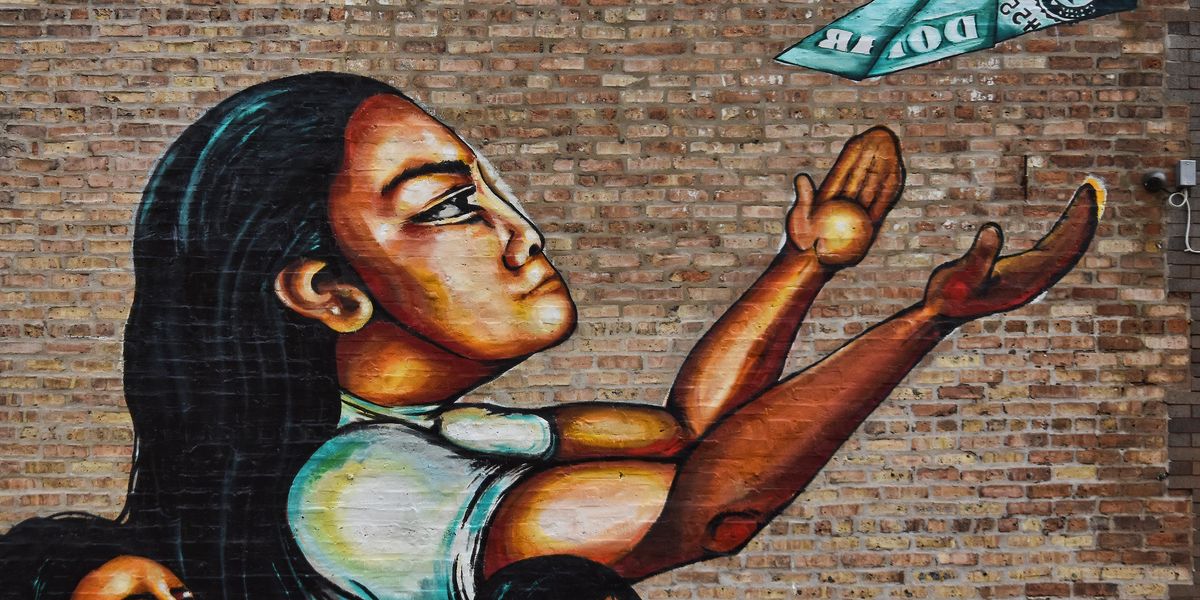 Mural on a house on Lawndale Avenue in the Little Village area of Chicago, Illinois. (Credit: Terence Faircloth/flickr)
Op-ed: Toxic injustices
Priority for abused communities must pervade every aspect of a Green New Deal.
A sobering afternoon in the Little Village neighborhood of Chicago with Antonio Lopez showed what any Green New Deal must undo, let alone do.
---
Five miles southwest of the glittering downtown Loop, this gutsy neighborhood of some 74,000 people, 85 percent of whom are Latino, is a crowning citadel of organizing on behalf of environmental justice—that currently remains under toxic assaults that no privileged white district puts up with.
We drove by a mayonnaise factory with a multitude of tractor-trailer containers in its distribution lot. The facility was next to an elementary school and right across the street from a tree-lined row of brick homes. "This is where we first realized we needed to talk about diesel fumes in our community," said Lopez, senior adviser to the Little Village Environmental Justice Organization (LVEJO). "Kids should not arrive and leave school hit with noise and pollution from trucks rolling in all day."
We then swung by the site of a once-bellowing coal plant that was shuttered in 2012 by community protest. It sits on 70 acres of land, a footprint that could handle five Superdome football stadiums. But the celebration is now over as new developers, aided by a nearly $20 million tax break, are in the process of tearing the plant down to build a one-million-square-foot e-commerce distribution facility. The developers promise 360 construction jobs and 178 permanent jobs.
But with a projected 188 truck loading berths, activists fear a nullification of their work, with coal soot being supplanted by the belching of yet more diesel exhaust and the rumble of hundreds more trucks a day on streets where traffic already crawls painfully at rush hour. Studies have shown a strong link between traffic pollution and asthma. A 2011 editorial in the British medical journal Thorax warned, "Diesel exhaust is somewhat akin to tobacco smoke."
Next was La Villita Park, which by itself is a 21-acre urban paradise for play and picnics. It was developed over a remediated Superfund site polluted by the manufacture and storage of coal tar, asphalt, and roofing products from 1911 to 1982. The contamination bedeviled nearby residents in rain runoff onto their sidewalks and lawns. Complaints to state and federal regulators led to both cleanup and community engagement as to its next use.
Yet, like the coal plant, the job of restoration is hardly done. Directly across the street from La Villita is a fenced-off area blocking access to a canal contaminated with heavy metals. A City of Chicago sign reads in both Spanish and English: "Discharges may contain bacteria that can cause illness."
Lopez shook his head when he pointed out the sign. "We had to fight for even that sign to be put up to keep our kids safe," he said. "The water is so bad it sometimes bubbles up [with methane]."
We drove on, by Little Village's high school. Completed in 2005, it was built in response to a hunger strike by residents seeking better education facilities. But it also sits across from a packaging plant. Lopez said there have long been complaints about the smells from the plant, which sometimes force the school's sports teams to alter the location of their practices or cancel them altogether.
That night, LVEJO held a community-organizing meeting to prepare for a hearing with state environmental protection officials on the packaging company's operating permit. LVEJO Executive Director Kim Wasserman, the 2013 North American recipient of the Goldman Environmental Prize for accomplishments including the shutdown of the coal plant, informed the audience that she is often asked why can't the community demand that the plant be shut down. She said, "Shutting plants is hard to do, but we can try to control what is covered in their permit so they can continue to function safely."
After the meeting, Wasserman and Lopez talked of other victories, such as the restoration of a bus line to fill in a huge gap in service. One analysis found that while Little Village was similar in population to the wealthy and 79 percent white neighborhood of Lincoln Park north of downtown, Little Village had just seven intersecting bus lines, compared to 22 for Lincoln Park. Little Village is also an economic engine. It has a two-mile-long collection of restaurants, bakeries, clothiers, and barbershops that Crain's Chicago Business says does $900 million of business a year, making it the city's second-highest-grossing shopping district after the Magnificent Mile downtown.
"We did a survey of residents for their priorities," Wasserman said. "They said: air quality, public transportation, open space, and rats. I can't do anything about the rats, but we're working on the rest."
www.ehn.org