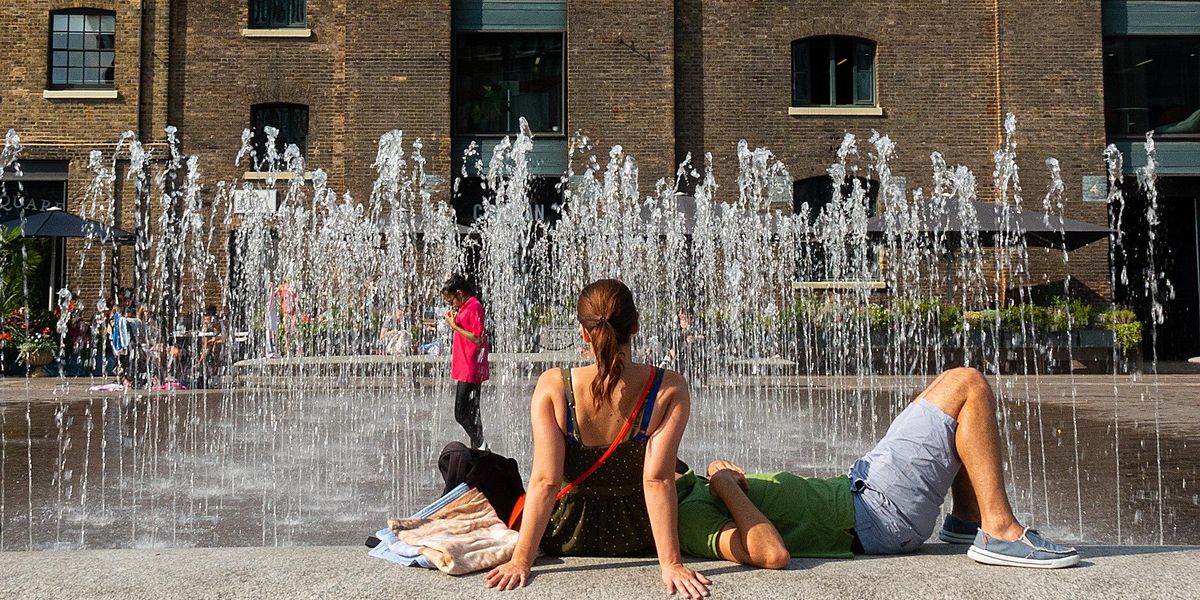 Worsening heat waves are hammering the disabled community
EHN talked to people with disabilities put in increased danger during last summer's Pacific Northwest heat waves. Activists say accessible cooling centers and air conditioning are key to combating this injustice.
Tara Dennehy moved to the Pacific Northwest in search of friendlier weather. East Coast summers were too hot, and winters aggravated her arthritis.
---
Now, she lives in Vancouver, Canada, where winters are more accommodating to her disabilities. This summer, however, nearly sent her to the hospital. Dennehy has autonomic dysfunction, caused by underlying autoimmune conditions. "I can no longer regulate my body temperature much at all. At 85 [degrees Fahrenheit], I can't do anything except actively fend off heat exhaustion," she told EHN.
When her apartment reached 95 degrees this June, she "wound up basically having to take a cold bath every two to three hours," she recalled.
At the same time, Pegasus Jacobs, who shares Dennehy's condition, felt like they were being cooked alive in their Seattle home. Without air conditioning, they had no way of cooling it down. The nearest cooling center was almost impossible to reach without a car.
"I ended up getting heat stroke and had to call an ambulance," Jacobs told EHN.
Dennehy and Jacobs are not alone. More than 70 million people currently live with autonomic dysfunction. It's far from the only medical condition exacerbated by extreme heat—many are common, such as diabetes, hypertension, and heart disease. Other groups susceptible include those with autoimmune diseases and neurological disorders. Any condition that impairs the body's ability to lose heat can put someone in danger, Glenn Kenny, director of the Human and Environmental Physiology Research Unit at the University of Ottawa, told EHN. This also applies to medications—many psychiatric drugs can cause increased heat sensitivity.
Heat waves occur when hot air is trapped near the surface for multiple days in a row. Due to climate change they've increased in frequency. In the 1960s, the U.S. would have roughly two heat waves per year, but by the 2010s, that increased to six.
Heat waves are also becoming more intense. For example, the 2021 Pacific Northwest heat dome produced record-breaking temperatures—about 2°C (3.6°F) hotter than they would have been in a world without climate change.
More than 750 heat-related deaths were reported between Washington, Oregon, and British Columbia in late June. There is no official record as to what percentage of these people had chronic conditions. "They don't usually mark down people with disabilities," Alex Ghenis, founder of Accessible Climate Strategies, told EHN.
This was confirmed by a spokesperson from the California Department of Public Health, who dealt with their own share of heat waves this year. Similar departments in Washington and Oregon could not be reached for comment.
Despite this lack of data, by looking at other populations that were disproportionately harmed—most have higher rates of disability.
"There's overlap between age and disability," said Ghenis. According to a study by the Center for Disease Control and Prevention, heat-related deaths amongst adults aged 65 or older are the highest across all age groups.
Heat waves cause disproportionate harm to people living in poverty, communities of color, and homeless individuals. All of these "are bellwether populations for some of the impacts on the disability community," Ghenis said.
While having a pre-existing health condition can increase the risk of heat-related harm, proper heat mitigation strategies, such as adequate air conditioning and easy access to a cooling center, could prevent these unnecessary deaths.
"It's more appropriate almost to call [these] manufactured vulnerabilities," said Ghenis.