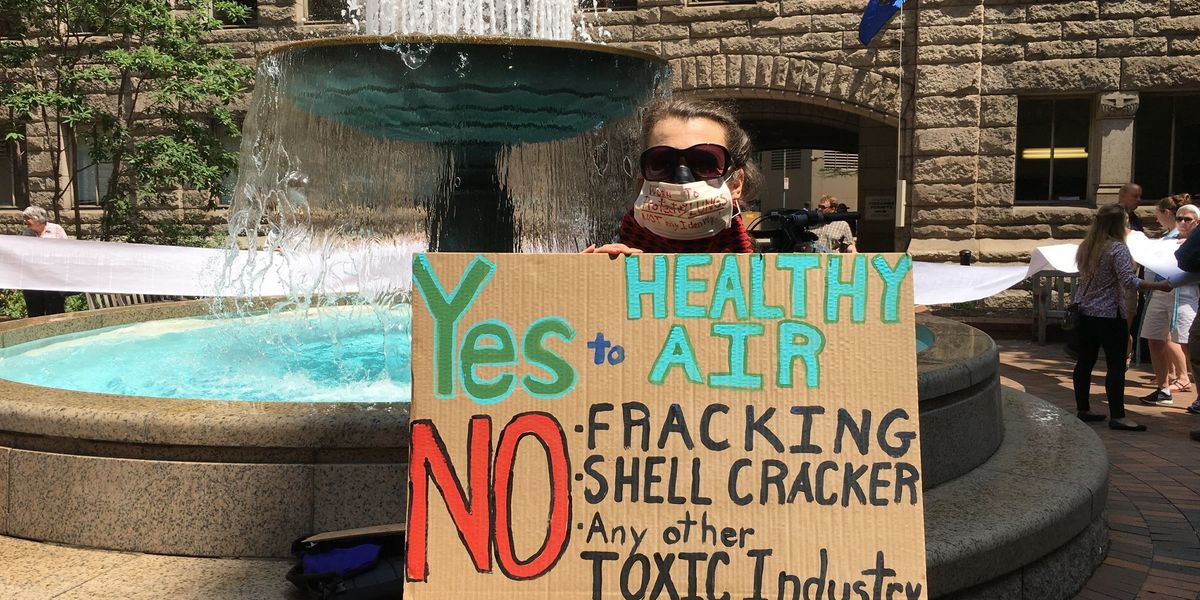 Fracking conference and opposing tribal rally highlight competing visions for Western Pennsylvania's future
As Pittsburgh touts its environmental progress, a massive petrochemical makeover is taking place in the surrounding region. Tribes and environmental groups are arguing against a future of pipelines and plastic production.
PITTSBURGH—As acting EPA administrator Andrew Wheeler and natural gas industry representatives descend on Pittsburgh for the annual Shale Insight Convention this week, tribal leaders are rallying against the continued expansion of fracking operations and a proposed ethane cracker that would reshape the local economy and landscape.
---
Wheeler will deliver the keynote address at the Shale Insight Convention, which kicks off on Tuesday. The three-day convention, hosted by the Marcellus Shale Coalition, is a meeting between policymakers, researchers, and major players in the fracking industry: High-level executives from Shell, Chevron, ExxonMobil, EQT Corporation, Dominion Resources, and People's Natural Gas, among others, are usually in attendance.
Andrew Wheeler isn't the first Trump administration official to travel to Pittsburgh for the Shale Insight Convention. In 2016, then-presidential candidate Donald Trump held the honor—as advertised in this 15-second trailer for the event (which features a dramatic soundtrack) Video Credit: The Marcellus Shale Coalition
Meanwhile, on Wednesday morning, more than 50 Native American tribal and community leaders will gather at downtown Pittsburgh's Point State Park fountain, which marks the place where the Monongahela, Ohio, and Allegheny Rivers converge.

The opposing gatherings epitomize an ongoing national struggle between indigenous groups, environmentalists and the oil and gas industry. As the Appalachian region is set to transform into a petrochemical hub through the proposed development of a vast network of plastics plants, local resistance to that shift mirrors a broader national movement questioning the safety of running pipelines through residential areas, fracking's impact on air and drinking water, and the lack of consideration given to indigenous communities when development gets underway.
"There's a lot of information and statistics about all the devastation these pipelines can cause to the environment," Guy Jones, an Ohio resident and member of the Standing Rock Sioux who will participate in Wednesday's ceremony and rally, told EHN, "but we also need to be thinking about the spiritual and cultural importance of water to Native people."
​"We were forced off this land, but we're lucky to remain in the vicinity of the Allegheny River." ​
While the Shale Insight Convention-goers are checking into their hotels and picking up their name badges, Native Americans representing tribes from across the country will gather at the Point to perform a ritual water ceremony, during which they'll sing and pray over the three rivers and commingle their waters with small containers of water brought from the rivers near their homes.
"This is our ancestral territory," Degawenodas, a faithkeeper of the Wolf Clan of the Seneca Nation who will help lead the water ceremony, told EHN. "We were forced off this land, but we're lucky to remain in the vicinity of the Allegheny River. We believe water is the lifeblood of all creation."
The Seneca people once inhabited much of southwestern Pennsylvania and the Ohio River Valley. The tribe's reservation is now in Western New York, just across from Pennsylvania's northern border. Last year the Seneca Nation made headlines for taking on a Pittsburgh startup that wanted to build a fracking wastewater treatment plant at the river's headwaters—a plan that was ultimately abandoned.
Wednesday's water ceremony, organized in collaboration with at least 15 regional and national environmental organizations, will be followed by a rally outside the Shale Insight Convention. The rally is aimed at expressing opposition to the profusion of new fracking wells, pipelines, and petrochemical industry infrastructure currently under development in Southwestern Pennsylvania.
Rapidly expanding petrochemical industry
Flickr/jpellgen
Part of the opposition to the Shale Insight Convention is also based on Wheeler's presence and the EPA's recent rollback of regulations related to oil and gas operations—including one that regulated flaring, leaking and venting natural gas on Native American tribal lands.
"Andrew Wheeler comes from Ohio, where he used to work for [Murray Energy Corporation], one of the biggest, dirtiest coal companies in history," Cheryl Johncox, an Ohio-based organizer for the Sierra Club and co-organizer of Wednesday's rally, told EHN. "We know exactly what the country is in for with him as director of U.S. EPA."
Wheeler was formerly a lobbyist for the law firm Faegre Baker Daniels, where he represented multiple energy companies including Murray Energy.
"This water ceremony and demonstration in Pittsburgh are very much part of a national movement," Johncox said. "In Ohio, we have over 300 farmers suing Energy Transfer Partners over the Rover pipeline destroying their land. Energy Transfer Partners is same company that owns the Bayou Bridge Pipeline people are fighting in Louisiana, and the Mariner East 2 pipeline people are fighting on the other side of Pennsylvania."
Wednesday's rally in Pittsburgh is less of a response to one specific pipeline or facility, and more about the risks associated with the region's rapidly expanding petrochemical industry and its vast network of infrastructure. That infrastructure includes fracking wells, gathering lines, pipelines, compressor stations, proposed underground storage for liquid natural gas products, and cryogenic separator facilities—almost all of them along the Ohio River—to support the new network of ethane crackers, said Matt Mehalik, executive director of the Breathe Project.
"All of those pose risks to the water, and to the air for that matter," Mehalik told EHN. As cautionary tales, he pointed to a 2014 chemical spill into a West Virginia river that feeds into the Ohio River, which contaminated the water supply to hundreds of thousands of households, and to a recent fire at a plastics manufacturing facility in Parkersburg, West Virginia, that released toxic chemicals into the air for eight days.
"Many downstream communities are affected by what we do to the three rivers here in Pittsburgh," Mehalik said. "As more plants and facilities are developed along the rivers, the threats to people's water supplies become greater and extend further."
Johncox also expressed concern about recent changes proposed by the Ohio River Valley Water Sanitation Commission (ORANSCO), an interstate regulatory body that has coordinated efforts to improve water quality throughout the Ohio River Basin since 1948. In July, ORANSCO proposed eliminating its pollution control standards, instead allowing states to set their own. The vote was set to take place in October, but was delayed until 2019 following public outcry.
"It's no coincidence that this is all happening just as we have this huge petrochemical expansion coming to the Ohio River Valley," Johncox said.
Pittsburgh's place in a national movement 
"In North America, we indigenous people are the original people of this land, and we see it as our responsibility to be caretakers of this land," Sharon Day, an Ojibwe "Water Walker" traveling from Minnesota to help lead the water ceremony on Wednesday, told EHN. "We are all dependent on our waterways, which are this nation's arteries—we need to keep them clean."
"At this point," she added, "how much more can the land and the water of Pittsburgh and Appalachia take?"
Much more extraction is heading for the region if all goes according to the industry's plan. The natural gas boom has seen a dramatic slow-down in the Marcellus shale region over the last decade, but that's set to change.
In 2016, Royal Dutch Shell began construction on a massive ethane cracker in Beaver County, about 33 miles northwest of Pittsburgh. If it becomes operational, the plant will convert a massive volume of natural gas and liquids into 1.8 million tons of ethylene every year for use in plastics manufacturing. It's one of five such facilities being planned in the Appalachian basin region spanning Pennsylvania, Ohio, and West Virginia.
Four of the proposed locations sit directly alongside the Ohio River or one of its tributaries, and each facility will demand natural gas liquids from an estimated 1,000 new fracking wells per year, according to estimates from researchers at Duquesne university.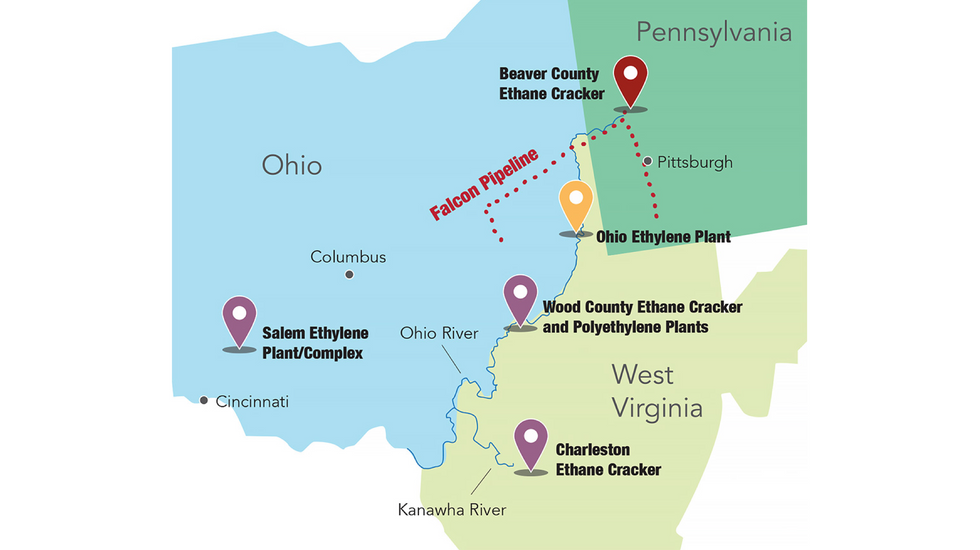 Proposed ethane cracker locations Image credit: Fractracker
Day, who is 67 years old, has led more than a dozen water walks along rivers throughout the country. The walks are undertaken in silent prayer for healthy water for the generations to come. In 2013, Day spent 64 days walking the length of the Mississippi River, which runs through Missouri near her home.
In 2014, after learning that the Ohio River is
the most polluted river in the U.S.
and the largest polluter of the Mississippi, Day walked its entire length, beginning her journey in Pittsburgh at Point State Park and ending 966 miles later in Cairo, Illinois where the Ohio joins the Mississippi. Wednesday will mark her first return to the place where she began that journey.
"People don't have to gather the water anymore, so we've lost that connection," Day said. "The water walks are a way to reconnect people with rivers, streams, ponds and lakes as living entities."
In 2016, Day traveled to the Standing Rock reservation that straddles North and South Dakota to perform a water ceremony at the start of the Sioux tribe's long and arduous resistance to the Dakota Access Pipeline (DAPL). She was one of many indigenous people who traveled to the site to join the fight, including Guy Jones, who has been fighting pipelines on Native land since the 1980s.
"I look at all of this, all of the land, as being ours. Indigenous peoples," Jones said. "But rarely does the industry take the words of Native people into account… We should be bringing the Native perspective to the forefront of these conversations."
The company at the helm of the DAPL project, Energy Transfer Partners, also owns the Revolution Pipeline, a section of which exploded last month in a neighborhood 35 miles west of Pittsburgh. No serious injuries were reported, but the blast destroyed one house, two garages, a barn, and several vehicles, forced the evacuation of 25 homes, shut down the interstate, and caused the local school district to close for the day.
No tribal recognition, no sovereignty
Pennsylvania is one of just ten U.S. states with no state or federally-recognized Native American tribes, which means that indigenous residents aren't being consulted in any official capacity when it comes to pipeline development and other fracking infrastructure.
Indigenous leaders in the eastern part of Pennsylvania have also joined forces with environmental groups to fight the construction of the Mariner East 2 natural gas pipeline—another project of Energy Transfer Partners—which has been plagued by leaks, accidents, and delays since construction began in 2017.
In Exton, about 30 miles northwest of Philadelphia, the Mariner East 2 pipeline is reportedly running through a location considered a Native cultural site by residents—but without tribal recognition, there are no official channels through which they can communicate their concerns.
In the western part of the state, the Seneca aren't the only indigenous people with an interest in protecting Pittsburgh's iconic three rivers.
Pittsburgh and the surrounding regions have a long, complex history of being populated by numerous tribal groups, many of which may not be represented by the indigenous people who live here currently, Miguel Sague Jr., a spokesperson for the Council of Three Rivers American Indian Center, tells EHN.
"This is originally Seneca land," Sague said. "But it would not be accurate to speak of the Senecas as a primary or main indigenous voice in this area because they were forced out of here more than 200 years ago."
He added, "We have urban environment in which many indigenous people's parents and grandparents migrated here in search of jobs at the steel mills and in the coal plants in the 30s, 40s, and 50s—including Senecas who migrated back from their territory up north. So what we have in the region is a variety of indigenous people who claim ancestry in different tribes."
But, Sague says, that diversity doesn't lessen their sense of responsibility to defend the region's land, air, and water against pollution, or their connection to the cultural and spiritual importance of clean water.
"We see this the whole problem of the degradation of the environment very seriously," he said, "And that's something that we share with a lot of indigenous people all over the world."
Editor's note: Representatives for the Shale Insight Convention did not respond to requests for comment, and EHN's request for press credentials to attend the event were denied. An earlier version of this story misidentified Degawenodas as a faithkeeper of the Seneca Nation.
www.ehn.org