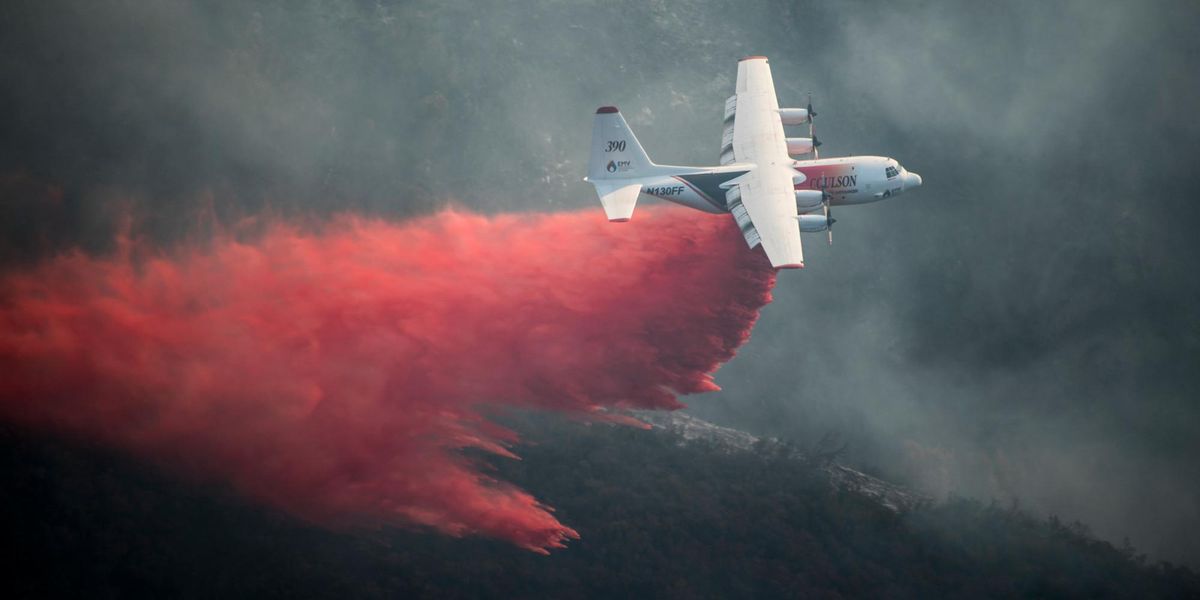 We're dumping loads of retardant chemicals to fight wildfires. What does it mean for wildlife?
As western wildfires become bigger and more intense, state and federal fire agencies are using more and more aerial fire retardant, prompting concerns over fish kills, aquatic life, and water quality.
As the Caldor Fire roared toward drought-stricken Lake Tahoe in the last days of August, firefighters faced a sobering scenario: Strong winds increased from the southwest, pushing the fire toward populated areas and prompting tens of thousands to flee.
---
For days aerial crews dropped fire retardant from planes, aiming to slow the fire's progress and lessen the intense heat so that ground crews could approach. But the fire just kept coming — until winds shifted and smoke-clogged Tahoe was spared.
Fire agencies consider aerial wildfire retardants — a mix of water and chemicals — an important tool for protecting communities. The red mist spreading behind an airtanker capable of carrying up to 8,000 gallons of retardant provides reassurance to people worried about their safety, homes, and businesses.
Between 1985 and 2017, the western U.S. has seen an eight-fold increase in annual area burned by severe fires. And aerial wildfire retardant use is way up as well. Between 2000 and 2010, more than 90 million gallons of retardant were applied on Forest Service lands. But in just the eight-year period between 2012 and 2019 — the latest year for which records are available — the Forest Service used more than 102 million gallons.
"With these megafires and just massive amounts of retardant being dumped on the environment, do we really know all of the impacts, both as a fertilizer and as a toxic?" Scott Cooper, a research professor at the University of California Santa Barbara's Department of Ecology, Evolution, and Marine Biology who studies the effects of fire on streams and fish, told EHN.
The primary aerial retardant used in western wildfires is called Phos-Chek, developed by Monsanto in the early 1960s. The Phos-Chek brand belonged to the company until 1997, according to the current manufacturer Perimeter Solutions. Phos-Chek contains about 80% water and 10% ammonium phosphate fertilizer solution that sticks to plants and inhibits combustion. Proprietary ingredients, such as thickening and coloring agents and corrosion inhibitors, make up the remainder of the formula.
Phos-Chek isn't meant to be sprayed directly on a fire. Instead, the aircraft releases retardant in a line outside the fire boundary where it rains down on vegetation in a sticky film. As the fire approaches, its heat causes the retardant to release water vapor, slowing the fire's progress and cooling it so that ground crews can get close enough to battle the blaze. The residue from the retardant sticks to trees, plants, and surface soils until removed by wind or rain.
Wildfire retardants are generally considered safe for humans, though some argue that the risks are insufficiently understood. In addition, scientists began raising concerns decades ago about the toxicity of retardants for wildlife. Sometimes pilots accidentally release retardant over restricted areas like endangered species habitat and waterways in highly concentrated doses. Once it enters streams, ponds, and rivers, retardant — particularly in concentrated quantities — can spur harmful algae blooms, and potentially kill fish, amphibians, and other aquatic organisms.